M.2 connector

We use Plextor's fast M6e 256GB M.2 SSD to test the speed of a motherboard's M.2 connector. We reviewed the 512GB Plextor M6e (and its PCIe x2 adapter card) HERE. Unfortunately we do not have access to a higher-speed SSD to push the M.2 connector's performance limits.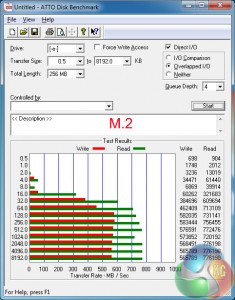 Plextor's M6e was able to reach its full operating speed without hindrance. The drive is unable to saturate a 10Gbps M.2 link, but upcoming faster alternatives will be bottlenecked by Gigabyte's M.2 connection speed.
SATA
For SATA 6Gb/s testing we use a Kingston HyperX 3K (SandForce SF-2281) SSD.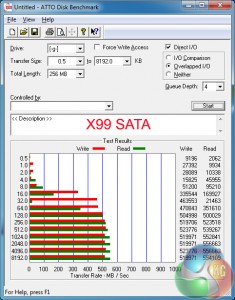 The X99-fed SATA 6Gbps ports are acting as they should, without any notable speed deficiencies.
USB 3.0
We tested USB 3.0 performance using the Kingston HyperX 3K SSD connected to a SATA 6Gb/s to USB 3.0 adapter powered by an ASMedia ASM1053 controller.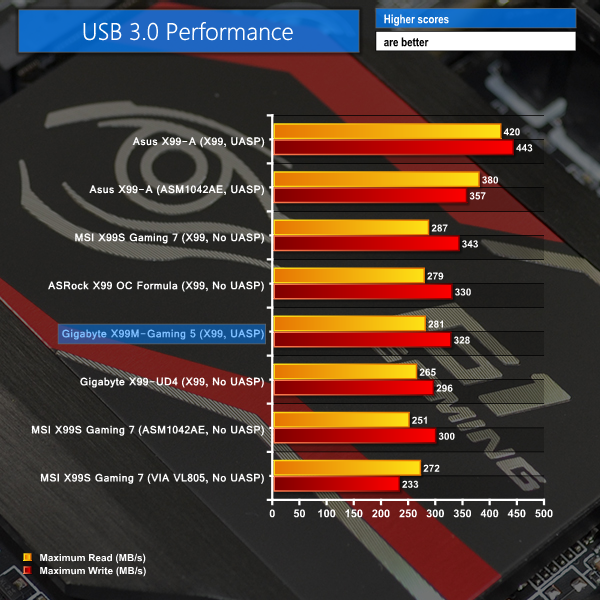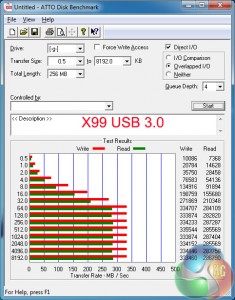 Provided by the X99 chipset, transfer rates for Gigabyte's USB 3.0 ports are typical for an X99 solution. Without UASP-activating software for Windows 7 users, Gigabyte's X99M-Gaming 5 cannot touch the USB 3.0 speeds offered by Asus' parts.
Audio

We use RightMark Audio Analyzer (RMAA) to analyse the performance of the motherboard's onboard audio solution. A sampling mode of 24-bit, 192 kHz was tested.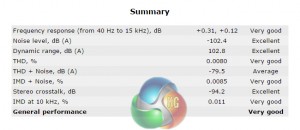 Based around the popular Realtek ALC1150 codec, Gigabyte adds a Burr-Brown OPA2134PA operational amplifier into the audio loop. Four dip-switches control the amplifier's gain level. Nichicon 'N428' capacitors and a Texas Instruments DRV632 DirectPath line driver assist with delivery of the audio signal.
RMAA reports Gigabyte's 'G1 Audio' solution as having Very Good performance. The dynamic range and noise level performance is very strong, although the THD + Noise numbers aren't quite as strong as those provided by some MSI and Asus competitors.