Many of the Chillblast systems we have reviewed to this date have been monstrous gaming set ups designed to look good and drive high frame rates at full HD or 4K resolutions. We specifically asked Chillblast to supply us a sub £500 system to target users on a very restrictive budget – after all, we know you all can't afford a £2k system featuring a GTX980 Ti GPU and Intel Core i7 processor.
Chillblast's Fusion Scythe 2 is a low cost, compact and surprisingly versatile system that is capable of offering better than basic gaming performance and it is perfectly fine for general web browsing and office tasks. It is also quite easy to upgrade at a later date, when funds permit.
This being such an economical system means, if you want to chop and change for a better case, GPU or add more memory, none of it is too expensive. However, I do wish Chillblast offered an i3 CPU option, as the jump in performance would be helpful, with the price only increased a little. As it stands, Chillblast's only upgrade option is an i5 processor that costs a further £90. While the performance gains might be more obvious, this is an almost 25% increase in price.

If I was going to upgrade anything in this system, I would opt for a quality solid state drive at around £70. We firmly believe that moving the mechanical drive to storage duties and letting a solid state drive handle OS and boot duties reaps huge dividends in the long run.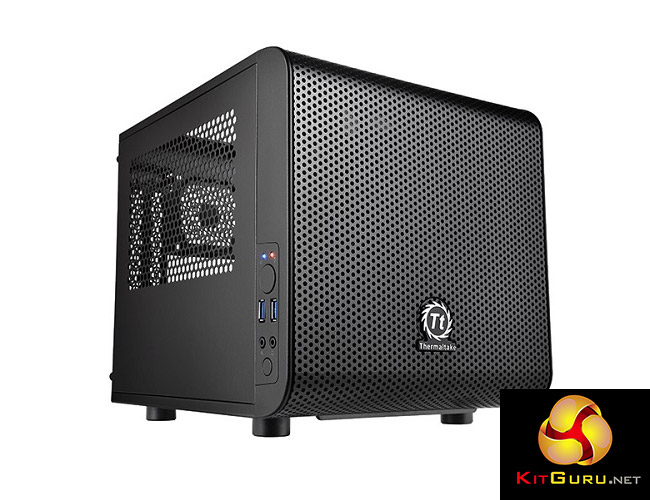 Chillblast has done an excellent job of squeezing some extra performance out of the G3258 Anniversary Edition Pentium chip by boosting the clock speed to 3.8ghz. Judging by the results that have been achieved elsewhere, it should be possible to push it well above 4GHz. While I would recommend a better cooling solution before considering such a move, it is good to know that the option is there.
Considering the pretty low temperatures from the GTX750 graphics card under load there is going to be potential for additional overclocking here as well.
The whole package looks pretty swish too. Thanks to Chillblast's skill and diligence with cable management, the interior is tidy and clean and that is all visible through the Core VI top mounted window. This makes upgrading, tweaking or cleaning the system a breeze, which is always appreciated.
Thanks to the diminutive dimensions, it is incredibly light and therefore can be carried with one hand if needed. Despite the space saving form factor though, there is enough space inside for a much taller or wider CPU cooler and the PCIe 2.0 16x slot even has enough space to fit a full size GPU, if that ends up being one of your earlier upgrades.
Chillblast has created another fine system at a very affordable price with the potential for easy upgrading in the future. While it may not win any performance awards, its competitive pricing and solid warranty make it a good buy for anyone that is looking for an all-round system that will not break the bank.
The Fusion Scythe 2 can be picked up from Chillblast's own store, for £430.
Discuss on our Facebook page, over HERE.

Pros
Attractive, well built, professional looking system.
Lightweight, compact.
Surprisingly good at gaming. Handles old AAA titles and newer indies with ease.
Web browsing, office work, media viewing all performed without a hitch.
Priced competitively with a lengthy five year warranty.
Pentium Anniversary edition has lots of overclocking headroom. Comes pre-OC'd to 3.8GHz.
Cons
Feels like an SSD would be the most worthwhile upgrade.
Dual core limitations occasionally felt when multi-tasking.
Stock CPU cooler is not ideal.
Open side grills may lead to more necessary dusting.
KitGuru Says: The Fusion Scythe 2 is a surprisingly powerful entry level system that can handle most games at reasonable settings, web browsing, HD media playback and office applications. It is not going to break performance records, but its low price, upgradeability and classy overall package make it an excellent buy for system buyers on a budget.