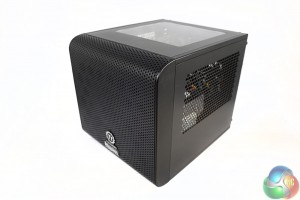 The Chillblast Fusion Scythe 2 uses the Thermaltake Core V1 mini-ITX chassis to house all of its hardware. It is quite an attractive little box, with near cube-dimensions. It has a uniform matt black paint job and lots of grills to aid airflow.
The front has a small Thermaltake logo in the centre of its perforated grill, with a little Chillblast footer underneath. The front I/O ports are located on the side, next to the power switch, activity LEDs and the reset button. There are twin USB 3.0 ports and a pair of 3.5mm connectors for microphone and audio.
No optical drives here of course, as they are rarely necessary any more. However, if you still use the odd disc occasionally, bear that in mind.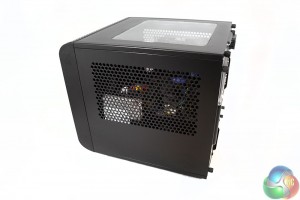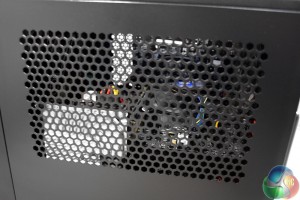 The chassis features a lot of grilled sections to air airflow, but they also give you a hint at the the internal hardware. It is worth mentioning that besides the front-grill however, there are no dust filters in this case. While the direction of the airflow will prevent that from being too problematic, the system will likely still require more internal dusting than other, more enclosed, systems.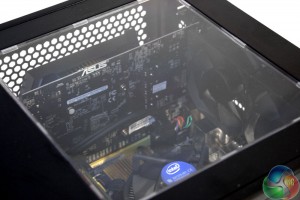 The top however is clear plastic, so you can get a good view of the system in all its glory. The whole panel is also removable, for easy access.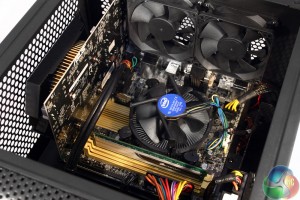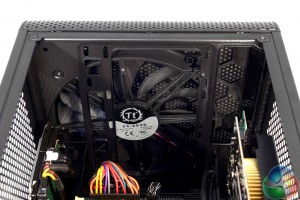 The interior of the system is very neat, with Chillblast having done a good job with cable management to keep everything hidden away and tidy. It is however clear that this is an entry-level system, from the stock cooler and use of a sticker, rather than a heatspreader on the single-stick of memory.
For those who quickly find themselves filling the 500GB HDD included, or want to add in an SSD as a boot drive, there is one spare drive slot in this chassis. However there may be a need to buy a 3.5″ to 2.5″ mounting plate for smaller drives.
Around the back of the chassis, are a pair of 80mm fans, which may be a little noisier than the more typical 120mm options. Beneath those, are all of the backing plate ports, which feature a traditional PS/2 port, two pairs of USB 2.0 headers, two USB 3.0 ports, an ethernet port and three 3.5mm audio connectors.
Occupying one of the two PCI brackets (though there is only one PCIe port on the board) is an Nvidia GTX 750. It features single DVI, HDMI and VGA connectors.
The underside of the system features four feet to allow airflow underneath the rig to circulate through. There is also a grilled section for the power supply fan to pull the cool air up.
Taking off the underside panel, we find not only the power supply, but the majority of this system's cabling. While basic management is free, Chillblast also offers an advanced management system where it colour codes braiding and makes sure that you do not see any of it. It is priced at an extra £25.