Corsair introduced its One system in the middle of 2017, and it was immediately impressive: superb performance, inside a chassis that was smaller, smarter and quieter than almost anything else. Now we have the One Elite, but can it live up to its predecessor's reputation?
Corsair has taken that original machine and turbo-charged the internals, with beefed-up silicon in almost every department. That bodes well for performance, but the design remains unchanged – so we're intrigued to see if the enclosure will cope.
We're also intrigued to see how the Corsair One compares to rival machines. This is one of the smallest full-power desktops on the market, which means it's punching swell above its weight – whether it's compared with productivity PCs or gaming rigs.

Specifications:
CPU: Intel Core i7-8700K (3.7Ghz – 4.7GHz)
CPU cooling: Bespoke 120mm water-cooling radiator
Motherboard: MSI Z370I Gaming Pro Carbon AC
Memory: 32GB Corsair Vengeance 2,666MHz DDR4
Graphics Chipset: Nvidia GeForce GTX 1080 Ti 11GB
Graphics cooling: Bespoke 120mm water-cooling radiator
Storage: 512GB Samsung PM961 M.2 SSD, 2TB Seagate Barracuda HDD
Case: Corsair One
Front ports: 1 x USB 3, 1 x HDMI
Rear ports: 3 x USB 3.1, 1 x USB 3.1 Type-C, 2 x USB 2.0, 1 x Gigabit Ethernet, 1 x optical S/PDIF, 5 x audio
Networking: Gigabit Ethernet, dual-band 802.11ac WiFi
Power supply: Corsair SF500
Operating system: Microsoft Windows 10 Pro 64-bit
Warranty: 2yr RTB
Total cost £2,799 inc vat.
The Corsair One's design hasn't changed since last year's model was introduced – and it remains superb.
The machine is built from aircraft-grade aluminium that has a matte black finish which doesn't pick up fingerprints easily, and the front panel is decorated with a couple of LED strips on either side of the subtle power button and Corsair logo.
It looks the part – easily at home in a gaming den or in an office – and it's seriously small. The Corsair is just 380mm tall and 176mm wide, and it weighs 7.4kg.
That compares well to almost everything else out there. It's far smaller than mid- and full-sized towers, and it occupies less desk space than the MSI Trident 3, which is narrower but deeper. The only machine we've seen come close is the Armari Magnetar V25R-RA750G2, which is half as wide and shorter while including comparable components.
The top of the rig is decorated with thick metal slats – but they're not just for show. They also form a key part of the Corsair's thermal system. The slats sit above a 140mm ML-series fan that spins with almost no friction, and the top can be removed by pushing a discreet button at the back.
Removing the slatted section reveals the rest of Corsair's ingenious design. The motherboard and graphics card sit vertically on either side of a sturdy metal skeleton, joined by a PCI riser card.
The two larger side panels contain slimline, custom-made water-cooling radiators that snake towards the Corsair's two key components. The processor sits on top of a mini-ITX motherboard, while the graphics card uses a similar waterblock and has a secondary 90mm fan to chill its memory chips.
Neither of the slim water-cooling units has a fan of its own, and heat is ejected through patterned vents on either side of the machine.
A close-up examination of the Corsair reveals several neat design touches. The power supply and graphics card outputs point upwards, towards the metal slats, and extension cables are used to route them to more useful spots on the Corsair's rear. The hard disk sits inside a neat metal caddy, and the rear IO is recessed to save a little more space.
The Corsair remains brilliant – we've never seen so much high-end hardware crammed inside such a small space – but it does have the same old issues.
The modular PSU snakes cables over every spare inch of this machine, which is no surprise, but it does mean that component access is difficult. Every major part of this system can be accessed, but it's never going to be easy. There's no room to grow, either, and there are no dust filters on this system's various vents.
Of course, if you're serious about having a PC for tinkering, a niche and specially-designed rig like the Corsair is not a worthwhile option. If that's the case, then a full-sized tower will offer loads more versatility, and even a conventional mini-ITX machine will have more space to play with.
For most people, though, the Corsair's design remains sensational. It's smaller than most of its rivals, it looks better, and its build quality is beyond reproach.
Virtually every component in the Corsair has been upgraded since last year's debut machine. The biggest change comes in the processing department, with Kaby Lake replaced by Coffee Lake silicon.
That means the i7-7700K has been replaced by an i7-8700K. That's a big jump, because it means two more cores and four more concurrent threads. Those extra cores make the One Elite even more adept at multi-tasking and multi-threaded productivity applications, which is why Corsair is aiming this Elite version of the One at creatives as well as gamers. Only a handful of chips could be better in these situations – like the eight-core AMD Ryzen 7 1800X inside the Armari machine or the Intel Core i7-7820X inside the PC Specialist Apollo X01.
The extra cores sit alongside some competitive clock speeds. The 8700K's stock speed of 3.7GHz is a little lower than last year's chips, but it's competitive with Ryzen 7 1800X, which has a 3.6GHz stock speed.
The 8700K boosts to a Turbo speed of 4.3GHz on all six cores and 4.7GHz on one core, which is better than the i7-7700K and AMD's latest silicon.
The six-core processor is paired with 32GB of memory, which is another component that only creatives will properly use. The DDR4 runs at 2,666MHz, which is an improvement over the speeds in last year's Corsair One, but we would have still preferred higher clock speeds – most other high-end systems use 3,000MHz memory
It's a similar story with the system's storage. The 512GB Samsung PM961 SSD is fine and is certainly better than the SATA drive included in the original model, but Samsung's consumer drives are a little quicker. There's also a 2TB hard disk, which is fine.
The motherboard is based on the MSI Z370I Gaming Pro Carbon AC, which features beefed-up audio circuits with a Realtek ALC1220 codec and dual-band 802.11ac wireless.
The entire rig is powered by a Corsair SF500. It's tiny and modular, and it has an 80 Plus Gold certification, so we have no qualms about its operation. That 500W delivery is fine, too – there's not much headroom for any overclocking, but that's not what this machine is designed to do anyway.
The graphics card has also been given an upgrade. The original Corsair One had a GTX 1080 graphics card, but this system has a GTX 1080 Ti.
That step up means 1,024 extra stream processors and three extra gigabytes of GDDR5X memory, bringing those totals to 3,584 and 11GB respectively. The base clock of 1,480MHz boosts to at least 1,645MHz and can attain higher speeds if the conditions are right.
None of the Corsair's rivals will offer a significant amount of extra graphics power – the only machines that'll outpace this rig are ones with overclocked versions of the same graphics card.
The more interesting battleground comes in processing, where eight-core chips and overclocked parts will offer a stern challenge in both single-threaded and multi-threaded tasks.
There's no denying that the Corsair has good components, but there's also no denying the price is high at £2799. Thankfully, the One Elite isn't the only new machine available. Corsair's One Pro Plus retains most of this machine's key parts but drops down to 16GB of memory, which reduces the price to £2,549.
Corsair is also selling last year's models at lower prices. The more expensive version has the i7-7700K and GTX 1080 alongside 32GB of memory for £2,299, while a cheaper model halves the memory to bring the price down to £2,099.
To test the Corsair One Elite, we have pushed it through a broad array of benchmarks and tests. We have tested CPU performance, GPU performance, drive performance, thermals, power usage and battery life to give a comprehensive view of the laptop.
Here are the benchmarks you can expect to find in this review:
Cinebench R15
SPECviewperf 12.1
CrystalDiskMark
3DMark Fire Strike
VRMark
We also ran the following games to test the One Elite's gaming prowess.
Deus Ex: Mankind Divided
Rise of the Tomb Raider
Witcher 3
Middle Earth: Shadow of War
The Corsair One Elite is a system designed for gaming, productivity and everything in between, and this broad remit means a rig that's got plenty of rivals. Because of that, we've compared the Corsair with a wide variety of top-end systems.
The PC Specialist Apollo X01 is a productivity and gaming machine that uses Intel's eight-core i7-7820X and a GTX 1080 Ti – and it costs a competitive £2,149.
The Armari Magnetar V25R-RA750G2 has a Ryzen 7 1800X processor and an AMD Radeon Pro Duo graphics card, so you've got plenty of rendering and graphical power inside a small case – in that respect, it's similar to the Corsair. It costs £3,118.
MSI's Trident 3 is a £1,699 machine that offers console-sized design alongside a Core i7-7700 processor and GTX 1070 graphics, so it's a good option for living-room gaming.
The Mesh Liquid P3 KG has a Core i7-7700K and a GTX 1080 Ti inside a stunning and outrageous build – so it'll tackle most tasks and look good doing it. It costs £2,599.
The PC Specialist Vulcan Pro is the closest specification we've seen to the Corsair rig, as it's got an i7-8700K processor and GTX 1080 Ti graphics. It's a conventional, understated desktop that costs just £1,749.
We've also compared this machine to last year's Corsair One to see how things have improved for this diminutive desktop.
CINEBENCH R15 is a cross-platform testing suite that measures hardware performance and is the de facto standard benchmarking tool for leading companies and trade journals for conducting real-world hardware performance tests. With the new Release 15, systems with up to 256 threads can be tested.
CINEBENCH is available for both Windows and OS X and is used by almost all hardware manufacturers and trade journals for comparing CPUs and graphics cards.
The Corsair's upgrade to Coffee Lake – and its two extra cores – delivers a big leap in benchmark performance. Last year's quad-core model scored 967cb in the Cinebench test, while the six-core part inside this new machine scored 1,390cb.
The Corsair is also faster than the Mesh, which still relied on last year's Core i7 chip, and it's on par with the Coffee Lake PC Specialist system.
It's impressive pace that will handle any current game and most productivity tasks – if you run photo editing, office or database tools, you'll be fine.
Only a handful of chips are faster. The eight-core AMD Ryzen 7 1800X inside the Armari system scored 1,613cb, and the eight-core i7-7820X inside the PC Specialist Apollo was almost 150 points beyond that.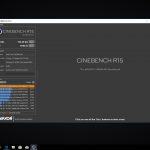 The SPECviewperf 12.1 benchmark is the worldwide standard for measuring graphics performance based on professional applications. The benchmark measures the 3D graphics performance of systems running under the OpenGL and Direct X application programming interfaces. The benchmark's workloads, called viewsets, represent graphics content and behaviour from actual applications.
The latest version is SPECviewperf 12.1, released on August 24, 2016. SPECgpc members at the time of V12.1 release include AMD, Dell, Fujitsu, HP, Intel, Lenovo, NVIDIA, and VMware. SPECviewperf 12.1 features a new Autodesk 3ds Max viewset, Microsoft Windows 10 support, and GUI and reporting improvements.
SPECviewperf 12.1 has been tested and is supported under the 64-bit version of Microsoft Windows 7 and Windows 10. Results from SPECviewperf 12.1 remain comparable to those from V12.0.1 and V12.0.2.
The six-core processor performed well in the SPECviewperf rendering benchmark. It was significantly quicker than the AMD-powered Armari machine in three of the nine benchmarks, including the Maya and Showcase tests – runs which have a particular focus on floating-point and DX operations.
The Corsair was further behind in a couple of tests that concentrate on rendering where lots of anti-aliasing is present, but in several tests there wasn't a huge difference between the two machines.
In short, there's no clear winner here. The Corsair may have two fewer cores than the Armari machine, but that hasn't held it back in this rendering test. If you need to use the Corsair for tough work like this, it won't let you down.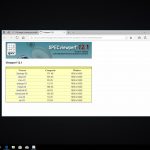 Here we test the Corsair One Elite's storage performance, using CrystalDiskMark 5.1.1.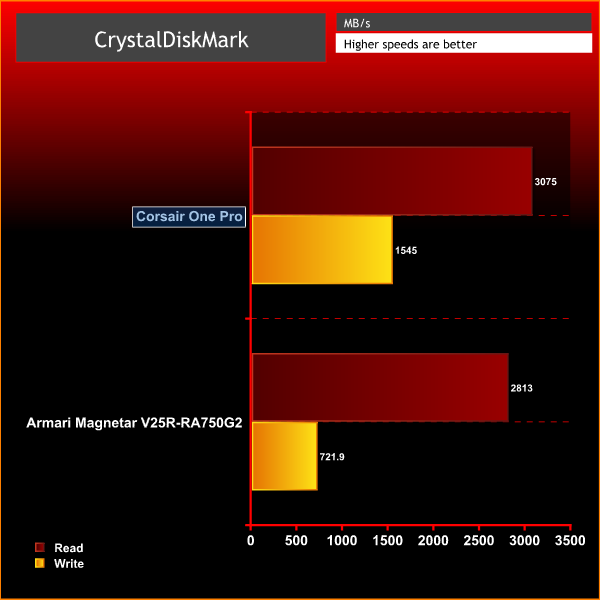 The Corsair One Pro's Samsung PM961 drive returned read and write scores of 3,075MB/s and 1,545MB/s. They're both excellent results – the read speed is a little ahead of the OEM drive in the Armari, and the write figure is twice as good.
Those results are good in the wider world, too, with few SSDs out there that'll match this drive for pace. That means games and applications will load quickly, and we have no issue with boot times – the Corsair loads Windows 10 in a handful of seconds.
Our only qualm is absolutely tiny: we wish Corsair had used a Samsung 960 EVO drive, as they're a little bit faster still.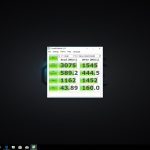 For this test, we ran the Corsair One Elite through Time Spy, Fire Strike and Fire Strike Extreme. We have listed results for the overall score, the CPU only score, the GPU-only score and physics.
The GTX 1080 Ti is a powerful graphics card that demonstrates its ability keenly in these 3D Mark tests.
Its Fire Strike result of 22,735 opens up a huge lead over the admittedly cheaper MSI Trident 3 machine, and it also proves quicker than the Mesh Liquid system. In the tougher Extreme and Ultra tests, the Corsair maintained its lead.
The Corsair also outpaced its predecessor in every test, with a healthy gap between this system's GTX 1080 Ti and last year's GTX 1080.
The only two PCs that beat the Corsair were the two PC Specialist machines that have GTX 1080 Ti graphics cards with beefy overclocks – and, even then, they weren't far ahead.
The Corsair One Elite comes with one GTX 1080 Ti graphics chip. For our tests today, we have ran several high-end games, starting at 1080p and working our way up to 4K to see how much this machine can cope with.
The GTX 1080 Ti in the Corsair may not be overclocked, but it's still got enough power for gaming at every resolution up to 4K – and for VR gaming too.
It ran through Deus Ex, Tomb Raider and Witcher 3 with 4K minimums beyond 30fps, and it got beyond 60fps in two of those games. It only struggled a little in Middle Earth: Shadow of War, but its 27fps minimum was bolstered by a 51fps average – so you're unlikely to see a lot of slowdown here.
The Corsair's framerates in Deus Ex and Tomb Raider were actually competitive with the PC Specialist Apollo X01 machine, and the other PC Specialist system – with the overclocked processor, too – was only a handful of frames ahead.
The Corsair easily outpaced the cheaper MSI rig and last year's Corsair One system, which is hardly a surprise. It beat the MSI system in the VR Mark benchmark, too, and will easily handle today's top headsets.
It's a good bill of health: the Corsair is a lot smaller than many of its rivals, but it's hardly slower at all. There aren't many games it will struggle to play.
To measure idle temperatures, a reading was taken after having Windows open on the desktop for 30 minutes. A reading under load was taken with Prime 95's SmallFFt test running alongside 3DMark Fire Strike.
Corsair makes plenty of boasts about this machine's quiet operation, and we're pleased that this beefed-up version of the system doesn't struggle with any of these tests.
When the One Elite is running low-intensity tasks then it may as well be silent. Its 31db noise rating is stellar, and we had to press our ears up to the case to hear anything at all – and, even then, we could only make out some subtle fan noise.
A gaming test saw the fan noise rise to around 46db. That's still quieter than most gaming systems ever manage, and it's still extremely subtle: if it's beyond a monitor, beneath a desk or across the living room, its unlikely to be audible. Similarly, speakers or a headset will easily drown out the low rumble of the fan.
A full-system stress-test saw the noise output rise to 50db. That's still impressive, and still better than almost every other PC out there.
The Corsair is one of the quietest high-end PCs we've ever tested, and we have no problem with the graphics card's peak temperature of 59°C.
The processor hit a top temperature of 89°C. That's higher than most of its rivals, but hardly unexpected when the Coffee Lake chip is serving up six fast cores. Importantly, while that figure is high, it's not dangerous and is within TJMax.
The Corsair One Elite deploys upgraded components to target both enthusiast gamers and those looking for a fast productivity machine, and this all-rounder certainly delivers plenty of power.
The six-core processor has the ability to handle a wider range of work tasks – only the select few who use seriously demanding software will need anything beyond this. There's loads of memory, the storage is solid, and networking is also good.
A new GTX 1080 Ti delivers enough grunt to handle 4K and VR gaming, and the stock-speed card inside this tiny machine almost keeps up with full-sized, overclocked rigs.
Indeed, the amount of hardware inside this system is truly impressive. It's smaller than almost anything out there while offering more power, and Corsair's clever design means that the upgraded One remains whisper-quiet and relatively cool, no matter the task.
Of course, you are paying for the privilege of having such a small system – if you buy a full-size tower for this price you'll get far more power, or you can replicate the One's specification in a larger machine and save plenty of money. Those larger machines and more conventional mini-ITX rigs will also offer more build versatility and upgrade room.
If you're looking at this PC, though, you're probably not interested in future upgrades or delving inside the case. Instead, you're likely looking for a gaming or productivity rig that can get the job done without causing a fuss – or without taking up too much space. If that's what you're after, nothing is better than the Corsair One Elite.
The model we've reviewed here is available from Corsair for £2,799.
Discuss with other readers on our Facebook page, over HERE.
Pros
Impressive gaming performance – including 4K and VR
Solid, versatile Coffee Lake processor
Loads of memory and ample storage
Rock-solid, tiny and clever design
Near-silent operation in all scenarios
Cons
More expensive than most rival systems
Tricky to access the important components
No real upgrade room
KitGuru Says: Corsair's updated One doesn't change the design, but it didn't need to – it remains ingenious. This compact rig uses every square centimetre to deliver loads of power inside a chassis that's cooler and quieter than almost anything else. It's expensive, but it justifies its cost with high levels of quality throughout.