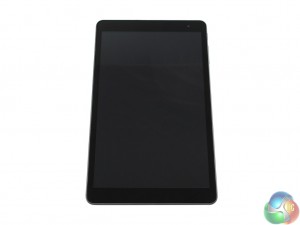 Perhaps the first thing to note in terms of the Tab prime 6's design is its size. It is a large tablet, with a 9.6-inch display rivaling the iPad for sheer size. Rather than a 4:3 aspect ratio, however, the Tab prime 6 uses a 16:10 aspect ratio – meaning it is taller than the iPad, and not so square. Still, it is nice to see a larger display on a budget tablet, when usually budget offerings are 7 or 8 inches.
As for its construction, the Tab prime 6 is of course made wholly from plastic. The front bezels are black, while the rear of the tablet is matte grey. While I prefer an aluminium chassis, this is obviously achievable at the price point. Furthermore, the rear casing of the Tab prime 6 has a satin-touch finish, meaning it is very smooth and comfortable in the hand.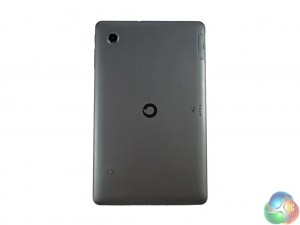 That satin-touch finish, combined with a relatively low weight of 406g, mean the Tab prime 6 is very comfortable to hold for sustained periods.

The Nexus 9, for instance, weighs 425g despite being a smaller device than the Tab prime 6. Full dimensions of the tablet are as follows: 244 x 146 x 7.99mm (LxWxD). The near-enough 8mm thickness is also impressive for a budget device.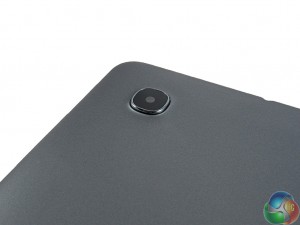 Still on the subject of the tablet's rear, the 5MP camera does protrude a little bit – a pet peeve of mine. It is only slight, but still enough to mean the Tab prime 6 won't lie flat on its back.
We can also find 4 metal contact points, which I believe are for attaching a keyboard to the tablet – a boon for productivity users. And in the top, right-hand corner there is a small tray which holds a microSD card and the SIM card.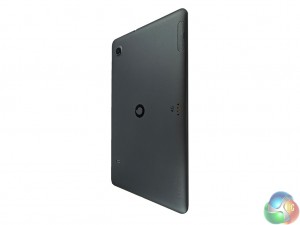 Both the volume rocker and power button are located on the top of the right hand edge of the Tab prime 6, while the microUSB port is located centrally on the bottom edge. A headphone jack is also centred on the top edge.