If you want the most powerful laptop on the market and aren't willing to accept any compromises, then the MSI GT80 Titan should be right at the top of your final shortlist.
First impressions are positive. MSI load the box with extras such as a mouse, mouse mat, backpack, gold metal replacement keys, a Dragon toy and gel wrist rest. Its a well rounded bundle that goes some way to making you feel justified in spending all that money.
The GT80 Titan is exceptionally well put together. There are no creaks or groans when you open the lid, and the construction quality is high grade. The red sports stripe along both corners of the lid are attractive, yet not too flashy. The red and black grills underneath add to the sports car style appearance, although I was slightly disappointed to notice that the motherboard inside is green and not black. A minor point, but if Apple can do it with their MacBook Pro's, why can't MSI?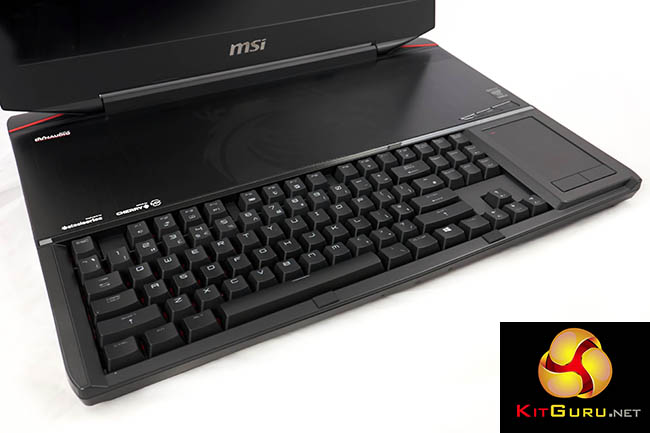 The Steelseries mechanical keyboard is obviously one of the stand out selling points. Never before have we tested a laptop with Cherry MX brown switches and it completely transformed the experience. A huge upgrade for mobile typists, and we hope to see MSI offering other switch options in the coming months, as we are quite confident it will be a much in demand customisation.
Steelseries do deserve credit for the keyboard implementation, because I didn't notice any major issues moving directly from a high end Ducky Shine featuring Cherry green switches. Obviously the switch type feels quite different, but it only took a couple of minutes to be hitting 100 words per minute. My only negative would be the single height return key – these always give me problems, but perhaps I am in the minority.
Without question this is the pinnacle of laptop keyboard development and sets a new benchmark.
The smooth panel at the right of the keyboard is an inspired concept and likely to be welcomed by a huge audience. You can simply use it as a touchpad with left and right buttons. Adding a mouse to game? press a button – toggle the touchpad off and get access to a full size backlit numpad. Yes please.
When we previewed the MSI GT80 Titan weeks ago, many people complained that the keyboard would likely be very uncomfortable to use for long periods of time. The placement at the very front of the chassis has been forced onto MSI. The deep travel keys mean that all the juicy hardware has to be pushed to the back of the chassis. Without room to rest your wrists it could end up painful – however MSI have included a full length gel wrist rest as part of the package. This was very comfortable to use long term so I don't see a concern here.
You may be murmuring to yourself that hauling around a gel wrist rest is hardly practical, but lets be honest here – this is NOT the laptop you will want to bring with you to use on a train or airplane. This is designed as a pure desktop replacement, and for LAN parties. It will also double up as a powerful 3D rendering and video editing system on the move – if you use hotels regularly and have constant access to a power plug for instance.
Technically, there is little to fault. The onboard Dynaudio system is as good as you are likely to get within a mobile environment. Adding good headphones or speakers will undoubtedly improve the experience, but onboard bass response and volume output surprised me.
The four 256GB Solid State drives in RAID 0 can deliver 1600MB/s through the SATA interface, allowing the laptop to boot within 10 seconds. In real world terms, the system is massively responsive and most programs will load within seconds.
The Intel Core i7 4980HQ is a powerhouse processor and easily the fastest chip we have tested to date. You pay a premium for this model, but it broke our previous mobile records when tasked with 3D rendering. The 32GB of 1,600mhz DDR3 memory will prove useful if you need a machine to double up for more serious workstation duties.
We were interested to see how Nvidia's GTX980m would deal with the latest game engines. At 1080p two of them seem overkill right now, generating over 100 frames per second with most of the titles we tested, even when image quality settings are cranked to the limits. MSI may be adding a 3k or 4k screen at a later date, but we have no more details right now.
Including all this flagship hardware inside a relatively small chassis (by desktop standards) does mean that serious air flow is needed. The MSI GT80 Titan does produce a lot of noise when both 4980HQ and GTX980m's are heavily loaded. The fans spin at high speeds and air flows through the vents at the side and rear of the chassis. Noise levels rise to around 40dBa and are clearly evident, even over the onboard speaker system. We doubt many gamers will care about this and we would imagine many will be wearing a quality headset anyway.
The idea of allowing the end user to easily get access to much of the internals via a top panel is an interesting concept. We can't imagine a very large audience would ever consider opening this laptop, but it does make life a little easier if you want to add memory, or swap out a drive. MSI did tell us that the plans are to allow this machine to be easily upgraded in the coming years, via selected dealers in various countries. When Nvidia replace the GTX980m for instance, MSI claim it will be able to offer an upgrade option to the end user.
All in all, this is a remarkable laptop which should tick almost all the boxes for a gamer who only wants to the settle for the best laptop gaming experience possible. In this regard MSI can consider the GT80 Titan a complete success.
Nvidia told us today that until the end of March, the customer will get a free copy of Dying Light with any GTX965, GTX970 and GTX980m equipped laptop.



We have no store links as yet, but this particular model we reviewed today will sell for £3,499 inc vat. Check Overclockers UK in the coming weeks for availability.
Discuss on our Facebook page, over HERE.
Pros:
High build quality.
full mechanical backlit keyboard.
excellent panel.
touchpad/numpad concept works well.
two GTX980m's outperform an overclocked desktop GTX980
4980HQ is a powerhouse.
MSI claim upgrades will be coming to support customers long term.
4x256GB SSD's deliver more than 1.5GB/s throughput.
onboard audio is impressive.
Cons:
No 4k panel?
cooling system can get loud.
Kitguru says: Want the best gaming laptop money can buy? The GT80 Titan will not disappoint.