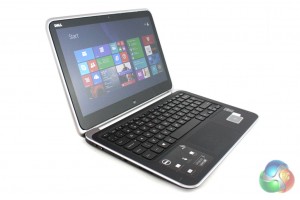 It isn't immediately obvious that there is anything different about the XPS 12 2-in-1.

From a glance it doesn't look much different to any other 12" notebook. It is pretty attractive though, with aluminium and soft-touch plastic used throughout the construction.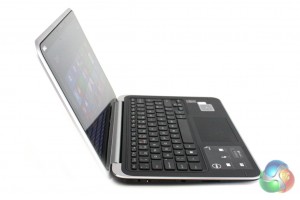 These materials give the XPS 12 a premium appearance which goes some way to justifying the rather steep price tag. It feels very well put together so we imagine it will last a good number of years.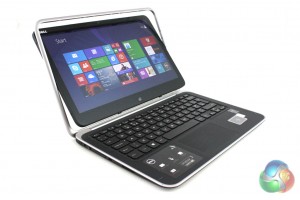 The XPS 12's party trick is the swiveling screen which can rotate through 180 degrees. This gives you the flexibility to transform the laptop into a tablet form factor. Unlike the Lenovo YOGA, the XPS 12's screen covers the keyboard in tablet mode which is preferable in our opinion.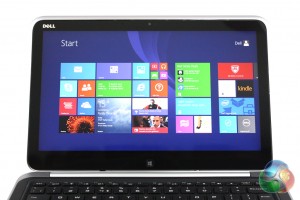 Dell haven't neglected the quality of the screen itself either. The XPS 12 features a 12.5" display which boasts a massive Full HD (1920 x 1080) resolution, meaning that it has a very high pixel density.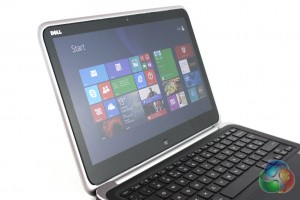 The panel Dell has chosen to use is an IPS model, meaning viewing angles are excellent. This is particularly useful when using the XPS 12 in tablet mode. The screen is covered in touch-sensitive hard glass which feels great to use.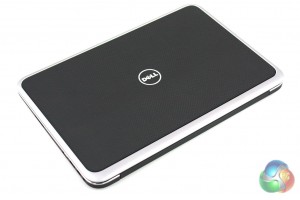 Dell have chosen to cover the lid of the notebook with a carbon fibre design which looks and feels great. It feels very similar in texture to the rubberised plastic used for the palmrest.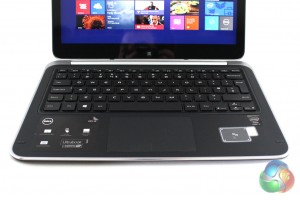 It is clear that Dell haven't neglected the regular input methods as the keyboard and touchpad are excellent.
Even though this is a compact model, Dell have found room for a full-size keyboard. This is a backlit chiclet-style keyboard which has an unusually deep travel for a laptop. This takes a little while to get used to but feels great after an hour or so.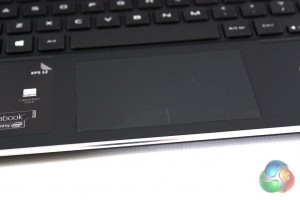 The touchpad is also large considering the compact nature of this macine. It has a smoother coating than the surrounding plastics, letting you effortlessly slide your fingers across it. Like most touchpads these days, it features integrated buttons which further expand the touchpad area.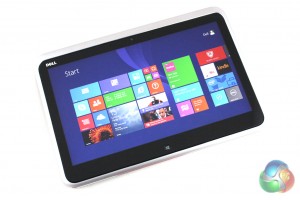 The connectivity options available on the XPS 12 are limited slightly by the dimensions of the machine, but most users' needs should be satisfied.  It is quite fat in tablet mode, which isn't ideal.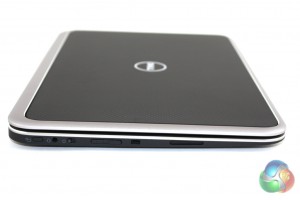 On the left hand side of the machine, we find a display lock button, a 3.5" headset jack, volume up and down buttons, a Kensington lock slot and a speaker grille.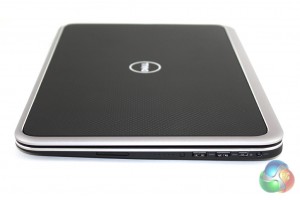 Moving round to the right side of the machine we find a speaker grille, a battery level indicator, two USB connectors, a mini Displayport connector and the DC-in jack.