Cinebench R20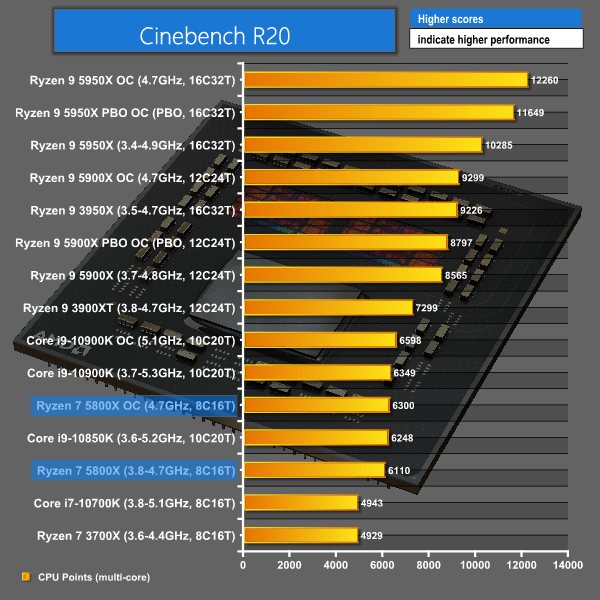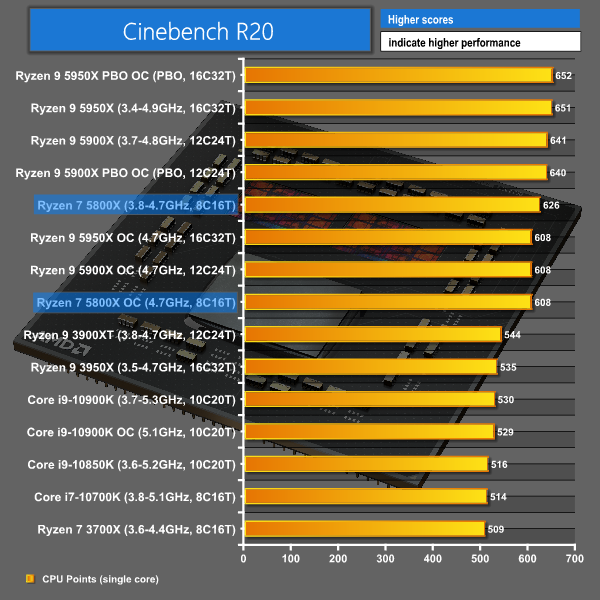 The Ryzen 7 5800X delivers a performance lead of a sizable 24% versus the eight-core Intel i7-10700K. That's a significant performance boost for eight-core versus eight-core and highlights the architectural proficiency of Zen 3. Versus the slightly more expensive Core i9-10850K, it is Intel's chip that opens up a slim lead of 2% over the 5800X. That margin of victory is not worth the price increase for the Intel part.
And if you look at the £90 more expensive Ryzen 9 5900X, AMD's 12-core chip leads the 5800X by a huge 40% margin. Clearly, the Zen 2 and Zen 3 12-core offerings present as far better options in this test compared to the 5800X given the pricing. Overclocking the 5800X to 4.7GHz all-core allows it to narrowly outperform the stock Core i9-10850K, but the gain versus stock is small.
The performance increase for the eight-core Zen 3 chip versus Intel competitors is sizable; the 10700K is beaten by 22% and the 10850K is bested by 21%. The gains versus Zen 2 are also large. This gives some food for thought to productivity minded users leaning towards the 3900X/3900XT for multi-threaded workloads as the 5800X is faster in lightly threaded tasks.
Zen 3 really is proving to be a superb architectural design with fantastic IPC.