Blender Classroom Benchmark
The 5800X outperforms the cheaper 10700K by a wide margin thanks to its 86 second reduction in render time. The Eight-core Zen 3 chip's performance is closer to that of the Intel Core i9-10850K, though Intel's £20 more expensive 10-core processor is 30 seconds quicker and even retains its lead when the Zen 3 5800X is manually overclocked.
If you were looking at purchasing the 5800X for multi-threaded Blender usage, the 12-core Zen 2 offerings look to be more valuable solutions at the price point.
As a cool side note, the 4.7GHz overclocked 16-core Ryzen 9 5950X offers exactly double the performance of the 4.7GHz overclocked 8-core Ryzen 7 5800X. That's some excellent scaling from Zen 3 in Blender.
V-Ray CPU Benchmark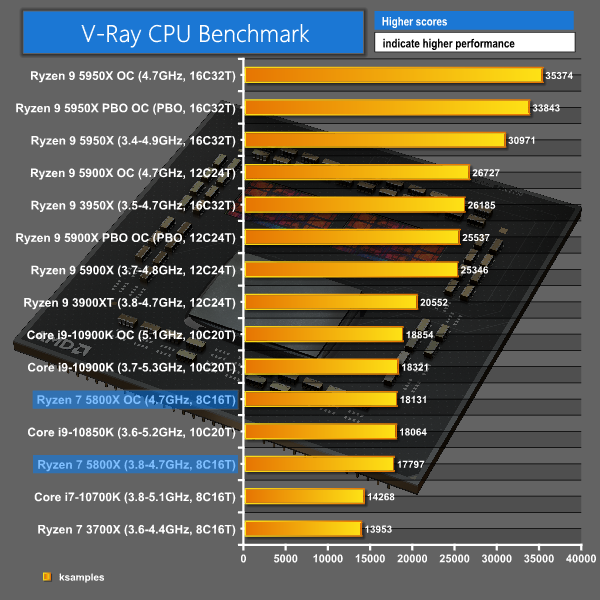 The Ryzen 7 5800X shows another strong performance victory of 25% over the cheaper Core i7-10700K. Versus the more expensive Core i9-10850K, the Ryzen 7 5800X provides roughly a performance tie by showing a slightly lower score at stock and a within error margin difference when overclocked.
Tough competition, however, comes from the 12-core Ryzens. The Zen 2 3900XT costs only a little more than the 5800X but is 15% faster. Meanwhile, the Zen 3 Ryzen 9 5900X is 21% more costly but offers 42% higher performance.
In this type of use case, those 12-cores both seem like better value options than the Zen 3 8-core depending on how rigid your budget is.