We take our noise measurements with the sound meter positioned 1 foot from the graphics card. I measured the sound floor to be 34 dBA, thus anything above this level can be attributed to the graphics cards. The power supply is passive for the entire power output range we tested all graphics cards in, while all CPU and system fans were disabled.
A reading under load comes from running the 3DMark Fire Strike Ultra stress test 20 times. An idle reading comes after leaving the system on the Windows desktop for 30 minutes.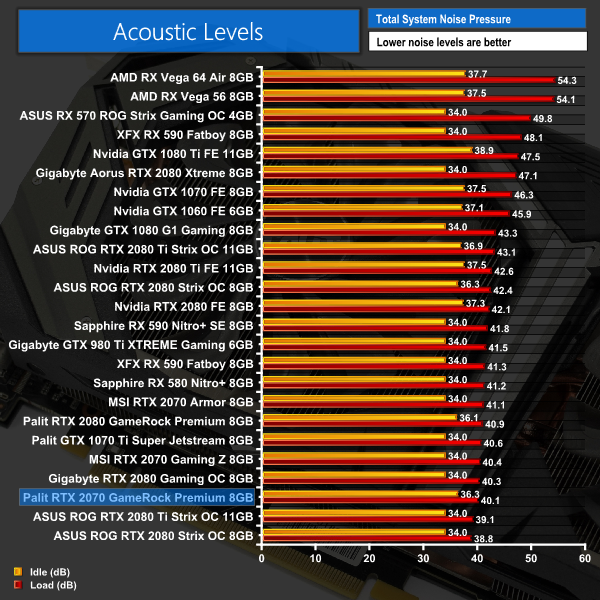 Following on from the excellent thermal results, the Palit card really impresses with noise levels too – it is barely 40dB loud, again making it one of the best results we have seen. In fairness, you are unlikely to tell the difference between a card emitting 40 or 41dB, but we can only go with what our sound meter tells us – this is a very quiet card.
By default, though, the fans do spin at a consistent 500rpm which emits some very slight noise that is almost imperceptible. By switching to BIOS 2, however, you can enable a 'zero dB' mode which stops the fans spinning when the GPU is not under load. I am just not sure why this is not enabled by default – the card can clearly cope with it, and I am sure a number of users wouldn't even know the option was there to disable the fans from spinning in low load situations.