The Palit RTX 2070 GameRock Premium is the third aftermarket RTX 2070 to pass through our offices, and it is very easy to come to the conclusion that it is a very competent card.
Starting with the design, Palit has re-used the shroud and heatsink design from its GameRock Premium 2080, and overall it is a good looking card. The backplate design is certainly divisive, though, so that may put you off if you don't want to look down on the large GameRock logo every time you look in your case. I also have to say that compared to over solutions I have tested, the RGB implementation is also very basic here.
Still, the cooling solution works very well – this card peaked at just 63C, making it one of the coolest cards we've tested so far, while noise levels barely exceeded 40dB. That makes it both cooler and quieter than the rival MSI Gaming Z RTX 2070, even if the differences are small.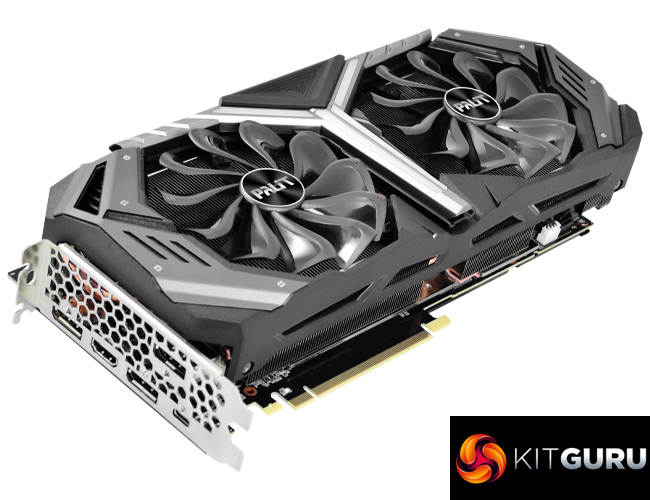 The MSI does have a slight advantage in terms of performance, too, thanks to a slightly more ambitious factory overclock – in practice, we saw the MSI card boosting to around 1930MHz, whereas the Palit would operate at closer to 1900MHz. This means the Gaming Z is ever so slightly faster when it comes to running the latest titles, although the difference was almost always less than a single frame. Again, it would be next to impossible to tell the difference when actually gaming with either card.
Overclocking proved to be relatively limited, though, as we could only add an extra 85MHz to the GPU core. The card was still very able to deal with this extra speed, though, as noise levels and temperatures barely rose at all – so for the extra 3-5% performance benefit, it is definitely worth it.
So in sum, I have to say the Palit RTX 2070 GameRock Premium is certainly a fine factory overclocked RTX 2070. For me, its biggest issue is currently pricing, and the range of cheaper RTX 2070s that are available. That's because this card will currently set you back £569.99 – £100 more than the likes of the MSI Armor 8G RTX 2070.
For me, I really think RTX 2070 makes the most sense when it is priced at under £500. That way it is still cheaper than last-gen GTX 1080 solutions, while offering increased performance. At nearer £600, though, the value proposition is significantly reduced. If it were my money, I'd buy a reference-clocked RTX 2070 like the Armor 8G that we reviewed, and overclock it by 150MHz or so to make up the difference – that alone will bring performance up to the likes of this Palit, while saving you £100 in the process.
In fairness, some may not want to do that, in which case this Palit RTX 2070 GameRock Premium will serve them well – it is certainly a technically very capable card, even if the MSI Gaming Z is just faster. If you don't mind overclocking a reference-clocked 2070, though, that does seem the best way to go when it comes to RTX 2070 cards as you will get the same level of performance while saving £100+.
You can currently buy this Palit GameRock Premium for £569.99 from CCL HERE.
Pros
Cool and quiet.
Factory overclocked.
Colour-neutral design.
Cons
Reference-clocked 2070s can be had for £100 less.
Polarising backplate design.
Comparatively poor RGB lighting.
KitGuru says: Taken on its own, the GameRock Premium is certainly a very capable card. When you consider reference-clocked RTX 2070 cards are available for £100 less, though, its appeal is reduced.