We take our noise measurements with the sound meter positioned 1 foot from the graphics card. I measured the sound floor to be 34 dBA, thus anything above this level can be attributed to the graphics cards. The power supply is passive for the entire power output range we tested all graphics cards in, while all CPU and system fans were disabled.
A reading under load comes from running the 3DMark Fire Strike Ultra stress test 20 times. An idle reading comes after leaving the system on the Windows desktop for 30 minutes.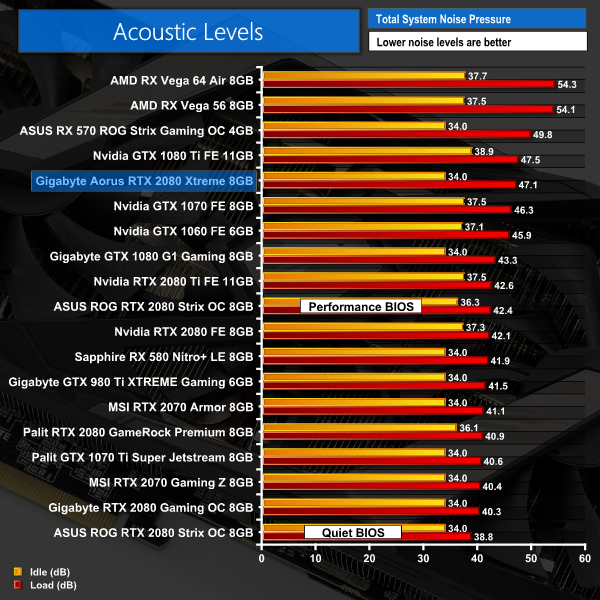 As with our temperature testing, the noise levels of this Aorus card again surprised me – it is loud! Peaking at 47dB, it is a full 5dB louder than Nvidia's Founders Edition 2080, making it by far the loudest RTX 2080 card we have tested so far. It does have a fan stop mode, so the fans don't spin while the card is idling, but again – I don't understand why this Aorus model, a flagship card, is almost 7dB louder than the cheaper RTX 2080 Gaming OC.
Just to clarify as well, this card was tested with all the same settings as our previous RTX 2080s – auto fan curve, stock Nvidia GPU settings from the control panel etc. It just runs a lot louder.