For our temperature testing, we measure the peak GPU core temperature under load, as well as the GPU temperature with the card idling on the desktop. A reading under load comes from running the 3DMark Fire Strike Ultra stress test 20 times. An idle reading comes after leaving the system on the Windows desktop for 30 minutes.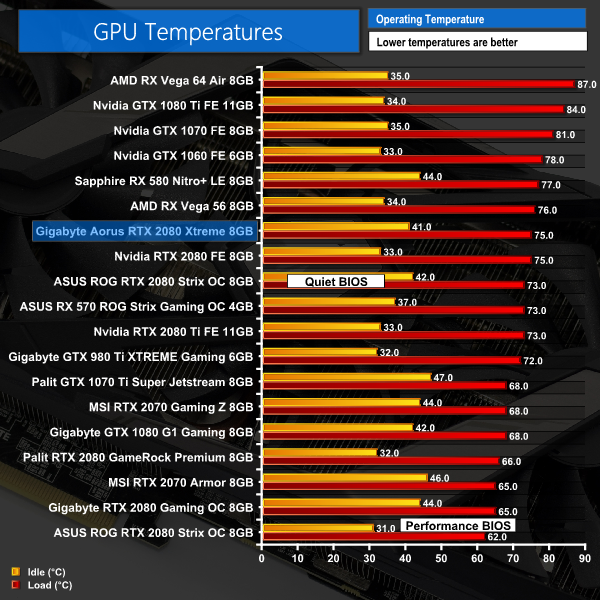 At this point we have established that the Aorus Xtreme 2080 is up there with the fastest RTX 2080s out there – no doubt about it. Surprisingly, however, it is actually a relatively hot-running card, with a peak of 75C during 3DMark stress testing. Now, this isn't a worrying figure at all – it is still well below the maximum operating temperature for an RTX 2080 – but for an aftermarket card like this, it is really quite warm. After all, it is essentially the same temperature as Nvidia's Founders Edition, and a full 10C hotter than Gigabyte's own Gaming OC 2080 model.

For me, I have to say I don't understand this at all. A card of this size, with such a hefty heatsink and three 100mm fans, I would really expect the GPU core to be running in the low 60s. I mentioned at the start of the review how I wasn't sure about the direct contact with the heatpipes and the GPU die, and it is possible that is part of the problem, but it still baffles me that Gigabyte would release this Aorus card to market – priced £120 above its own Gaming OC 2080 – despite it running hotter.
In fairness, the GPU itself seems to be the hottest point of the card, as our thermal imaging camera could not find any hot spots above 64C which is more in line with what we'd expect from a card like this.