With Nvidia's RTX 2070 SUPER launching one week ago, today we have assessed the first of the custom SUPER cards to come through our labs – the MSI RTX 2070 SUPER Gaming X Trio.
As is likely to be very common among board partners, it looks like MSI has re-used its cooler and PCB design from the RTX 2080 Gaming X Trio for this 2070 SUPER card, which makes sense considering both are built on the TU104 GPU. As our results show, however, that is a very good thing as this card runs very cool, with a peak temperature of 65C when under load.
Noise levels are even better, however, and I really do have to stress this point – this is a very quiet card and it proved impossible to hear when sat just three feet away. For anyone who just does not want to hear their graphics card whirring away while gaming, this Gaming X Trio is a top choice.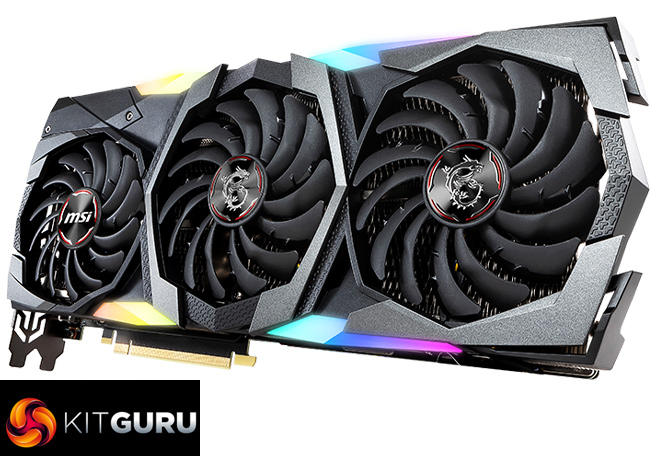 As for how the card performs in games, this is where things get a little disappointing. MSI has not been very adventurous with its factory overclock at all, adding just 30MHz to the GPU core when compared with reference speeds. That means the Gaming X Trio is consistently faster than the 2070 SUPER Founders Edition that we reviewed last week, but only by 2% on average.
I do find this to be a shame, particularly as MSI's Gaming series is known for producing high quality cards that run fast out of the box. That just isn't the case here, with very marginal gains to be had over the reference-clocked Founders Edition.
AMD's new RX 5700 XT is also a strong contender for your money. To be clear, its reference design cannot hold a candle to this Gaming X Trio in terms of noise levels or temperatures, so if those two factors are big priorities for you then this won't necessarily apply. But there is no denying the 5700 XT offers superior value in terms of pure gaming performance, as it's on average 7% slower yet costs 20% less than the RTX 2070 SUPER's MSRP of £475.
Speaking of pricing, things aren't looking good for MSI here. At the time of writing we are waiting on final pricing, but were told it will be £550 'plus or minus' £20, so between £530-570. For me, that is just too expensive for what you are getting. This card is a clear improvement over the Founders Edition (though, like we said, not by much in terms of gaming performance) but there is a limit to how much you'd be willing to pay for those improvements. If the pricing does come in at the upper end of that range, it could be £95 more than the Founders Edition, while even a £55 price premium is a 12% increase over MSRP.
Things once again come down to Nvidia building such a good reference card with its Founders Editions, that its partners suffer when trying to compete with their custom boards. Like we said, the Gaming X Trio is still a very proficient card, but would you be prepared to pay up to £95 more for it? If it were my own money, I have to say I'd just pocket the extra cash and go for the Founders Edition, as it is still an excellent card.
So, as things stand, if you do want to go for a new Nvidia card – perhaps you have a G-Sync monitor or value ray tracing – the RTX 2070 SUPER Founders Edition does look like the way to go. If you're simply looking for best value, though, there is a lot to be said for AMD's RX 5700 XT.
We have written this review ahead of the official retail launch so do not yet have a buy-link for the MSI RTX 2070 SUPER Gaming X Trio. We will update this review when we have one.

Update (14:01): Overclockers UK has the Gaming X Trio listed for £569.99 HERE. We have also found it on Ebuyer for £549.99 HERE.
Pros
Very quiet card.
Runs cool.
Overclocked well.
Effective RGB lighting.
Included support bracket.
Cons
Significant price premium over the Founders Edition.
RX 5700 XT is the clear winner in terms of bang-for-buck.
30MHz factory overclock is weak.
KitGuru says: With the right pricing, the MSI RTX 2070 SUPER Gaming X Trio would be an easy recommendation over the Founders Edition, despite its lacklustre factory overclock. As it is, pricing is simply not in its favour and the Founders Edition makes a lot more sense.