Three weeks on from the launch of the RTX 2060 SUPER and RTX 2070 SUPER, Nvidia has completed its mid-cycle refresh with the RTX 2080 SUPER that we have reviewed today. This review is focused on the Founders Edition card, but if you want to look at MSI's custom Gaming X Trio, we also have a review of that over here.
For this new card, Nvidia has simply taken its existing TU104 GPU, and fully populated it. The original RTX 2080 is also based on TU104, but it was never a full implementation of that GPU as it shipped with two SMs disabled. For 2080 SUPER, it now has those two extra SMs, giving it 128 more CUDA cores than the 2080.
That might not sound like a big improvement, but 2080 SUPER also boasts improved memory chips, running at 15.5Gbps versus 14Gbps on the 2080. This brings total memory bandwidth up to 496.1 GB/s, an 11% improvement over the 448GB/s bandwidth of the original 2080.

So, how much difference do these hardware tweaks actually make in the real world? Well, it is pretty underwhelming with the 2080 SUPER outperforming the vanilla 2080 by 4% on average in our testing. We are comparing the new SUPER card to the original 2080 Founders Edition, which is a factory overclocked model, but even when taking that into account this is hardly a significant jump forward.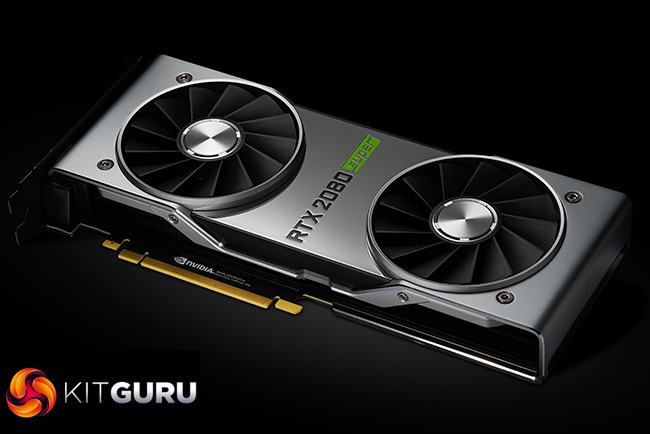 To provide just a few more comparisons, this 2080 SUPER is on average 16% faster than the Radeon RX 5700 XT, and 11% faster than the 2070 SUPER. Nvidia's RTX 2080 Ti remains king of the hill, as 2080 SUPER is still 12% slower than the RTX flagship.
Performance is therefore not ground-breaking – coming in 4% faster than a 2080 isn't exactly cause for celebration. Nvidia has reduced the pricing of the Founders Edition, however, so that 2080 SUPER is priced at £669, versus the £749 price tag which accompanied the 2080 Founders Edition. So things are looking up, then?
No, not really – even with the price cut, RTX 2080 SUPER is simply terrible value. Let's break it down – it's 11% faster than a 2070 SUPER, but it costs 41% more. That's almost an extra £200 for 11% increased frame rates over the 2070 SUPER. Things look even worse when comparing this card to the 5700 XT, as the 2080 SUPER is 76.5% more expensive…for a 16% performance uplift.
To be clear, the 2080 SUPER is a good graphics card and offers the next step up from the 2070 SUPER, with excellent performance at 1440p where it would be perfectly suited for a high refresh-rate monitor. So while it's not a bad card in itself, the pricing is what lets it down. At £669 for the 2080 SUPER, the £475 2070 SUPER just makes far more sense. You're really not losing out on much performance, but you are saving a significant chunk of cash in the process that could be put towards any number of new upgrades for your system.
So, in my mind, to put it bluntly I think you'd have to have more money than sense to buy a 2080 SUPER instead of the 2070 SUPER. Even if that is the case for some people – why not just buy the 2080 Ti? At least then you're getting an experience no other graphics card can offer. As it stands, I just cannot recommend the 2080 SUPER as it simply represents very poor value.

You can buy the Founders Edition card directly from Nvidia HERE. A range of custom cards are available on Overclockers UK HERE.
Pros
Good reference cooler.
Faster than original 2080.
Offers close to 60FPS when gaming with ray tracing enabled at 1440p.
Memory overclocked very well.
Cons
Terrible value when compared to the 2070 SUPER.
Power draw almost matches 2080 Ti, despite being slower.
KitGuru says: In terms of its performance, 2080 SUPER is not bad at all. Priced at £669, however, we really would need to see a £100 price cut before being able to recommend this card.