We heard pretty much everything there was to hear about GTX 1660 SUPER in the weeks building up to the official launch, but today the card has been announced and we have reviews of two cards – this review has been looking at Palit's GamingPro OC, but if you want to look at the Gigabyte Gaming OC 6G you can find that over here.
First, let's just make it clear what we have with 1660 SUPER – it's not a new architecture, or even a new Turing GPU. It is simply a vanilla GTX 1660, but with faster GDDR6 memory instead of the older GDDR5 memory. That's it – so any performance gains come purely as a result of the memory, as the GPU itself has not changed at all.
Despite that, the Palit GamingPro OC offers some decent performance improvements over the GTX 1660. Averaged across all of our testing today, this Palit 1660 SUPER is actually 13% faster than the GTX 1660, enough to give a noticeably smoother gaming experience. In fact, that means 1660 SUPER is very close to the 1660 Ti in terms of performance, with Palit's card proving 3% slower on average, but no more than 5% slower at most.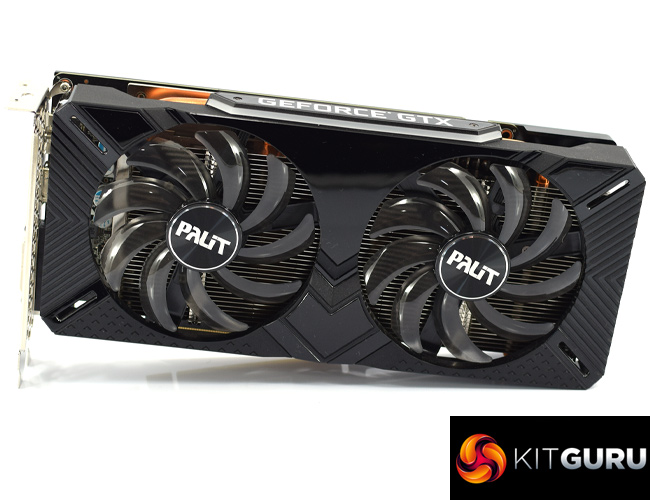 That means it could be a good card to upgrade to if you have been holding onto that trusty GTX 1060 6GB for a few years now – the GamingPro OC 1660 SUPER is 41% faster than that card. To provide a few extra comparisons, this Palit 1660 SUPER is 16% faster than RX 590, 16% slower than RTX 2060 Founders Edition and 13% slower than Vega 56.
By and large, Palit has build a good card, too. Thermal performance is the most impressive area for this card, as the GPU peaked at just 65C under load, despite it being a compact design. The only slight downside to that is the fans do have to spin a little faster than I'd like, so while the card isn't loud per se, there are noticeably quieter cards out there, including the Gigabyte 1660 SUPER we have reviewed today.
The GamingPro OC also overclocked about as well as we'd expect, the core reached about 2070MHz under load while the GDDR6 memory was stable at 15.8Gbps. This saw frame rates improve by 8-9% in the games we tested, so decent overall but nothing more than we have seen from other Turing cards.
Wrapping things up, to me it is clear that Nvidia has a very good product on its hands with the GTX 1660 SUPER. It may not be too exciting, with just a memory change versus the vanilla GTX 1660, but that alone is enough for the GamingPro OC to outperform the 1660 by 13% on average. That means it is just 5% slower at most when compared to 1660 Ti, despite costing £50 less. For me, that basically puts 1660 Ti out to pasture as the performance difference is very slim between the two cards, but you're saving about 20% by going for the 1660 SUPER.
AMD is also in need of a direct competitor to this card, as at present it doesn't really have a true rival to the 1660 SUPER. RX 590 has recently seen prices drop as low at £175, but that card is still 14% slower on average than 1660 SUPER, so it's a definite step down in terms of performance. Vega 56 does come in 15% faster, but availability of those cards is dropping, and even if you can find a decent-looking card online, prices are typically 20%+ higher than 1660 SUPER.
That means 1660 SUPER is the best option if you are looking for a new graphics card at or around the £210 price point. It's so close to the 1660 Ti in terms of performance that the gaming experience is going to be indistinguishable between the two, but you save £50 by going with the 1660 SUPER. It's not a super sexy launch, sure, but the consumer is getting more for their money than they would have done this time last week.
As for Palit's GTX 1660 SUPER GamingPro OC, it's a capable card and I'd be happy to put this in my own high refresh-rate 1080p gaming system. I'm still waiting on a confirmed price for this model ahead of launch, but provided the card can be found reasonably close to the MSRP, it's well worth buying.

You can view the whole range of GTX 1660 SUPER cards at Overclockers UK HERE.
Pros
13% faster than GTX 1660, 3% slower on average than 1660 Ti.
£210 MSRP offers good value.
Compact card design from Palit.
Runs very cool at just 65C under load.
Cons
Could be a little quieter.
Just a change to video memory isn't hugely exciting.
KitGuru says: GTX 1660 SUPER is a very good option to have around the £210 price point, and as long as the GamingPro OC isn't too much more expensive than that it is well worth picking up.