We take our noise level measurements with the decibel meter on the top and middle section of the case, overhanging the side panel (power supply side, not motherboard tray side) by exactly 1 inch to avoid any airflow pressure coming from the exhausting AIO cooler.
I measured the sound floor to be 34 dBA, thus anything above this level can be attributed to the graphics cards. The power supply is passive for the entire power output range we tested all graphics cards in, while all CPU and system fans were disabled.
Noise levels were measured after 5 minutes under three scenarios: desktop idle, Deus Ex: Mankind Divided at 4K, and the Fire Strike Ultra stress test.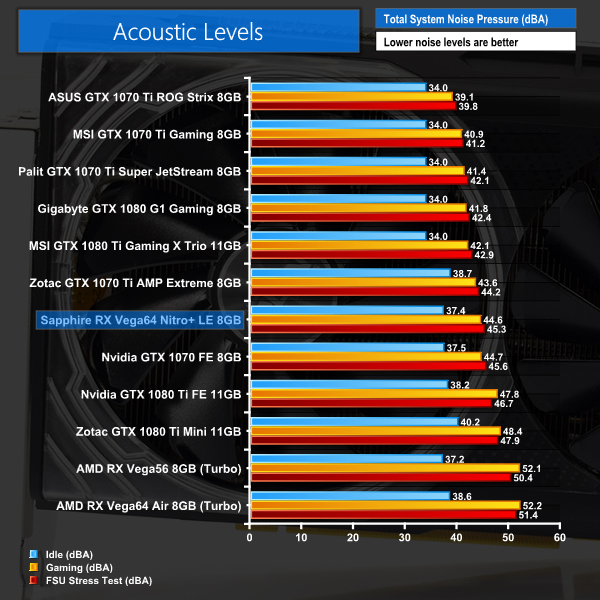 Starting with noise levels under load, Sapphire's card isn't the quietest around – but compared to AMD's reference design it is a vast improvement. In any case, it isn't the loudest aftermarket card we've ever tested, so it wouldn't be fair to be overly critical here, but you do get lower noise emissions with a GTX 1080 or 1070 Ti.
Idle noise levels are interesting, however, as Sapphire does advertise a 'fan stop' mode when the GPU core is below a 55C threshold. However, the fans wouldn't turn off with my card and stayed at a constant 21% while idling, resulting in the slight noise bump at idle.
We did get in contact with Sapphire about this – as the fans should not spin under 55C – and we were told that it is a known driver issue, as AMD's drivers can occasionally interfere with a card's fan curve. We can expect a fix in the near future.