The first aftermarket Vega 64 card to come through our labs, the Sapphire RX Vega 64 Nitro+ Limited Edition is undoubtedly a great improvement over the reference card.
It delivered faster frame rates across the board when compared to the reference Vega 64, thanks to its ability to hold its boost clock at consistently higher frequencies. Where our reference card would flit between 1400 and 1500MHz, the Nitro+ held steady at around 1570MHz right out of the box.
That extra performance does come at the cost of increased power consumption, though that is not really surprising when we remember that this card has a whopping three PCIe power connectors, something which is almost unheard of in this modern era of efficient GPUs.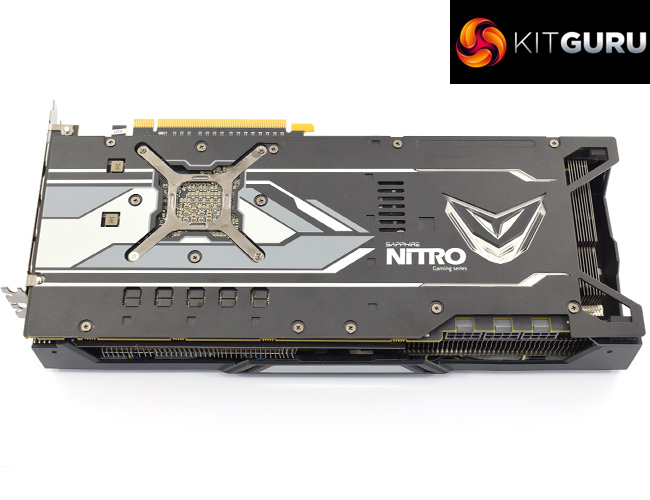 The actual card itself is very good-looking, though, with a lovely monochrome backplate that adds some interest without causing an issue for those with colour-coordinated systems. It is massive, though, measuring 310 x 133 x 54mm, so it is perhaps not a card for any Mini-ITX system builders out there.
Sapphire's three fan cooling configuration provides excellent results, too, as we saw a peak temperature of just 68C for the Nitro+, using AMD 'Turbo' profile no less. The card isn't as quiet as other GTX 1080 or 1070 Tis we have tested recently, but it isn't raucous either so we were happy enough with overall noise emissions.
The main problem for the Nitro+ comes when we consider pricing and the card's competition. Sapphire hasn't yet told us a firm price for the Nitro+, but based on current pricing for other aftermarket Vega 64 cards, it is hard to see it costing less than £650.
That is obviously a big problem for Vega 64 when we consider the fact that GTX 1080s can be had for as little as £499.99. The obvious question is, then, why would anyone buy a Vega 64 card when it is slower, more power-hungry and about £150 more expensive?
And the fact is, I struggle to answer that question. There is a slight possibility that someone who saved a decent bit of cash by going for a FreeSync monitor (instead of a G-Sync one) may consider buying Vega, but even then, a GTX 1080 will still output more FPS for less money. It's certainly a very difficult time for any AMD fans out there.
All-in-all, the Sapphire RX Vega 64 Nitro+ Limited Edition is undoubtedly a fine aftermarket Vega 64 card, delivering significantly better performance and lower temperatures than the reference design. If you simply must have an AMD graphics card in the high end, you will get no better and its worth considering. However, pricing is just not competitive at all – for £150 less, a GTX 1080 will give you better performance, making it a no-brainer unless you really must have FreeSync support for your monitor.
We don't yet have pricing or availability confirmed for the Nitro+, but we will update this review with a buy link when we have one.
Update 16/12/17: The Nitro+ is available from Overclockers UK for £749.99 HERE.
Pros
Significantly faster than reference Vega 64.
GPU core peaks at just 68C.
Good-looking card with a colour-neutral design.
Would work well with a 1080p or 1440p FreeSync monitor.
Cons
Costs more than GTX 1080 – despite being slower and more inefficient.
Very power-hungry and requires three 8-pin PCIe power connectors.
KitGuru says: While we are waiting for firm pricing and availability information from Sapphire, Vega 64 is a very tough sell at the minute – no matter how good the aftermarket card, GTX 1080s can be found for significantly less money while offering increased performance and efficiency. Even the lure of FreeSync support is not enough to justify the extra cost – ultimately, the price-to-performance ratio is just not good enough.