The Sapphire RX Vega 64 Nitro+ Limited Edition card ships in a black box, with a large robotic figure placed on the front.
Inside there are four pieces of documentation as well as the support bracket to prevent any unwanted sagging.

Getting our first look at the card, it is definitely a looker. The black shroud contrasts beautifully against the clear plastic sections which house the card's RGB LEDs, while even the three fans' size differences (two 100mm, one 90mm) is visually appealing.
It is a huge piece of kit though. Sapphire has its dimensions listed as 310 x 133 x 54mm, while it is also a two-and-a-half slot card – so definitely check to make sure it can fit in your chassis before buying one.
'naked' Images above courtesy of Sapphire
Now, moving onto the PCB and heatsink, we actually had to borrow the above images from Sapphire itself – something we do not usually do. The reason for this is that Sapphire actually asked us not to remove the card's heatsink, for the simple reason that doing so would interfere with their specially manufactured thermal paste – so if we tampered with the card here, it would affect whoever used it next.
Making do with Sapphire's images, though, we can see the custom PCB is quite something. It features a whopping 14 phase power delivery design, and it looks like each inductor actually has its own mini-heatsink to help aid heat dissipation. Even the PCB itself sports a lovely black and white design which is a lovely touch.
As for the heatsink, that sports 3x 8mm heatpipes, as well as another 3x 6mm heatpipes to cool the GPU core. There are also two more 6mm heatpipes specifically designed to cool the VRMs. It is certainly an impressive piece of engineering.
Elsewhere, the backplate is very tasteful thanks to its colour-neutral design that looks really good without causing a headache for anyone with a colour-coordinated system. On the right-hand side of the card's rear, there is more RGB lighting positioned in the Vega logo.
On the side of the Nitro+ LE, we find the required PCIe power connectors: three 8-pin plugs, no less. This is quite something, and I can't remember the last time I saw a mainstream GPU with three 8-pin PCIe power connectors required. Later on in the review we do assess power consumption, so I won't spoil that for you here.
Moving over to the end of the card, sandwiched between the heatsink fin array and backplate we find a solitary 4-pin fan header. Like various ASUS Strix models we have seen over the last year, this allows you to control one of your case fans via the GPU temperature, as opposed to CPU temperature as per a motherboard fan header.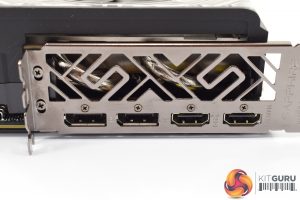 Lastly, display outputs are as follows: 2x DisplayPort 1.4, 2x HDMI 2.0b. This is one extra HDMI over reference, something Sapphire changed with VR headsets in mind.