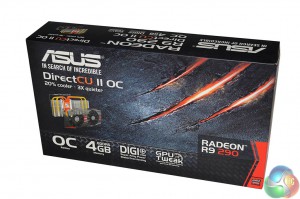 Asus seem to have been using this particular 'red claw' box artwork forever. Along the bottom of the box are a list of key specifications and an image of the Direct CU II cooler.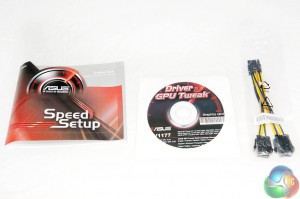 Not an extensive bundle inside – just a software disc, speed setup guide, and power converter cable.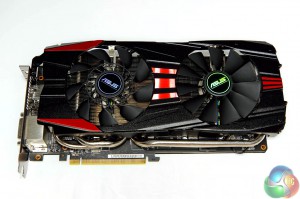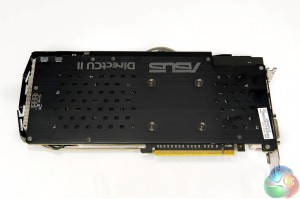 A very heavy card, thanks to the metal construction and backplate.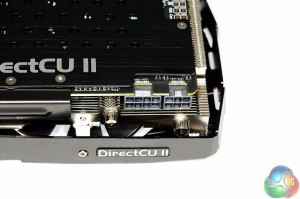 The Asus R9 290 Direct CU II OC takes power from a single 6 pin and 8 pin power connector. Same as the reference design.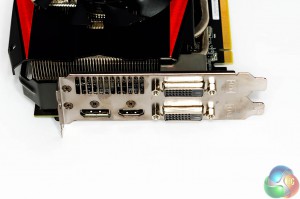 The card has a DVI-I, DVI-D, full sized HDMI and DisplayPort connectors.
R9 Series graphics cards can now support up to three HDMI/DVI displays for use with AMD Eyefinity technology. A set of displays which support identical timings is required to enable this feature. The display clocks and timing for this feature are configured at boot time.
As such, display hot‐plugging is not supported for the third HDMI/DVI connection. A reboot is required to enable three HDMI/DVI displays.

There is no Crossfire connector on the R9 290. The 290 and 290x offer Bridgeless Crossfire capabilities.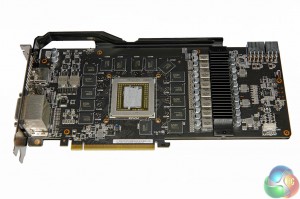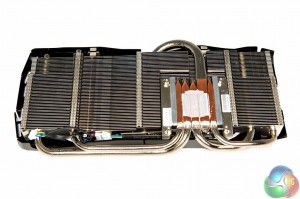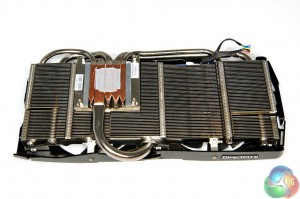 Above, the Asus R9 290 Direct CU II OC disassembled. Asus are using Elpida memory which some feel is lower grade than equivalent GDDR5 Hynix. Regardless of how you look at it, the memory on these cards is certified to run at the respective speeds and we haven't ran into any issues before during testing. We spoke with other AMD partners, and they told us that the 2013 Hynix fire has meant sourcing memory from other factories has been critical.
It has been brought to our attention by several readers that ASUS have transplanted this specific Direct CU II cooler from their GTX780 range of hardware. Asus have not confirmed this, however we can see by the thermal paste footprint in the images that while there are five direct touch copper heatpipes, only 3 of them are making direct contact with the AMD R9 GPU core. That said, the outer two heatpipes will be working a little via heat transference with the others.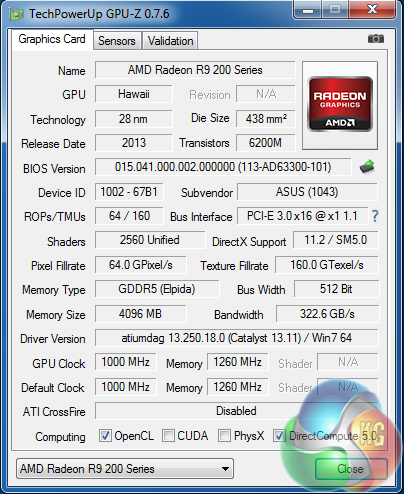 An overview of the Asus R9 290 Direct CU II OC, clocked at 1GHZ. The Hawaii GPU is built on the 28nm process and the card comprises 6.2 billion transistors. The R9 290 has 64 ROPS, 160 texture units and 2,560 Stream processors. The 4GB of GDDR5 memory runs at 1,260mhz (5.04Gbps effective) and is connected via a wide 512 bit memory interface.