Results Comparison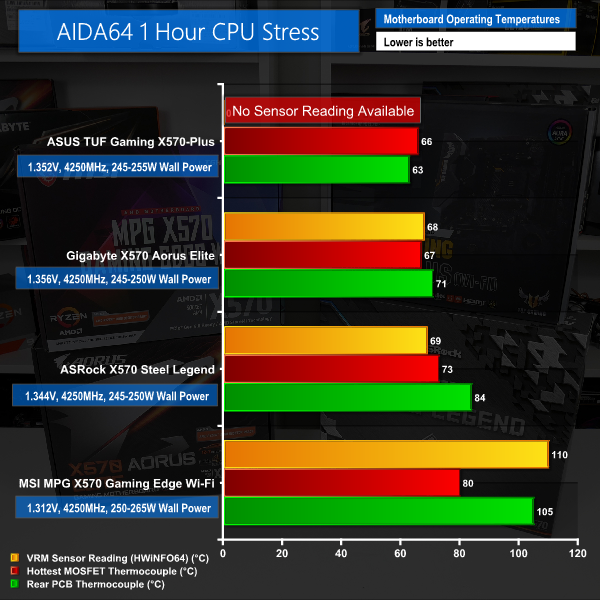 When it comes to raw MOSFET temperatures, ASUS and Gigabyte put in the best displays in our testing. There is little between these two solutions, though ASUS did display slightly better temperatures for the left-side MOSFETs thanks to its CPU VCore VRM and heatsink distribution. The PCB temperatures were also a little better for ASUS thanks to its use of a six-layer PCB compared to Gigabyte's four-layer.
Despite the ASUS board offering marginally better temperatures for the MOSFETs overall, the accurate in-built temperature sensor for Gigabyte's X570 Aorus Elite was a clear positive. It is a shame that ASUS' motherboard does not display VRM temperature readings in OS-based monitoring software. Based on our testing, ASUS shows excellent performance and has absolutely nothing to hide.
ASRock's X570 Steel Legend displayed solid performance from its lower-cost eight-phase CPU VCore VRM. The MOSFET temperatures were higher than ASUS' and Gigabyte's but the margin was no cause for concern. ASRock's board also featured a VRM temperature sensor reading in monitoring software which proved to have a reasonable degree of accuracy in our testing. One area where ASRock was not as competitive as the ASUS and Gigabyte alternatives was with PCB temperature. This is likely due to the deployment of all eight CPU VCore power delivery phases to the left of the AM4 socket, thus resulting in more localised heating that is increasingly difficult to conduct and dissipate from the PCB.
One clear area where ASRock's X570 Steel Legend has benefits is to APU users. The two-phase SoC VRM gets its own dedicated heatsink and maintains the use of Vishay DrMOS power stages. Users looking to push an APU hard may be interested by this design choice on ASRock's part.
MSI's MPG X570 Gaming Edge WiFi did not perform well in our testing, even despite the conservative MOSFET temperature readings that we gathered due to our testing difficulties. Recorded MOSFET temperatures of 80°C, with sensor readings suggesting 110°C, are not good for worry-free computing. The PCB temperatures were too high to run this type of current draw on a high-powered Ryzen CPU for extended periods of time.
MSI aimed to brute force a large heatsink onto its motherboard to compensate for the use of more basic power delivery components. But according to the temperature data that we recorded, this was not a reasonable design choice for a motherboard that costs more than £200. While we did not see any VRM-induced CPU throttling in our test runs, I would not feel confident running my system day-to-day knowing that the PCB is hitting more than 100°C with relative ease. We were fortunate enough to have decent case airflow in our testing, also, which is not always the available to many users.