Gigabyte X570 Aorus Elite

Now looking at Gigabyte's X570 Aorus Elite, we see the other twelve phase competitor at this price point, albeit with a different method of delivering those dozen CPU power delivery phases.
Our overclocked settings resulted in power draw that was very close to that of ASRock's and ASUS' competitors at around 245W.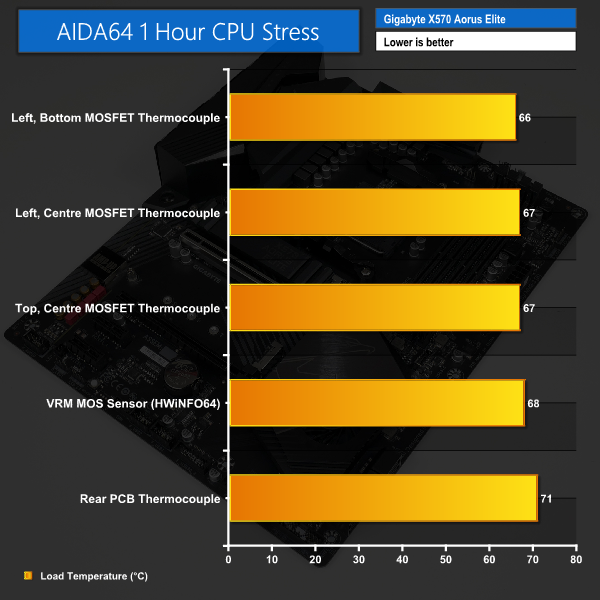 We recorded a maximum temperature on the Vishay SiC634 DrMOS power stages of 67°C, when normalised to 25°C ambient. Comparing the data between our sensors, it is clear that Gigabyte's mounting distribution of the power phases and VRM heatsinks is smart, as there was never more than a 1°C difference between the left-side power stages and the top-side ones.
Comparing our recorded data to that of the ITE chipset-based VR MOS sensor that feeds data to software such as HWiNFO64, sensor readings of 68°C imply good accuracy and relevant data that users can trust without needing to break out the thermocouples.
As was the case with ASUS' TUF X570-Plus, a maximum recorded temperature below 70°C is a strong result for an affordable X570 motherboard handling an overclocked 12-core CPU.
The rear PCB temperature peaked at just over 70°C. This is a decent enough result, especially when Gigabyte's use of a lower-cost 4-layer PCB is factored in.
The cooling rate was also perfectly good, with the MOSFET sensors and PCB sensor showing readings of less than 60°C after just 1 minute of load removal.
Overall, Gigabyte's power delivery solution on the X570 Aorus Elite looks to be very well-specced and the component distribution is smart. The heatsinks are good enough at keeping the Vishay power stages at healthy operating temperatures.