The Dell Inspiron 15 7559 is a mid-range laptop (£999) attempting to bring a 4K display to the mass enthusiast audience.
However, the Inspiron has solid foundations aside from its glorious 4K display. The Skylake Core i7-6700HQ is a very powerful CPU, providing great results across our tests, including SiSoft Sandra and Cinebench R15. It certainly wipes the floor with my desktop Core i3-4160.
One area that could be enhanced is the system memory. Presumably to keep costs down, Dell use older DDR3 RAM (PC3-12800) in the Inspiron instead of newer, faster DDR4 memory. It is not a huge problem as the system still performs very well, but DDR4 support would help provide extra security for those looking for a 'future-proof' laptop.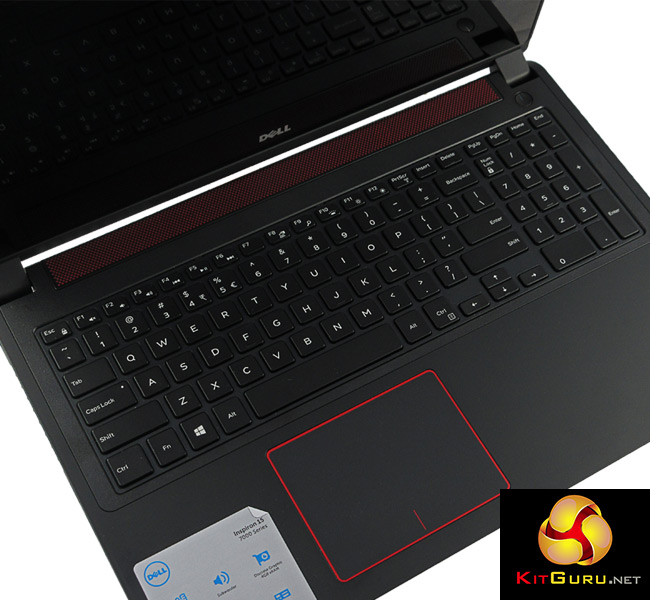 The Nvidia GTX 960M proved to be an effective and capable gaming GPU at 1080p. We did test at 4K out of interest, and only the lowest of settings render playable results at that resolution – the GTX 960M is simply not powerful enough to push that many pixels at high settings. However, if you adopt the mindset that the Inspiron is a 1080p gaming laptop you will not be disappointed. The 4K display here is more for movies and photos, where it excels … just not for gaming.
The Inspiron is well designed, too. It has tasteful red accents to complement the black chassis, but it is subtle and not overbearing as with some laptops. Admittedly it is all made from plastic, but costs needed to be saved somewhere to accommodate this level of internal hardware. It certainly does not feel cheap to hold and use, so personally I think Dell have done the right thing to prioritise hardware over build materials.
The keyboard and trackpad are good all-rounders, too – but neither blew me away. The keyboard has particularly minimal key travel, something that took adjusting to coming from a desktop mechanical keyboard. The trackpad does track accurately, but most likely users will be utilising a USB mouse to game so it is not of the highest significance. Out and about, though, and it will do the job just fine.
It is also worth mentioning the very solid battery life. You can expect around 6 hours of normal usage from this laptop, and closer to 3 hours for high-intensity workloads. For a 4K laptop this is particularly impressive, especially when you consider the powerful Core i7-6700HQ needs a fair amount of juice, too.
One final area of discontent must be noted, though. There is a 120GB SK hynix M.2 SSD included, alongside a 1TB HDD. Nowadays we could really do with a 240GB SSD alongside the HDD, as once Windows and some large software suites are installed you will be running out of SSD space. Furthermore, while the SSD has fast read speeds, the write speeds are somewhat lacking – registering less than half the speed of the read speeds.
Still, the Inspiron 15 7559 is a very decent laptop for the price, and I would recommend it if you are looking to game at 1080p but take advantage of the other benefits 4K has to offer.
You can pick it up directly from Dell for £999 here.
Discuss on our Facebook page, over HERE.
Pros:
4K display.
Core i7 and GTX 960M is a good combination for 1080p gaming.
Relatively affordable.
Good looking.
Strong battery life.
Silent under light loads.
Fairly light at just 2.7KG.
Cons:
Not an effective 4K gaming machine.
SSD is small and writes data comparatively slowly.
DDR3 memory not DDR4.
KitGuru says: The Dell Inspiron is fantastic for anyone looking to get a laptop with a 4K display, though bear in mind it cannot game at 4K. Despite this, it is well priced and has few issues going against it.