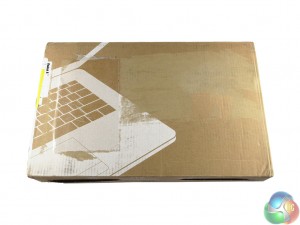 The Dell Inspiron 15 7559 came well packaged in a brown cardboard box. Admittedly, my sample looks rather scruffy but presumably it has been to other journalists first, whereas a retail product would undoubtedly arrive in pristine condition.

Inside the box, the laptop itself is kept in a protective sleeve, with the power brick in a separate compartment. There are safety and quick start guides also present, but both are very brief.
The power brick itself is a 130 Watt unit, which I thought quite modest for this level of hardware but it does the job perfectly fine. It also has a 'built-in' strap to tie up the cabling from the brick, a nice touch to keep things tidy.