Last updated on January 4th, 2017 at 05:05 pm
To test the battery life of a laptop, we use PCMark 8's in-built battery benchmark – which loops its 'Home' benchmark until the battery fails. We do this with the screen brightness set at 50%.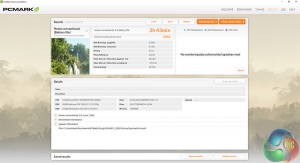 A time of 2:43, for a gaming laptop such as the Defiance III, is actually pretty decent. I would suggest this score is down to the greater efficiency of Pascal as compared to older architectures. A rough, real-world battery life of about 5 hours can be expected.