When Nvidia announced Pascal GPUs for laptops, part of the announcement was the ability to overclock the GPUs. As such, before delving into the rest of the review, here I detail my findings when overclocking the GTX 1060.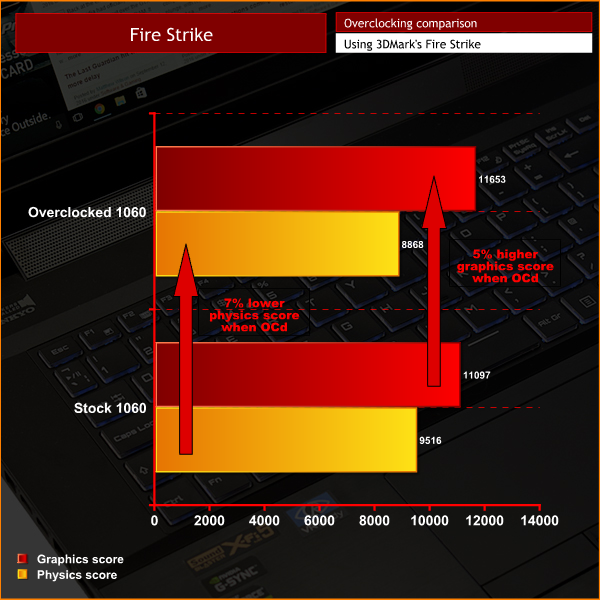 Essentially, I found that overclocking made little difference, and in some cases made performance decrease.
What I did was simply add +150MHz to the GPU core using MSI Afterburner. The power limit is locked for overclocking laptop GPUs.
However, as you can see above, this overclock had a negligible effect on 3DMark's Fire Strike graphics score and even worsened the physics score. This would likely be because the extra heat from the overclocked GPU adversely affected the CPU's thermals, given that they share cooling heat-pipes.
The small graphics increase can be explained by the fact that, due to GPU Boost 3.0, the stock-clocked GTX 1060 was already boosting happily well beyond the advertised boost clock. As such, the GPU was already boosting beyond the +150MHz offset before I even applied it. Thus, when I did apply the +150MHz, the GPU could only boost a little higher than it had been already, due to it hitting its thermal ceiling.