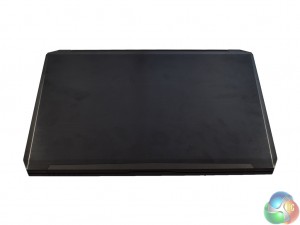 Above we get our first look at the PCSpecialist Defiance III. It has a lovely brushed aluminium finish, which I would describe as a 'charcoal' colour, rather than black.
Opening up the laptop, we see this brushed aluminium finish continues around the edges of the keyboard.
With the lid open, we also get a feel of how large the laptop is – a 17.3in panel is used here.
Coming next to the keyboard, the Defiance III may look like a typical laptop keyboard at first glance. However, it is worth detailing two main ways it elevates itself above the competition.
First, the keyboard has more key travel than most laptops. Of course, it does not have quite the same feeling as a mechanical keyboard, but you certainly feel the key being pressed, which is more than can be said for many other laptops I have reviewed. Added to that, while the keyboard is not mechanical, it almost feels like a tactile switch is being used, as the keys just push back ever so slightly at the point of actuation. While I would imagine the keys use the typical scissor switches, they are certainly of high quality.
Secondly, the keyboard is RGB capable. Of course, this is not a feature unique to the Defiance III, but I would say it is rare enough to see in a laptop of this price to make it worth mentioning. I left the keyboard with a static blue backlight, but it is good to have RGB control should you want it.
Next we come to the touchpad. Rather than using integrated buttons, there are dedicated left-and-right click buttons included. Some people prefer integrated buttons, others prefer dedicated buttons – I am not fussed myself, but it works here and that is the main thing. The actual trackpad is very smooth and a pleasure to use. I previously criticised PCSpecialist's Lafité trackpad for being 'sticky', or creating too much friction while tracking. That is not the case here, which is good to see.
To the left of the mousepad are a number of stickers, all indicating various features of the laptop's hardware. One thing to note, however, is that there is a Nvidia G-Sync sticker, when the panel does not support the technology. I can only assume it is included because the GTX 1060 is G-Sync capable when paired with a display that supports the technology.
Coming next to the ports and connectors, we will start with the left edge. Here we find 1x mini DisplayPort, 2x USB 3.1 Type-C ports, and 2x USB 3.0 Type-A ports.
On the right edge there are 3x audio jacks, 1x SD card reader, 1x USB 3.0 Type-A, an Ethernet port and a Kensington lock.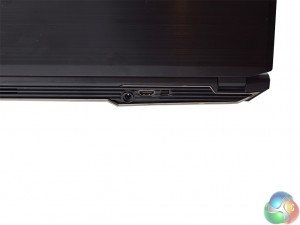 The power input, 1x HDMI port and 1x mini DisplayPort are located on the rear of the chassis.
Finally, we take a look at the laptop's innards. Removing the base cover is a simple matter of a few Phillips-head screws, and the panel then slides off.
The first thing to notice is the array of copper heat-pipes. There are quite a number of them, all designed to keep the GTX 1060 and i7 CPU from getting too hot.
In terms of an upgrade path, there are only 2x SODIMM slots, both of which are occupied with 8GB modules. There is a spare PCIe M.2 slot though, so you could add in some super fast storage if need be.