The talk of thermals gives us a perfect transition to this beast – the IceGiant ProSiphon Elite.
This prototype unit is fundamentally an air CPU cooler as it has no moving parts or a liquid pump, but it does not use conventional heatpipes. Instead, a dielectric fluid is boiled by heat from the CPU and this vapor in turn flows through to the condenser where it is cooled back to a liquid – by dumping its heat to the fin array for dissipation – and is driven by gravity back to the CPU evaporator block.

The process is continuous and as it does not use conventional heatpipes, the cooler is better able to deal with high thermal loads where heatpipe internal structures will typically saturate with vapor – this is known as 'dry-out'.
Clearly, this is still in prototype phase and will not be shipping until around May or June. But with the suggestions of 'better than air cooler performance levels without the moving parts and leakage concerns of liquid cooling', we were keen to test it out on the hottest (literally) new processor on the block.
We were even more keen when seeing that the current pre-order price is a very reasonable $120 USD.
For more details on how the IceGiant ProSiphon Elite works, make sure you go over and check the technical information on the IceGiant website. We plan to do more testing with this innovative new solution, so make sure you check back for that content.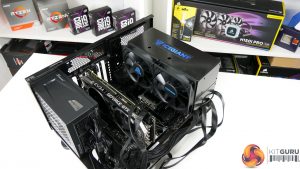 Manual Overclock Test (<400W CPU Package Power):
Our first quick test was a simple static overclock of around 1.07V under load and an achievable frequency of 3.5GHz. This translated into a wall socket power draw of around 520W for the entire system and a software-reported CPU package power draw of around 385W in Cinebench and 350W in AIDA64. Certainly a heavy load for an air cooler.
The IceGiant ProSiphon Elite and its 2200 RPM 120mm fans absolutely crushed this test. Back-to-back Cinebench R20 runs saw the CPU peaking at 72°C, while a 15-minute run of AIDA64 stress test also peaked at 72°C.
This was a highly impressive result and the Cooler Master Wraith Ripper by comparison was running closer to the mid-80s, albeit with greater CPU power draw due to the higher operating temperature.
PBO Overclock Test (around 600-650W CPU Package Power):
The next step was to throw the demanding Precision Boost Overdrive operation at the IceGiant cooler. For this test, we set the maximum CPU power budget at 1000W.
We knew that the Cooler Master Wraith Ripper was hitting against the 95°C thermal limit with the 3990X running under PBO conditions. As such, the CPU was downclocking and the thermal load was reduced. Our key goal was to find out by how much the ProSiphon Elite could reduce the CPU's thermally induced downclocking.
To say that we were surprised by the performance shown by the ProSiphon Elite would be an understatement.
The CPU cooler did not downclock the processor and instead maintained the roughly 650W peak CPU package power delivery throughout our extended Cinebench testing. This was remarkable as power draw from the wall was peaking at around 860W and the IceGiant cooler was completely fine.
In fact, the temperature had levelled at 91°C after 30 minutes of continuous Cinebench loading, meaning that the peak operating clock was maintained at around 3.8GHz across 64 cores and we lost less than 2% in our Cinebench scoring. That is remarkable.
Furthermore, an hour of AIDA64 stress test also ran perfectly fine with the IceGiant ProSiphon Elite. The CPU package power levelled off at around 500W, which was 680W wall power draw. This resulted in an operating frequency of 3.8GHz with a CPU temperature of 91°C.
Thoughts:
For me, the key takeaway from this brief period of testing with the IceGiant ProSiphon Elite is the CPU cooler's ability to open up an entirely new tier of cooling performance to users who do not want the risk, expense, or potential maintenance requirements of liquid cooling, but who need more performance than air can offer for high thermal load CPUs, such as Threadripper 3000.
The potential risk of downtime through pump and tubing failure, or the requirement for maintenance, make liquid cooling solutions unappealing to many workstation users. Personally, I would prefer to use an air cooler with no moving parts (other than fans) or leakage risks for a system that will cost upwards of £10,000 and be expected to run without hitches for 3-5 years. That's where the IceGiant ProSiphon Elite has a clear USP, especially when looking at its Threadripper capabilities.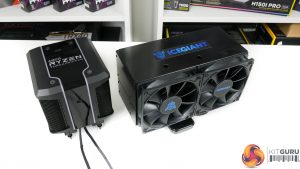 The IceGiant cooler allowed us to run our 64-core 3990X somewhat unrestrained in the PBO equation and with significantly higher power delivery and operating frequency than the Cooler Master Wraith Ripper, whilst also running at a lower temperature.
I am extremely keen to see how this cooler performs against alternative options for Threadripper, so make sure you check back for future content.