Our objective with CPU overclocking is to hit frequencies that we think will be achievable for daily use by the platform's buyers. As such, we test with sensible cooling hardware in the Cooler Master Wraith Ripper CPU cooler. We also aim to use sensible voltages that lead to manageable thermal results. Later in the review we did also use the immense IceGiant ProSiphon Elite prototype CPU cooler to see how far we could really push things, but for now we start using the Wraith Ripper.
Stability is confirmed by running multiple Cinebench tests, Handbrake video conversion, and extended Blender rendering runs. We do not use Prime95 as we have found it to be overly demanding as a stress test application with the more recent AVX-capable versions.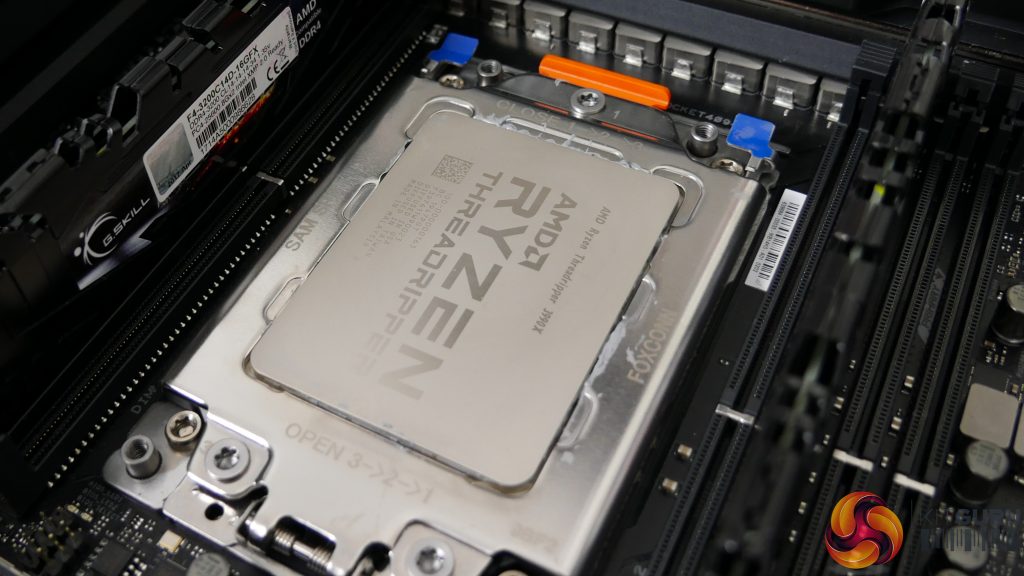 The partnering hardware of choice is the MSI TRX40 Creator motherboard, 32GB of 3200MHz CL14 DDR4, and a Seasonic Prime TX-1000 1kW Titanium PSU.
AMD Ryzen Threadripper 3990X Stock Frequency:
On the 3990X, all-core frequencies hovered around the 2950-3100MHz mark. For our extended Blender Classroom rendering run, the average speed across all cores was around 2950MHz. Around 4 minutes of back-to-back Cinebench runs held stable at 3GHz. This was using the Cooler Master Wraith Ripper CPU cooler.
Maximum boosts on the 3990X peaked at 4350MHz in our Cinebench R20 1T testing. This is slightly above the maximum advertised operating clock of 4.3GHz and highlights that the current AGESA version looks to be operating well.
AMD Ryzen Threadripper 3990X Precision Boost Overdrive + 200MHz Auto OC Frequency:
Overclocking was challenging due to the thermal headaches presented by such a high core count processor. We first checked with PBO and found it to deliver superb results thanks to the power delivery shackles of the 280W TDP being removed. The 64 cores had more room to open up the frequency taps.
Further testing suggested that there was no real need for us to manually overclock; PBO was delivering all the power and CPU frequency that our cooler could take while staying below the 95C target maximum temperature.
The PBO clocks operated at around 3700MHz initially and then quickly settled at just over 3.5GHz as the CPU cooler struggled to stay at or below 95°C. 3.5GHz on all cores out of a reasonably priced air CPU cooler is an impressive overclocking result. Users with better cooling solutions should expect higher operating frequencies from PBO.
Make sure you check later in the review where we use the beastly IceGiant ProSiphon Elite prototype CPU cooler to really see how far we can push this 64-core chip.