Blender BMW Benchmark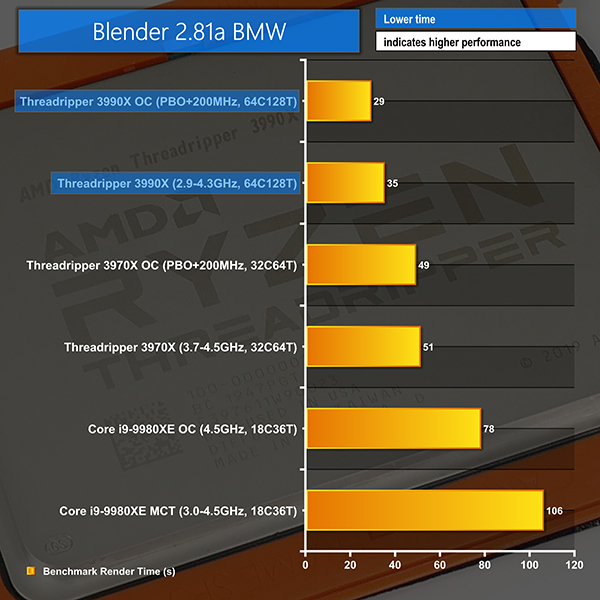 We have updated our Blender tests to use the latest version – 2.81a. This means that our previous 2.79b test data is no longer comparable. As such, comparison figures in these charts are currently light while we continue to gather data.

The quick BMW test absolutely flies when all 128 threads on the 3990X are loaded. Cutting 20 seconds off the render time compared to the overclocked 3970X is certainly not a result to underestimate when the performance improvement works out at 69%.
Blender Classroom Benchmark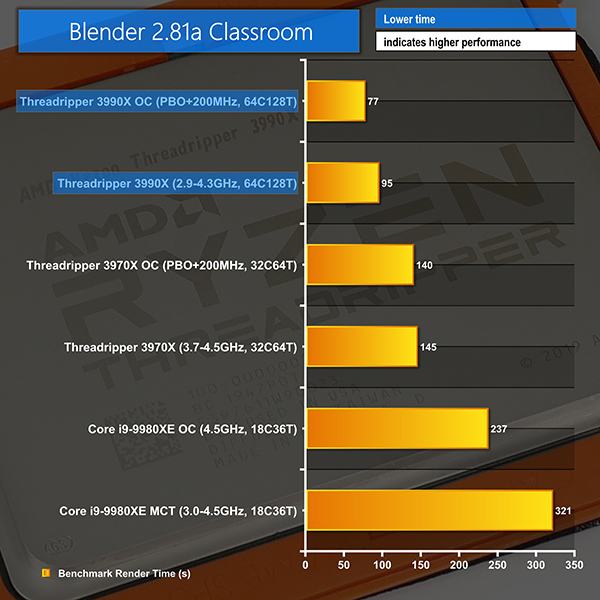 The longer classroom test is another clear success for AMD's 64-core HEDT flagship. Even operating at stock conditions, the 3990X completes the render in less than 100 seconds – a full 50 seconds faster than the stock-clocked 3970X. That results in a 53% performance uplift.
Open the taps with PBO enabled and the 3990X takes 63 seconds off the overclocked 32-core Threadripper. 82% higher performance from 100% more cores and cash money is an attractive proposition for certain buyers.
Blender Gooseberry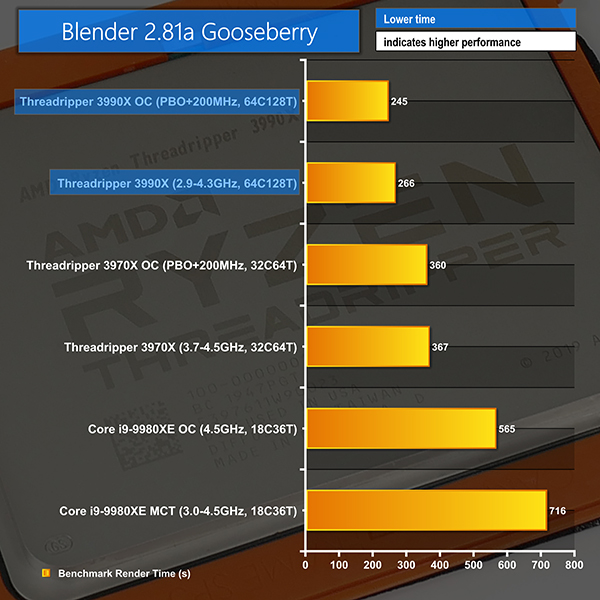 The Gooseberry test is an interesting result and perhaps more representative to certain target markets for Threadripper. As this test has periods of lightly threaded preparation work before completing a multi-threaded render, the performance gains from the 64-core chip aren't as wide as in the previous test runs.
A victory of 101 seconds versus the stock 3970X translates into 38% higher performance, while PBO increases the 64-core's lead to 115 seconds and 47% greater render throughput capability.
The Blender results are very simple as the rendering application is well-programmed to take advantage of 128 threads. If your project work is time critical enough, important enough, and valuable enough that 100% more monetary outlay for performance gains of 38-82% seems like a reasonable deal, the Threadripper 3990X is a fantastic choice.
Corona 1.3 Benchmark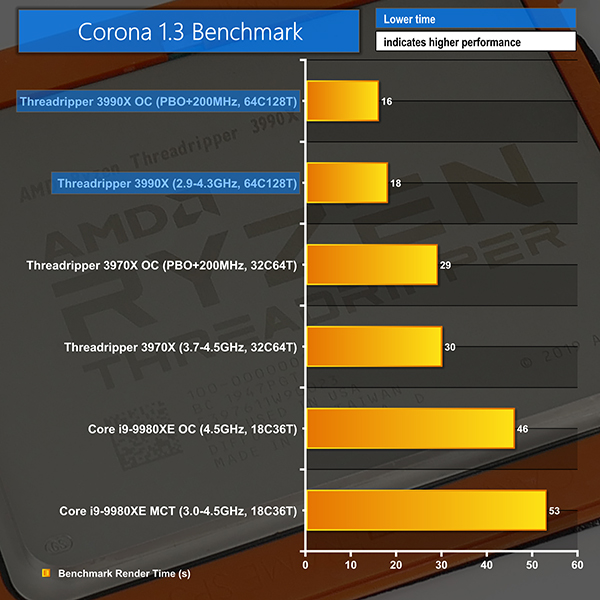 Corona 1.3 benchmark is another new addition to our test suite and therefore has limited comparison data currently.
This rendering application works well with all 128 threads and therefore the 3990X delivers clear performance uplift. Compared to the 32-core 3970X, the 3990X is 12 seconds quicker at stock and extends its lead to 13 seconds with both chips overclocked.
While these may sound like small time savings for such a sizeable cost differential, the percentage differences are important, as is the influence of rendering large numbers of images as part of your day-to-day job. Savings of more than 10 seconds per job on 20-30 seconds renders quickly add up.
POV-RAY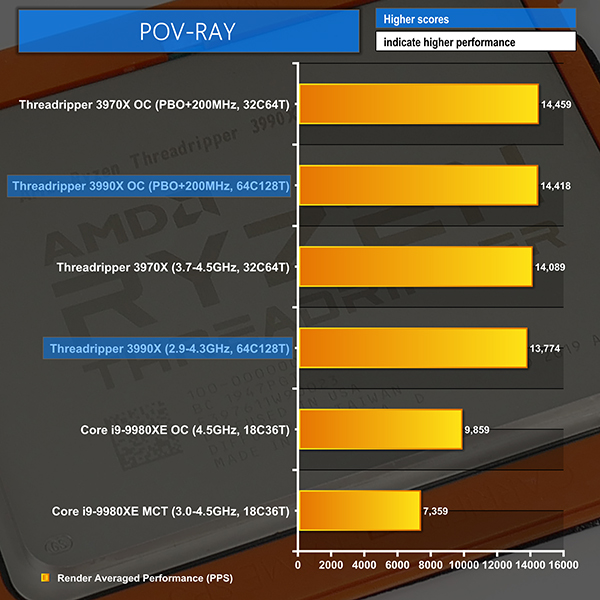 POV-RAY currently only supports up to 64 threads even with the latest beta version available via GitHub. AMD has told us that they have submitted an updated version that supports 128 threads and it is awaiting GitHub approval. We will update our test data in future pieces once that version is available, but for now, we are sticking to the latest public release and its 64-thread limitation.
This test is simply more of what we have seen from other 64-thread applications. The 3990X roughly matches the 3970X, barring small performance losses for frequency differentials. If you need faster performance in POV-RAY, the 3990X will not deliver that until the updated version is available. But if you want to run the demanding render whilst also continuing with other resource-intensive work, the 3990X CPU is currently better positioned to handle that.