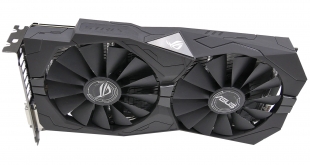 ASUS has outfitted its ROG STRIX GTX 1050 Ti OC with a dual-fan cooler and a 90-100MHz overclock past Nvidia's rated frequencies. The addition of a 6-pin PCIe power connector is intended to aid the maximum GPU Boost core frequency during gaming, while the two 100mm fans force air over a well-sized heatsink. An RGB LED and user-controllable 4-pin chassis fan header are provided as quality points for this £170 GTX 1050 Ti.

A primarily plastic shroud is used to house the two 100mm fans. ASUS puts these fans into a 0dB operating mode meaning that they remain inactive until a GPU temperature of 55°C is reached. With the power efficiency of the GTX 1050 Ti GPU, that's longer into the gaming session than one might anticipate.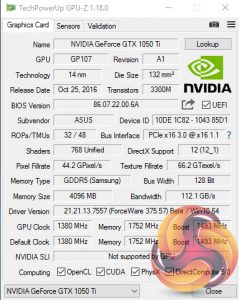 The ASUS ROG STRIX GTX 1050 Ti OC operates at 1380MHz core clock and 1493MHz boost frequency, out of the box in its default Gaming Mode. These are increases of 90MHz and 100MHz, respectively, over Nvidia's reference frequencies. Memory speed is left unchanged at 7008MHz effective.
There is also an OC Mode that can be selected in ASUS' software. That mode pushes core frequency up to 1392MHz with a 1506MHz Boost clock. ASUS should ship the fastest mode by default instead of forcing users to install the vendor's software to get slightly higher performance.
We observed the core clock generally operating at 1797MHz or 1785MHz during 1080P gaming.
Be sure to check out our sponsors store EKWB here