We first measure GPU temperature while the card is sat idling at the Windows 10 desktop for 5 minutes. Gaming GPU temperature is recorded by running Unigine Heaven DX11 benchmark for 5 minutes. As a maximum stress test, Furmark is run for 5 minutes and the cards' GPU temperature levels are recorded.
Unfortunately, a death to our Core i5-6400 CPU means that we are no longer able to use the same system used for testing the other graphics cards. This means that our temperature data is only able to show ASUS' ROG STRIX GTX 1050 Ti OC due to the use of a different test system with different temperatures.
Ambient room temperature was held between 19 and 20°C.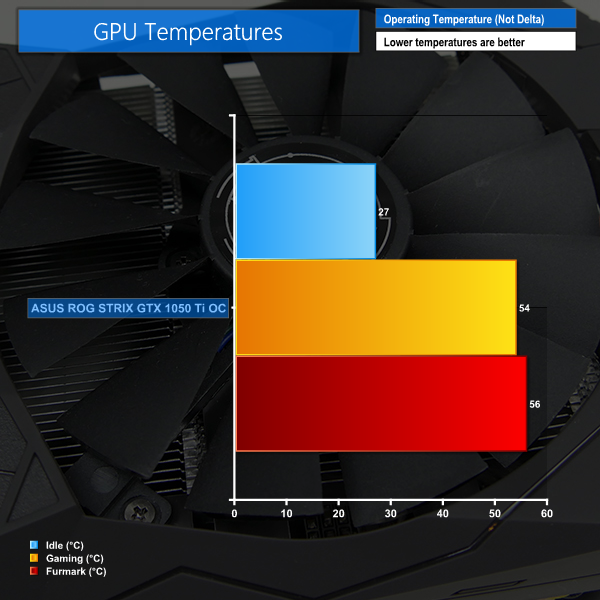 Temperature results are very good thanks to the card's dual fan cooler. The cooling profile was rather unusual as it took close to a minute of gaming for the GPU to reach 55°C and the fans to kick in. Once they started spinning, they were quickly able to cool the GPU down towards 50°C, at which point they would reduce in speed and the GPU temperature would rise again. The process was repeated for shorter gaming runs but we noticed the fans stay active during the extended Furmark stress test.
We did not observe the GPU temperature reach 60°C as the fans prevented this. The 54°C gaming result was recorded with a 33% fan speed (around 800 RPM) that was undergoing the cyclic speed behaviour. Furmark demanded a stable fan speed of 44% from the graphics card.

The above screenshot shows fan behaviour for a 5-minute loop of Unigine Heaven at 1080P. Note the cyclic behaviour as the GPU temperature switches above and below the 55°C 0% cut-off point.
The card does not get particularly warm even under heavy load. Power delivery components peeking through the backplate are the hottest visible parts of the ROG STRIX GTX 1050 Ti OC.
Be sure to check out our sponsors store EKWB here