The Gears Of War 4 game's plot is set 25 years after Gears of War 3 and focuses on JD Fenix, the son of Marcus Fenix. Gears of War is a third-person shooter game, with its core concepts being derived from Resident Evil 4's "over the shoulder" perspective, Kill Switch's cover system, and Bionic Commando's swinging action akin to moving between points of cover. (Wikipedia).
Gears of War 4 is launched via the Windows 10 Store, requires the Windows 10 Anniversary Update to run, and only supports the DirectX 12 API.
We test using the High quality preset. Dynamic Resolution scaling was turned off and Async Compute was enabled where the GPU supported it.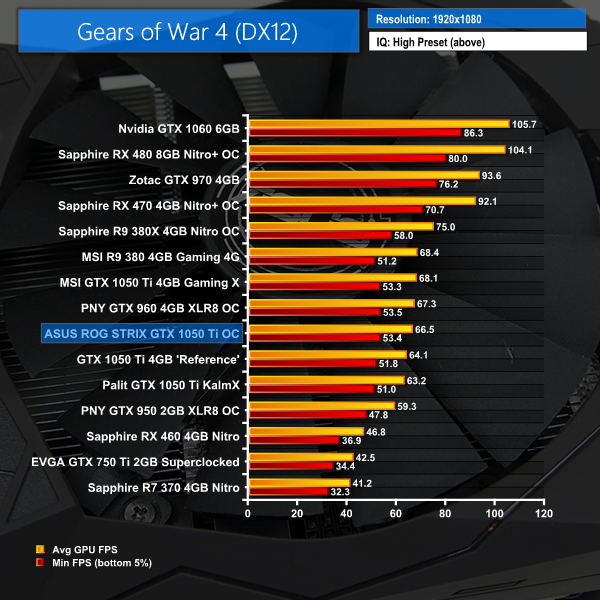 Gears of War 4 performance on the ROG STRIX GTX 1050 Ti is slightly behind that of the MSI card. This is likely due to an update in the game that has made a slight alteration to the performance data. Throttling in GPU Boost (driven by a voltage limitation, according to MSI Afterburner) could also be having an effect.
Our logs show ASUS' ROG STRIX card hitting 1785MHz core clock in this benchmark.
Be sure to check out our sponsors store EKWB here