ASUS ships the ROG STRIX GTX 1050 Ti OC in a box that highlights its primary features. The accessory bundle includes a game voucher, stickers, and cable straps.
The card's dual-fan cooler uses 100mm units that features ASUS' patented 'Wing-Blade' fan design. This basically means that a camber to the edge of the aerofoil helps to drive greater pressure in desired areas while operating at the same rotational speed. An ability to remain stationary at GPU temperatures below 55°C should help maintain the longevity of the fan bearings.
A dark black colour scheme is likely to appeal to consumers thanks to the ease of matching it with other components.
At 24cm-long and 13cm-wide, ASUS' card may cause interference issues with smaller cases that may be used by consumers interested in this price segment. It's the added width that may be difficult to account for in cramped cases.
The 625g weight is reasonably low and should not pose GPU sag issues.
Thankfully, ASUS maintains the dual-slot form factor that should help to aid compatibility in this respect. Two slots of cooler is plenty for a GPU with a rated TDP of 75W (at reference frequencies).
STRIX branding is visible on the side of the angular plastic shroud design.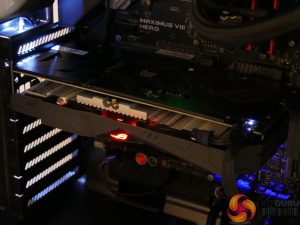 The ROG logo on the side of the shroud lights up in RGB colours. The lighting is AURA compatible and adds an eye-catching touch to the graphics card.
ASUS includes a backplate that features STRIX-based graphics and the ROG logo. This is an improvement over MSI's competing solution that does not use a backplate to hide the rear PCB traces and solder points.
The backplate is purely aesthetic as it does not contact notable power delivery hardware mounted on the rear of the PCB. That's fine for a card with this level of power requirement.
A 6-pin PCIe power connector is added so that ASUS can try to maintain higher core frequencies over the reference Nvidia design. As with the increased cooler dimensions, the inclusion of a 6-pin power connector will reduce the audience that this card is applicable for. Users with an OEM system that features a PSU without PCIe power adapters should look at another model.
The inclusion of a software-controlled 4-pin chassis fan header is a smart move that I like to see on ASUS' graphics cards. The PWM- and DC-capable header can power a chassis fan and manage its speed profile based on the GPU temperature. This is good because GPU-driven fan speed is an area in which motherboard control is generally poor, especially for the motherboards likely used by this card's target market.
Two Dual-Link DVI-D ports, HDMI 2.0b, and DisplayPort 1.4-capable connectors are provided. I like ASUS' decision to provide two DVI-D ports as that will be useful for buyers with a pair of older monitors that do not feature HDMI or DisplayPort (even though conversion to DVI is possible). The DisplayPort and HDMI connectors are capable of 4K60 outputs and HDCP 2.2 is supported, making this card a solid gaming HTPC option.
Half of the rear vent is allocated to the DVI port. This may have a slight negative affect on cooling performance as the heatsink's fins push air towards the rear bracket
The small GP107 core is powered by four VRM phases, with one phase allocated to memory duties. ASUS uses its Super Alloy II power components for the VRM, most notable of which are the chokes that are designed to reduce buzzing under load (coil whine). A relatively clean PCB highlights ASUS' use of its Auto-Extreme automated manufacturing process. Samsung GDDR5 chips are used.
Two direct touch heatpipes remove thermal energy from the GP107 die and transfer it to the fin array.
Be sure to check out our sponsors store EKWB here