The ASUS ROG STRIX GTX 1050 Ti OC is a well-cooled graphics card that offers stellar 1080P gaming performance thanks to its factory overclock.
With out-of-the-box frequencies that are 90/100MHz beyond Nvidia's reference speeds, ASUS' overclocked card shows a noticeable performance improvement over the base GPU. We observed a general GPU Boost operating core frequency of 1785-1797MHz during our gaming tests which allowed the ASUS ROG STRIX GTX 1050 Ti OC to outperform the MSI GTX 1050 Ti Gaming X competitor.
Manual overclocking provided a 6-7% increase in performance but the card hit a maximum boost frequency of 1911MHz which is common for all GTX 1050 Ti GPUs.
Power draw levels are good. ASUS' card demanded a system-wide power usage of less than 150W in Unigine Heaven. You could comfortably power this card with a low Wattage SFX PSU, provided it has the necessary 6-pin PCIe power adapter. We understand why ASUS has installed the power adapter on this card but it certainly limits the potential audience to users with a higher-quality power supply (which perhaps is not a terrible thing).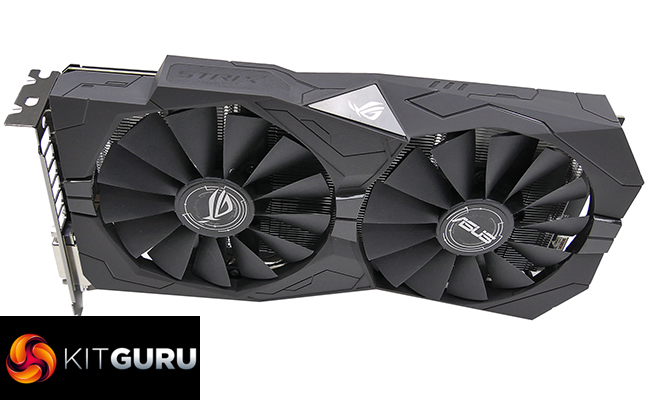 Temperature levels were superb thanks to the sizeable heatsink and pair of 100mm fans. The fans remain at idle until a 55°C GPU temperature is reached. This was further into our gaming tests than we expected. When the fans kicked in at low speed, they were barely audible (certainly inaudible over an AIO CPU cooler) and soon reduced in operating speed as the GPU was cooled. They then showed cyclic behaviour as the GPU temperature bounced around the 55°C level.
The RGB ROG logo on the card's side is basic but adds a touch of style to the plastic shroud. ASUS' inclusion of a GPU-controlled 4-pin fan header is smart and can help a user fine-tune their system's cooling with greater precision.
The ASUS ROG STRIX GTX 1050 Ti OC is available to purchase for around £170-180 at Amazon and Scan. As we said in our launch review, this is too expensive for a GTX 1050 Ti as it forces the card to compete in territory where it does not belong. The premium over entry GTX 1050 Ti models is also far too high at around £40-50 (sometimes more than 30%).
If you really must have a 4GB graphics card with Nvidia features such as G-Sync and ShadowPlay, the ASUS ROG STRIX GTX 1050 Ti OC is a premium option in the GTX 1050 Ti range that uses a superb cooler and strong build quality. However, it represents poor value in a price-sensitive market segment compared to significantly cheaper GTX 1050 Ti alternatives. Zotac, for example, has a similarly-clocked card that is £30 (17%) less expensive.
Worthy of consideration but, as was the case at the introduction of GTX 1050 Ti back in October, the smart money is on more cost-effective GTX 1050 Ti solutions or, better still, significantly faster AMD alternatives in this price segment.
Pros:
Excellent power efficiency from the underlying GTX 1050 Ti design.
Strong out-of-the-box overclock that beats MSI's Gaming X.
Superb dual-fan cooler.
0% fan speed up to 55°C allows for light gaming in silence.
Eye-catching backplate.
4-pin controllable fan header is a smart inclusion.
RGB ROG logo adds aesthetic appeal.
Premium build quality.
Cons:
Price increase over other GTX 1050 Ti models is significant.
Too slow compared to AMD's offerings at this price point.
Should ship with the fastest OC mode enabled by default, instead of relying upon software.
Dimensions could cause issues for SFF or OEM chassis users.
KitGuru says: A premium take on GTX 1050 Ti but simply too expensive to generate significant interest.

Be sure to check out our sponsors store EKWB here