Where can you spend cryptocurrency?
It's mainstream news now that the easy routes to turning cryptocurrency into fiat currency and vice versa have mostly been blocked in the last few months. UK credit card issuers have recently blocked purchasing cryptocurrency, and most UK banks make it very hard to receive currency from exchanges. Even Steam has stopped accepting Bitcoin (about which more later). So how do you actually spend your Bitcoins, Ether, and Dogecoin?
After mining via a pool like NiceHash, Minergate or Mining Pool Hub, your earnings will be stored in an internal or external wallet in the denomination of a cryptocurrency. Litecoin is recommended by some miners as the fees are often the lowest, but in the case of NiceHash, all balances are kept as Bitcoin, even though most of the time your hardware probably hasn't been mining this coin, if at all.
You can only spend your cryptocurrency directly where your specific coin is accepted natively, which increasingly seems to be just the Dark Web. For most everyday uses, you will need to convert your cryptocurrency to fiat currency, and this requires an exchange. There are quite a few of these around, but the most popular choices include Coinbase, CoinMama, Cex.io, Localbitcoins, Bitstamp, Bittrex, Kraken, Bitsquare, Coinhouse and Poloniex.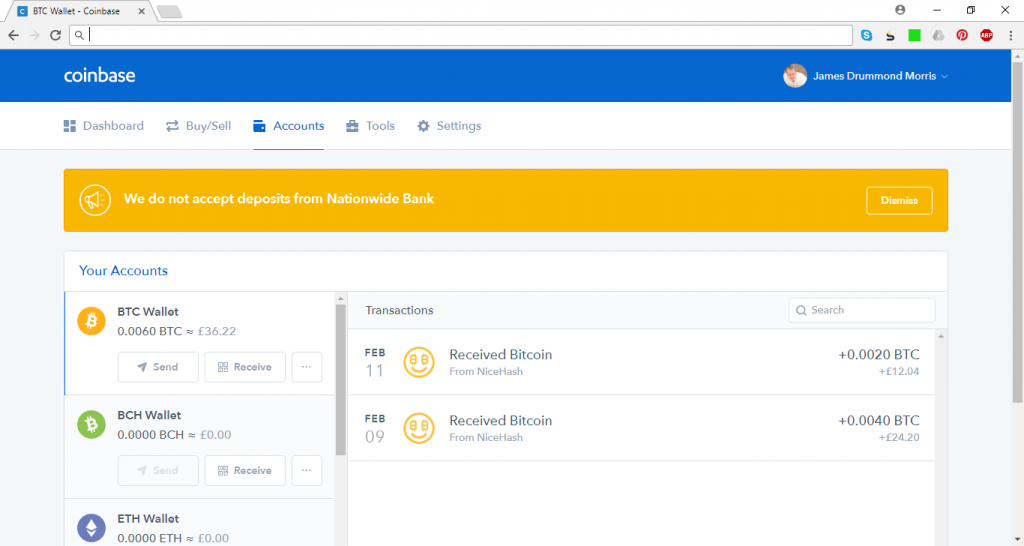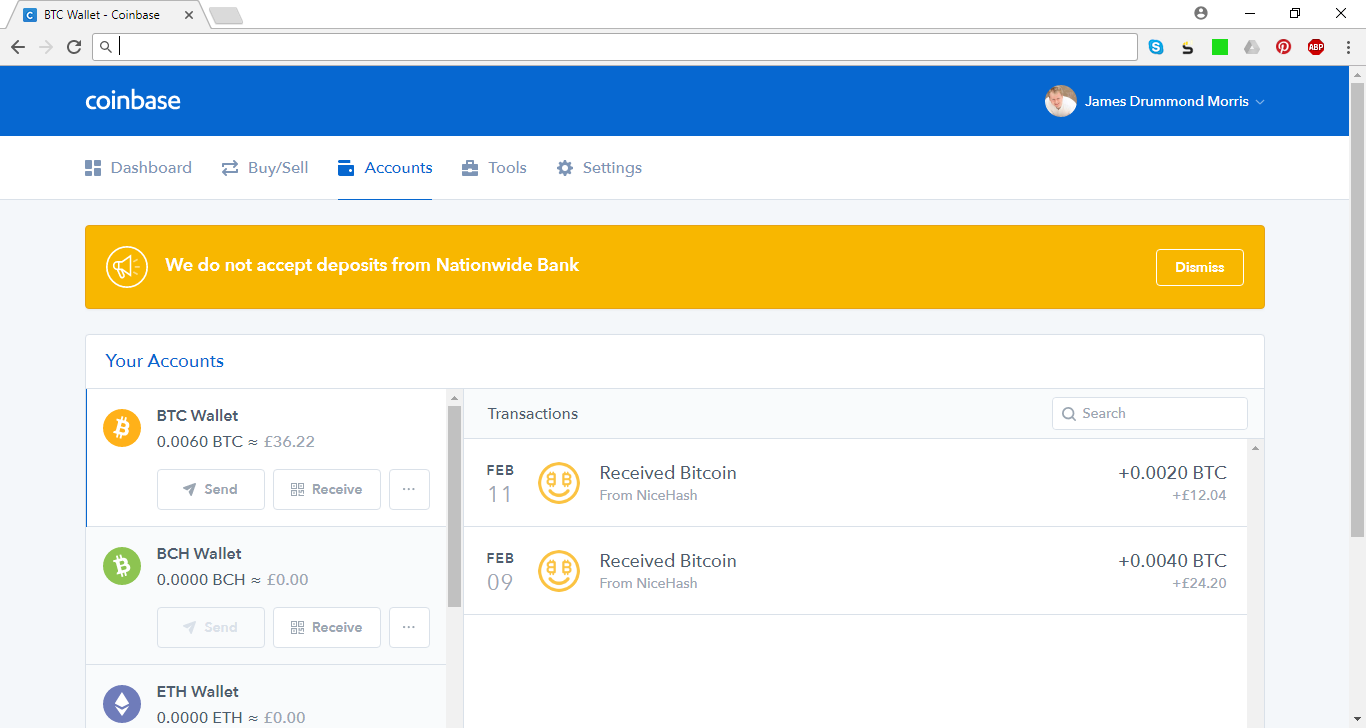 We chose to use the Coinbase option to get our NiceHash earnings onto a mainstream exchange, because that's free for withdrawals from NiceHash above 0.002 Bitcoins (although it rises higher when the API is under heavy load). With other exchanges, you lose yet another 0.0005 Bitcoins, unless you have more than 0.1 Bitcoins, in which case it's 0.5 per cent. All these charges need to be taken into account when you calculate whether you're really making any money from mining. We'll be including this factor in the next section in this feature.
Sending Bitcoins from NiceHash to Coinbase is a simple case of entering the email address of your Coinbase account, and they are transferred immediately. Once your coins are on an exchange, you can swap between different cryptocurrency denominations, and also sell them for fiat currency. This may incur a charge of some sort, depending on the exchange. Coinbase charges 1.49 per cent, but also seems to have a minimum fee, as we were charged a flat Euro to convert to this currency.
The reason why we chose Euros was because Coinbase doesn't support deposits or withdrawals in Pounds Sterling. You can still send money to some UK banks, but it will be sent in Euros and the bank will convert it for you, incurring still more charges. The method used is called SEPA (Single Euro Payments Area), and it operates via the International Bank Account Number (IBAN). Despite the name, SEPA includes non-Euro countries such as the UK, Sweden, Norway and Switzerland. It's a well-established system, but fees can be high. For example, Santander charges £15 to send a SEPA payment, although not for receiving funds this way.
We spent some time looking for the optimal alternative to a regular UK bank with the least charges, and the solution we came up with for now is a virtual bank account called Revolut. This is aimed at mobile users and has the ability to hold funds in lots of different fiat currencies. It can instantly exchange between them with decent rates and no fees. It can provide you with a virtual debit card and can even issue you with a real physical debit card. There is experimental support for cryptocurrency, but this is only internal – you can't pay into Revolut with cryptocurrency.
Howver, Revolut can send and receive via SEPA using an IBAN, which makes it possible to receive funds from a cryptocurrency exchange if those funds are already in a fiat currency. So once you've registered and validated your exchange account, which usually involves sending an image of some photo ID to the exchange, you can move to the next stage of validating your bank account for sending and receiving fiat funds.
To set up this relationship between Revolut and Coinbase, you have to put some funds in your Revolut account and convert these to Euros. Then you have to set up Coinbase as a recipient for bank transfer and send some Euros. You can find Coinbase's IBAN details on the company's support pages, and you will also need a unique reference from your Coinbase account, which you can find in the Linked Account section under Bank Account.
You then send some Euros from Revolut to Coinbase. There's some controversy about how much this should be. On the Coinbase smartphone app it says a single Euro, but the website implies it needs to be more than ten Euros. Either way, it takes a few days for the payment to clear, but once it does, you should be able to send funds the other way from Coinbase to Revolut. So you can exchange your cryptocurrency for Euros on Coinbase, send those Euros to your Revolut account, and once they're cleared, you can exchange them to whatever fiat currency you need, and use the Revolut virtual or real debit card to spend it.
This is a pretty tortuous process, but we found that once it was set up, the only bit that took time was the transfer from Coinbase to Revolut. Transferring from NiceHash to Coinbase, and from Bitcoins to Euros within Coinbase, were both immediate. We'll look at all the charges involved in the next section, to see if all this rigmarole – plus the electricity costs of mining – are worth the effort.