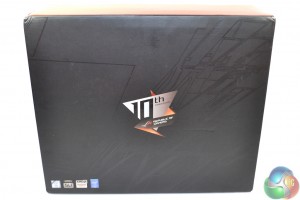 Asus ships the ROG Rampage V Edition 10 motherboard in a sizeable black box. There's very little in the way of branding on the front side, with exception of a graphic highlighting the 10th anniversary edition status of the product.

A more in-depth look at the board's features and specifications is found on the rear of the box. Asus uses a hinge to open the lid, giving the packaging a premium feel.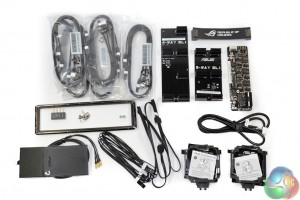 Premium fulfilment is a clear goal for Asus' accessory bundle. Not content on supplying the standard inclusions, Asus provides:
10x SATA cables
3x SLI bridges (2-way flexible, 3-way rigid, and 4-way rigid)
Fan extension board and accompanying cable
3x thermistor cables
Aura RGB lighting cable
2x CPU installation tools (for both Haswell-E and Broadwell-E CPUs)
Asus Q-connector
Magnetic 3-stream 802.11ac WiFi antenna
Rear IO bracket
Installation screws
Powering and controlling a sizeable array of fans is made easier by Asus' included Ext Fan header board. The board takes a single 4-pin fan input, in addition to dedicated control and power inputs, and provides a trio of 4-pin fan and temperature sensor outputs. These fans can be controlled via the UEFI, as well as the temperature readings from the user-mountable thermistors.
The magnetic design of Asus' WiFi adapter makes it ideal for securing it to the rear of a steel chassis. With three 802.11ac WiFi streams, the adapter is rated for transfer rates in the up to 1.3Gbps, whilst also supporting the 2.4GHz and 5GHz frequency bands. Bluetooth functionality is another inclusion for the adapter.
Unusual in appearance, the somewhat bare rear IO bracket is primarily for ESD isolation and structural support. Asus' patent-pending pre-installed IO shield design is intended to improve simplicity of the installation process.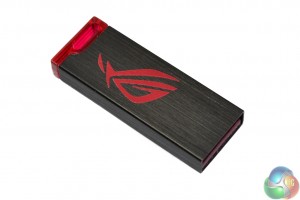 A move that I, and many other enthusiasts, wholeheartedly welcome is Asus' inclusion of a USB stick for drivers and software, rather than the typical optical media. Optical drives are becoming more of a rarity in user-built gaming systems. Drivers on a USB stick, however, means that software can at least be installed before the latest versions are accessed through the website.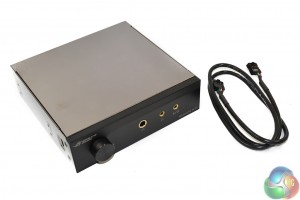 A dedicated 5.25" SupremeFX Hi-Fi box and accompany USB 2.0 header connection cable are included to give the Rampage V Edition 10 enhanced audio capabilities.
A large and pleasant-to-the-touch audio knob is mounted alongside a 6.3mm headphone jack and 3.5mm headphone and microphone connections.
The requirement for a 6-pin PCIe power connection leads to the assumption that this box 'means business'. An array of audio-geared components are utilised.
A pair of Texas Instruments LM4652 operational amplifiers, in addition to a dedicated TPA6120 headphone amplifier, provide capability for 32-bit, 386kHz audio with an ability to drive 600 Ohm headphones. The DAC is an ESS 9018M2M Sabre unit. Cirrus Logic is called upon for the provision of an ADC. Additionally, Nichicon and WIMA audio capacitors are utilised, as well as a de-pop relay and Asus' dedicated Sonic SenseAmp.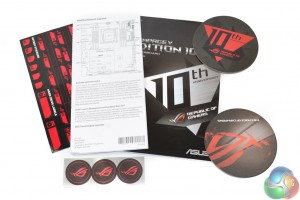 Alongside the usual documentation, Asus includes a pair of ROG coasters, three stickers, and a sheet full of cable labels.