The Asus Rampage V Edition 10 is a superb motherboard that offers an appealing blend of performance, features, and aesthetic qualities.
Performance from the E-ATX motherboard is excellent. We did not notice any significant slow-downs or performance differentials in comparison to Asus' X99-Deluxe. Workloads which are tied to memory performance also benefit from the board's efficient and higher-bandwidth memory subsystem.
Asus' engineers should give themselves credit for what is a very smart distribution of the X99 platform's plentiful PCIe connectivity. 4-way SLI and Crossfire can be used alongside a pair of high-speed PCIe 3.0 x4 SSDs. That's in addition to a PCIe 2.0 x4 and PCIe 2.0 x1 device, if you somehow manage to physically install them (using single-slot graphics cards). There's also limited interference using the chipset-fed connectors thanks to the application of an ASMedia ASM1184e PCIe 2.0 lane duplicator.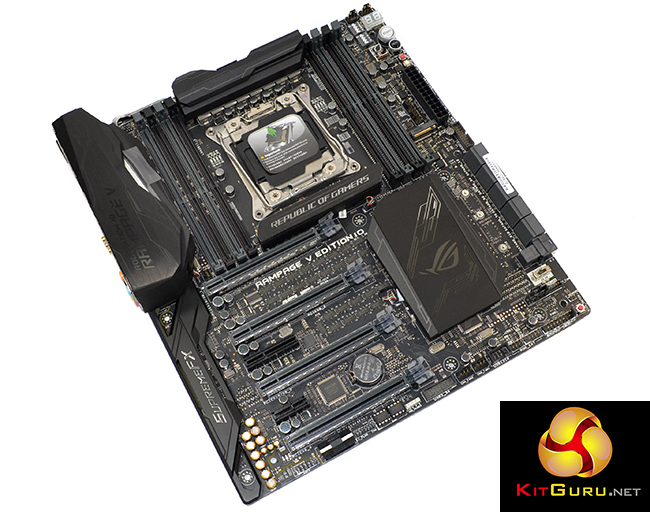 Two 10Gbps USB 3.1 Type-C ports, in addition to a pair of Type-A versions, is good to see on a premium motherboard. I am, however, a little disappointed to see that Intel's premium Alpine Ridge chipset has not been used, with Asus instead opting for ASMedia's controller. Utilisation of the Intel chipset would have also opened up the possibility of a Thunderbolt 3 connector, which is a noteworthy omission on a £500 motherboard that will stay in many users' systems for a number of years.
Dual Gigabit Ethernet ports is another welcomed feature that will allow for teaming to create a fast internal LAN connection. Some content creation enthusiasts may have wanted to see a 10Gbps Ethernet port, given this motherboard's special status. However, such a design decision would have increased costs noticeably and would be likely to appeal to professional users who may waste the rest of this board's features. Oh, and let's not forget about the 1.3Gbps 802.11ac WiFi.
Asus' enhanced SupremeFX HiFi audio system adds to the positivity of available features. And the efficient UEFI and good range of software enhance the board's usability, even if the OS-based tools tend to hog system resources.
Colourful is certainly one way of describing the board's RGB lighting system. I like the ability for a user to set different colours in the motherboard's four main lighting zones. And the number of lighting modes is also a positive. I would, however, like to see more colour control integrated into the UEFI, as Gigabyte does. This would help to keep lighting setups consistent in the case of an OS crash or switch.
Priced at an eye-watering £499.99 from OverclockersUK, the Asus Rampage V Edition 10 is among the most expensive consumer motherboards on the X99 platform. While almost £500 is a hard swallow for a motherboard, Asus does provide a significant level of operational quality and an impressive set of features to work towards justifying that cost. And when a 6950X sells at £1400, some enthusiasts may see it as justifiable dropping another £500 on what is one of the best X99 motherboards available.

Buy from Overclockers UK for £499.99 inc vat HERE.
Discuss on our Facebook page, over HERE.
Pros:
Good performance in all aspects.
Superb set of overclocking and general usage features.
Excellent RGB LED system with plenty of user control.
Well-built and easy to use UEFI.
Plenty of tweaking options for enthusiasts and hardened overclockers alike.
Smart motherboard layout with efficient use of PCIe lanes.
Cons:
No Thunderbolt 3 or Intel USB 3.1 ports.
OS software tools are good, but can hog system resources and be buggy with some systems.
KitGuru says: The Asus Rampage V Edition 10 is about as premium as a premium motherboard can get. It's difficult to point out a better partner for any high-performance LGA 2011-3 CPU.