Software
Asus primary software suite – AI Suite 3 – can be very temperamental with regards to a Windows 10 installation, based on my experiences. It regularly refused to install on our Windows 10 Home test system. Deselecting many of the installation options seemed to help the issue and finally presented us with a successful install.

General system operating information can be viewed and adjusted through the Dual Intelligent Processors 5 and TPU pages.
Further system control options are available. Asus includes a tool which allows the CPU to speed specific applications by way of a frequency bump when the desired software is launched.
The Fan Xpert page gives a decent level of control to the system fans. Four pre-defined operating speed modes can be selected. There's also an automated fan tuning option, in addition to the ability to load and save profiles.
Power management options for the CPU and DRAM are found in the Digi+ page. It's more likely that these options will be tweaked by overclockers through the BIOS in order to maintain their operation in the event of an OS crash.
PC Cleaner can help to remove wasted files from the system in order to free up storage space.
Mem TweakIt gives control of memory timings. It also gives a DRAM efficiency score, which could be useful when trying to balance the trade-off between frequency and latency.
System operating parameters, such as voltages and ratios, can be adjusted using TurboV Core.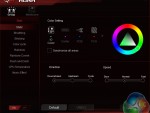 Asus' Aura software is used to control the motherboard's RGB lighting. An impressive number of lightning modes and colours can be selected. The lights can also be switched off completely.
I particularly like the ability to set different lighting colours for separate areas of the motherboard.
I did, however, notice that the Aura software tool was particularly hogging of system resources. The software would regularly use around 10% of the CPU cycles at any one time, and this resulted in reduced performance in benchmarks including Cinebench.
GameFirst IV is Asus' answer to Killer's network manager software. It allows control and prioritisation of the network operations of software installed on the system.
Keybot II can be used to create custom macros and assign function keys.
Have an excess of RAM in your shiny new X99 system? Asus' ROG RAMCache and RAMDisk can put the surplus memory to good use.
ROG RAMDisk creates a high-speed storage drive out of a user-definable allocation of system memory (up to approximately 24GB on our system which uses a 32GB memory kit). This could be useful to video editors who want a small pool of fast storage to act as a scratch disk for their project. Designers dealing with large CAD files may also benefit from the fast storage pool. However, game frame rates won't be improved when using the RAM drive.
ROG RAMCache uses the system memory (up to approximately 30GB) to enhance reduce the transfer time of files from an external storage drive to an internal system drive. This is a helpful tool to users how frequently transfer large amounts of data and don't want their external storage drive connected to one particular system for longer than is necessary.
A number of settings and profiles relating to the audio system can be adjusted using Sonic Studio II and SupremeFX HiFi. The SupremeFX HiFi tool is also able to automatically detect the impedance of headphone connected to the external box and adjust the amplifier gain accordingly.