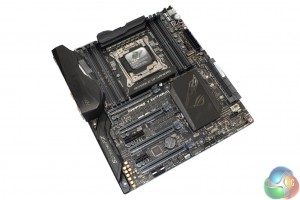 Heftiness is one of the most glaring traits of the Asus ROG Rampage V Edition 10 motherboard. EATX in stature, and featuring sizeable heatsinks, there's no worry about this motherboard flexing under the stress of a heavy CPU cooler.

Asus veers away from the typical red and black colour scheme that is synonymous with ROG motherboards (although the Rampage IV Black Edition was a notable exception). The Rampage V Edition 10 uses a primarily black styling which features hints of grey.
Aesthetic allure is always a subjective point. Personally, I think that the colour balance works well and I am also happy to see that there is no slipping away from grey and black (like there was for a red LED on the Rampage IV Black Edition).
That rear sheet of metal houses LEDs for the board's lighting system and also acts to enhance its structural rigidity. Ignore that metal strip behind the VRM area as it doesn't actually cool any components directly.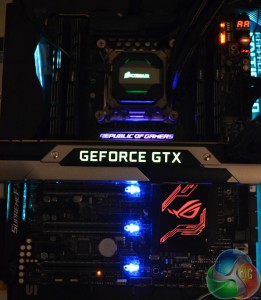 Primary RGB LED lighting zones are the rear IO and audio area, PCIe slot latches, the 'northbridge' heatsink, and the chipset heatsink. Colour also spills from behind the motherboard and colour matches the rear IO and audio zones.
Asus' comprehensive software tool (which is shown later in the review) provides user-control for features such as the lighting colour and pattern. Different colours can be set for the individual lighting zones.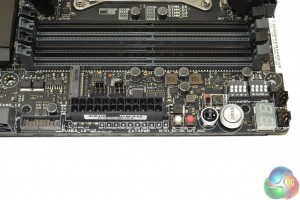 The busy 24-pin area is home to numerous buttons, switches, and headers.
Onboard start and reset buttons, in addition to a 2-digit LED display are expected inclusions for a board of this calibre. Overclocking-centric features are found in the form of dip switches for the DIMM and PCIe slots, retry and safe boot buttons, as well as LN2 and slow mode jumpers.
A set of direct voltage monitoring points (Probelt) is found in a convenient location near the 24-pin connector. This inclusion is expected by hardened overclockers who require direct readings rather than putting their faith into software. Asus could have been smarter with the Probelt points, however. The bare metal humps on the motherboard force a user to hold multimeter prongs firmly in place whilst making readings.
This is less than ideal for overclockers who want to view voltage read-outs on their multimeter while using their hands to freely adjust system settings and pour LN2. MSI has a good approach where the multimeter prongs can be fed into break-out cables that hold them in position, without requiring the overclocker's hands.
Central to the motherboard is the LGA2011-3 CPU socket. Asus uses the modified LGA2011-3 socket that it popularised at the X99 platform's launch. The additional pins are used to enhance CPU cache capabilities and widen voltage options.
Up to 128GB of DDR4 memory can be installed in the eight DIMM slots, with Asus quoting frequency capabilities in the region of 3333MHz. With the memory slots being so close to the uppermost PCIe connector, Asus smartly uses single-latch mechanisms in order to avoid interference concerns.
Proximity of the onboard buttons to the right-side DIMM banks could highlight an issue for LN2 overclockers. The onboard buttons may be susceptible to freezing during long overclocking sessions where the memory is also put under LN2.
A supplementary 4-pin CPU power connector is used alongside the standard 8-pin port to enhance the power and current capability to a heavily overclocked CPU. The power connectors are nestled nicely behind the VRM heatsink which is good for users who need to conduct cable management inside a chassis.
All ten of the right-angled SATA 6Gbps ports operate directly from the X99 chipset. Note the omission of SATA-Express. That's not a problem to most users, but it may be annoying to those who want to run a front panel USB 3.1 connection box. That outwards-facing USB 3.0 header is fed by the X99 chipset.
The U.2 port uses four PCIe 3.0 lanes run from the CPU in order to provide up to 32Gbps of bandwidth. NVMe PCIe storage devices, such as the Intel SSD 750, are supported. Identical bandwidth and PCIe routing is used for the PCIe-only M.2 connector that supports up to 110mm-long SSDs.
Both the U.2 and M.2 slots can be used simultaneously at full PCIe 3.0 x4 bandwidth. They do, however, steal lanes from the lowermost full-length PCIe 3.0 x8 slot, unless a 4-way GPU configuration is used.
According to Asus, four GPUs will run at x8 each, with 8 total lanes being allocated for the U.2 and M.2 connectors. It is impressive that such GPU might can be used alongside a pair of high-speed storage interfaces.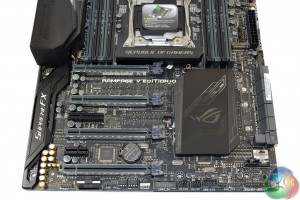 Each of the full-length PCIe slots uses Gen 3 lanes directly from the LGA 2011-3 CPU. The slots are hard-wired as x16/x8/x16/x8, meaning that both Nvidia SLI and AMD Crossfire are supported up to 4-way.
This lane distribution decision is smart as it provides ample cooling for popular two-card configurations. Bandwidth allocation is significantly different with a 28-lane CPU, although pairing a <£400 CPU with this £500 motherboard would be questionable budget allocation.
Focussing on the physical characteristics, Asus uses a stronger slot design which the company calls SafeSlot in order limit graphics card sagging and damage during shipping of a system.
An open-ended PCIe 2.0 x4 slot can be used for high-bandwidth devices such as RAID cards. Despite Asus' use of an ASMedia ASM1184e PCIe 2.0 x1-to-x4 bridge chip, the physical slot is forced to share bandwidth with rear USB 3.0 ports and one of the USB 3.0 headers. The open-ended PCIe 2.0 x1 slot is useful for lower bandwidth devices such as a HDMI capture card.
In addition to the usual front panel connections, Asus provides a 4-pin molex connector to boost power delivery to hefty multi-GPU configurations. I would have preferred this connector to be of a SATA or PCIe variety as the 4-pin molex interface is becoming less common.
Dual socketed BIOS chips and a selector button provide redundancy against catastrophic BIOS failure. Next to the BIOS chips is the Aura RGB header for lighting strip connections.
There's an additional USB 3.0 header along the bottom edge which is fed by the X99 chipset but also shares bandwidth with the PCIe 2.0 x4 connector. I am disappointed by the inclusion of only two USB 2.0 headers, one of which can be tied up by the ROG extension device. It's important to remember that the SupremeFX HiFi audio box also requires a USB 2.0 header.
Realtek's ALC1150 audio codec is central to the onboard SupremeFX audio solution. Accompanying components include two Realtek R45801 op-amps and Nichicon audio capacitors.
Shielding of the codec and dedicated PCB paths are used to minimise signal interference.
A wide variety of connections are found behind the Rampage V Edition 10's pre-mounted IO shield. BIOS Flashback and Clear CMOS buttons are ideal for overclocking scenarios. Four USB 3.0 ports are provided with assistance from an ASMedia ASM1074 hub chipset.
Dual Gigabit Ethernet ports are provided by Intel I218V and I211AT chipsets. Killer NICs are dismissed as Asus' GameFirst IV software provides network management capabilities. Further networking performance comes from the Broadcom 3-stream 1.3Gbps 802.11ac WiFi connector.
Two 10Gbps USB 3.1 Type-A and two 10Gbps USB 3.1 Type-C ports are provided by a pair of ASMedia ASM1142 host controllers and Etrontech EJ179V Type-c logic chipsets. Given the board's premium status, it is disappointing to see that Intel's superior Alpine Ridge USB 3.1 controller is not selected. Thunderbolt 3 support is also another notable omission for a £500 motherboard whose price tag shouldn't translate into compromise.
A legacy PS/2 port is useful for troubleshooting overclockers. Two USB 2.0 ports are ideal for mouse and keyboard duties. One of the ports is dedicated to the Keybot utility with the other supporting Asus' USB BIOS Flashback. Audio connections are the standard affair.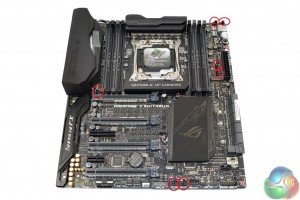 Asus provides seven onboard 4-pin headers, and backs them up with some degree of BIOS- and software-level control. Distribution of the fan headers is superb. The bundled external board provides an additional three 4-pin fan headers, albeit at the expense of one on the motherboard.
Fan speed control and system monitoring functions are the duty of Nuvoton NCT6791D-A and multiple ROG chipsets.
RGB LEDs are housed inside the hefty chipset heatsink and rear IO cover. A heatpipe joins the VRM heatsink and rear IO cover, thus increasing the thermal performance of the physically larger unit.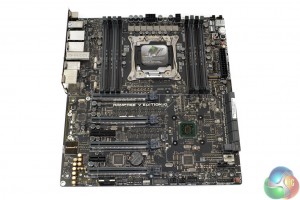 All of the heatsinks can be removed with relative ease in order to allow for waterblock fitting.
The 8-phase CPU power delivery system is driven by Asus' Digi+ ASP1257 PWM. Eight of International Rectifiers' well-respected 60A IR3555M integrated PowIRstage solutions are used. There are no dual driver ICs which implies that Asus' PWM is in fact a true 8-phase design.
10K-rated capacitors and MicroFine alloy chokes complete the primary CPU power delivery system.
Memory looks to be a two-phase approach per DIMM bank, with a supplementary phase for powering other system parameters. Each set of four DIMM slots is flanked by a Digi+ ASP1250 PWM, a GStek GS9238 buck converter, and two chokes and MOSFETs.
Enhancing the board's structural rigidity is the primary goal for the backplate. Asus also uses the sheet of metal as a way of mounting RGB LEDs.
The sizeable, LED-equipped heatsink does a good job at cooling the VRM even under heavy load. In addition to cooling the MOSFET solutions, Asus also applies a thermal strip to the heatsink in order to provide some level of choke cooling. A smart move.
No significant cooling is conducted by the 'northbridge' heatsink. Its purpose is to look good and house LEDs as well as the Republic of Gamers branding.