Asus ROG X99 UEFI
Firstly, we are pleased to report that our generic wireless mouse worked correctly in the Asus ROG X99 UEFI. Some mice can be troubling with UEFI support, so when a generic wireless unit functions correctly in the interface, that is usually a good sign for overall mouse support.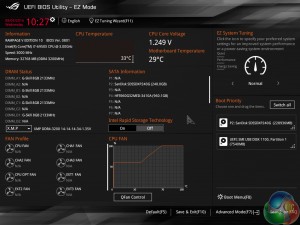 After a slow POST which measured almost 10 seconds using default and frequency-tuned settings, Asus' UEFI can be dived into.
Asus includes a dedicated EZ Mode UEFI section that provides the ability to view and adjust basic system parameters. This section is ideal for novice users as well as those times where a quick setting adjustment is required.
Pressing F7 allows the advanced sections of Asus X99 UEFI to be entered. The page of most interest is Extreme Tweaker, as this is where the main system settings such as voltages and clock speeds are controlled.
Yellow text at the top of the page indicates the target settings when settings are changed (or the current settings if they are not adjusted).
There is plenty of scope for adjustment in relation to voltage, frequency, and ratio settings. Asus' clear approach to UEFI layout has transferred over to the Rampage V Edition 10 as the interface is very easy to navigate and control.
Placing a Hardware Monitor section down the right side of the page is a smart move. It allows users to view their current operating parameters and quickly compare them to planned adjustments.
Another smart move is Asus' use colour to indicate how the level of voltage selected relates to 'safe' suggestions. Purple, yellow, and red are used to provide user assistance, which is particularly helpful for users upgrading from older platforms with significantly different voltage requirements.
DRAM dividers up to 4000MHz can be selected. Asus provides good granularity between the dividers, allowing for more in-depth tweaking.
While 4000MHz frequencies are extremely high for the current crop of DDR4 modules, having high dividers is beneficial to overclocking enthusiasts who may want to tweak the BCLK while also maintaining a high effective DRAM clock speed.
Plenty of control over timings is to be expected on a motherboard of this calibre. There is also a subsection for preset memory frequency and timing profiles.
Further user-led adjustment opportunities are provided through a number of subsections.
External Digi+ Power Control is the area where settings related to the motherboard's management of the primary components are found. Nine CPU load-line calibration (LLC), although Asus does not do a good job at clearly outlining what each setting offers. ASRock has a far better system whereby a labelled voltage against load graph shows visually how each LLC level operates.
Tweakers' Paradise gives an even greater level of control over settings that may be desirable to extreme overclockers. This subsection is unlikely to be visited by general enthusiasts or even power users who aren't extremely familiar with a deep level of motherboard operation.
Parameters specifically relating to the CPU power management are found in a dedicated subsection.
A number of preset overclocking profiles are included. These profiles are useful for finding suggested operating capabilities of the system's hardware and then conducting further manual tweaking.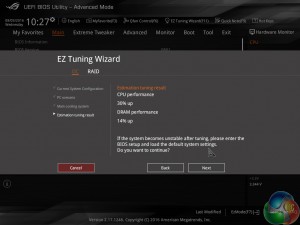 In addition to the Asus-set predefined overclocking profiles, a somewhat automated overclock can be applied using the EZ Tuning Wizard. The reason I call it 'somewhat' automated is because the wizard asks users a few basic questions about their system hardware and then offers a speed boost for the CPU and memory. There's no automated fine-tuning involved, the user's selections simply hone in on the frequency boosts offered.
A good level of temperature monitoring activity is displayed through the Monitor section. More emphasis on fan speeds and system voltages would have been welcomed.
A basic drop-down selection of fan speed control modes is provided. Basic is the appropriate word there as more in-depth control of fan speeds and curves is found elsewhere. There is, however, an optimisation tool that runs a set of operations in order to automatically tweak the fan speed curve to a balanced level.
Asus' Q-Fan Control wizard provides user access to the fan speed curves. The ability for all fan headers to have their speed curves controlled is a positive, but the level of user adjustment allocated is disappointing. The lowest manually selectable fan speed is 60% and the profile locks a 100% level after 75C. This is disappointing compared to competing vendors who allocate greater control to the end user.
Many general system operations can be accessed via the Advanced page. Control for the Aura LED lighting system is found under the Onboard Devices Configuration section.
Asus' Tool section can be used to access a point for saving and transferring overclocking setting profiles. Up to 8 overclocking profiles can be saved onboard which I would consider a fair amount, even for overclocking enthusiasts.
The BIOS can be flashed via the well-designed EZ Flash 3 utility. SSD Secure Erase is useful for preparing a drive for being sold on to a different person.
Asus' X99 UEFI implementation found on the Rampage V Edition 10 is very good. With the exception of the unclear LLC options, overclockers are unlikely to have any complaints with the quantity and breadth of customisable operations. Easy navigation is another point that will please overclockers who spend considerable time in the BIOS.
There is room for improvement, though. Giving the user more control over fan speed curves would be an improvement. I would also like to see Asus include a tool similar in function to Hardware Monitor that we see on ASRock and MSI motherboards. A visual display of devices connected to the motherboard is always useful in troubleshooting scenarios.