Being a basic, value-orientated motherboard, Biostar chooses not to outfit its Hi-Fi Z97WE with automated overclocking profiles. Novice users may miss the speed-boosting functionality, although we have found many automated profiles to be worthless with the already-fast Devil's Canyon chip.

Manual CPU Overclocking:
To test the Biostar Hi-Fi Z97WE motherboard's CPU overclocking potential, we first increased the CPU VCore to 1.30V, Cache voltage to 1.275V, CPU Input Voltage to 1.900V, and PCH voltage to 1.1V. We also applied enabled PLL overvoltage and set the cache ratio was maintained at its default 44x multiplier.
Biostar's default overshoot was removed by manually setting the base clock to 100.00MHz.

The initial overclocked settings were not fully stable so we were forced to adjust further parameters for stability at 4.7GHz. Then voltage parameters that we tweaked further were: System Agent offset to +0.30V, +0.15V on the CPU I/O Analog voltage, and +0.20V on the CPU Digital I/O voltage level.
Despite its disorganised UEFI, overclocking with the Biostar Z97 interface is straightforward. The lack of complex parameters makes a quick and easy overclock relatively simple to achieve.
We did notice that the motherboard report large overshoots compared to our defined settings. For example, DRAM voltage was overshooting by 0.018V and the CPU VCore went 10-20 mV higher.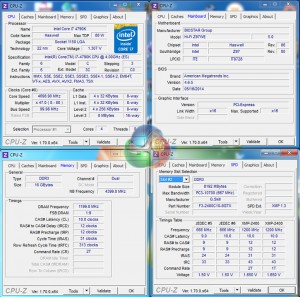 CPU-Z reports the static voltage level applied via the UEFI. Biostar's T Overclocker software displayed accurate voltage levels and reported a maximum VCore of 1.344V, which is fair for a high-speed 1.31V setting.