Our NZXT Avatar S mouse worked fine in the Biostar Z97 UEFI BIOS.
Biostar's interface uses a dated layout and overall design. The pages look like they were designed many years ago and the graphics lack creativity.
With that said, Biostar does provide a fair range of options for tweaking fan control and monitoring system performance.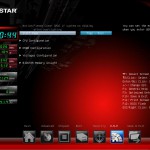 Biostar splits up the OC sections to avoid navigation complexities. While this does make the interface easier to use, it also slows down overclocking operations for more experienced users.
The basic CPU OC section is sufficient to users looking for a quick and easy overclock. More advanced users may miss the fancy voltage and power tweaking settings they are treated to on competing motherboards.
Biostar uses a 100.50MHz base clock by default. This positively skews all of the related clock speeds and could have stability issues with memory kits.
Biostar provides enough voltage tweaking options for the majority of users, especially those sat in its target audience. Users are largely free to select from adaptive and static voltage modes.
Manual memory tweaking is simple and effective. When XMP is not applied, users are given the freedom to switch between DRAM base clock links and frequency multipliers, as well as a number of timings.
Biostar's Z97 UEFI implementation is far from the most attractive or easiest to use, and it's not the most feature-heavy either, but it functions correctly and provides entry level and mid-range users with enough options for tweaking.