The Haswell micro-architecture in Devil's Canyon processors is just the latest Intel CPU architecture to see many of the critical system operations handled by the processor. As such, benchmarking a motherboard becomes more of a test to certify that the part operates correctly and meets the anticipated performance levels.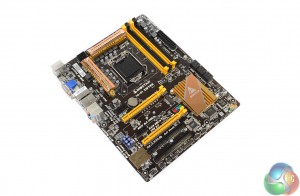 We will be outlining the Biostar Hi-Fi Z97WE motherboard's performance with the Core i7 4790K CPU at its stock frequency (and default Intel turbo clocks). Overclocked performance will be outlined later in the review.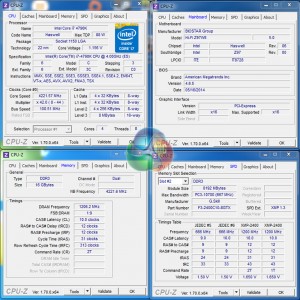 The Biostar Hi-Fi Z97WE motherboard does not apply multi-core turbo when XMP is enabled, nor is there an option to manually apply the clock-boosting setting. As such, Intel's default turbo options are used. When idling or with one active core, the CPU frequency is set at 4.4GHz. 4-core loads drop that speed to 4.2GHz and increase voltage to between 1.156 and 1.176 volts.
For some unknown reason our 2400MHz Corsair Vengeance Pro memory kit would not function at its XMP speed in the Biostar Hi-Fi Z97WE. We were forced to switch to a similar 16GB 2400MHz CL10 memory kit from G.Skill.
Z97 Motherboard Test System:
Compared Z97 Motherboards:
Software:
Biostar Hi-Fi Z97WE BIOS v4.6.5 (latest).
Catalyst 14.4 VGA drivers.
Intel 10.0 chipset drivers.
Tests:

3DMark 1.3.708 – Fire Strike (System)
SiSoft Sandra 2014 SP2 – Processor arithmetic, memory bandwidth (System)
Cinebench R15 – All-core CPU benchmark (CPU)
WinRAR 5.10 – Built-in benchmark (CPU)
HandBrake 0.9.9 – Convert 4.36GB 720P MKV to MP4 (CPU)
ATTO – SATA 6Gbps, USB 3.0, M.2 transfer rates (Motherboard)
RightMark Audio Analyzer – General audio performance test (Motherboard)
Bioshock Infinite – 1920 x 1080, ultra quality (Gaming)
Metro: Last Light – 1920 x 1080, high quality (Gaming)
Tomb Raider – 1920 x 1080, ultimate quality (Gaming)