The OverclockersUK "Infinity Vesuvius" R9 295X2 QuadXFire System is the fastest system we have reviewed by a clear margin. This is the Bugatti Veyron of gaming systems. The Infinity Vesuvius has actually broken several records in our labs this week – but we will get to those shortly.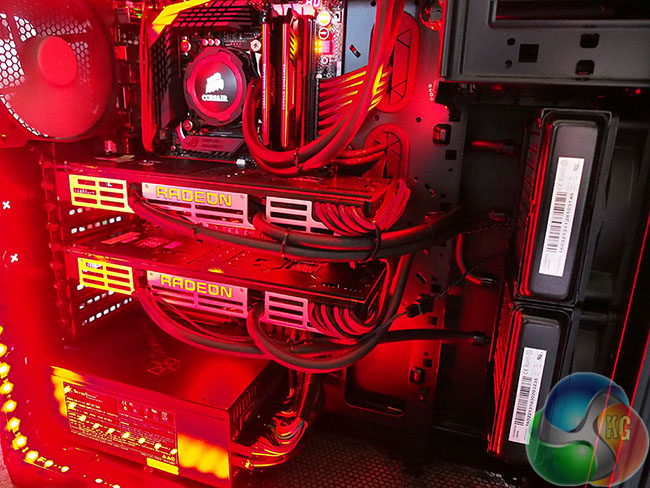 For many, the Infinity Vesuvius will be considered completely overkill – the £4,000 price tag alone will immediately alienate all but the most wealthy of enthusiast gamers. A portion of KitGuru's readership always end up buying the most expensive, highest performing hardware available – we know this from the reader systems we post on our active Facebook page. I wouldn't class KitGuru as a mainstream technology publication – our readers are very educated, and a small percentage will have the cash available to buy an OCUK Infinity Vesuvius.
While many will balk at the £4,000 price tag, it is worth pointing out that more than half the cost of the system is due to the adoption of two AMD R9 295 X2 graphics cards. One of these cards is enough to power any game at Ultra HD 4K, but adding another can give a boost to frame rates, and even allow for higher image quality settings as shown with our Total War Rome 2 testing today.
I have been making this point now for 4 months, but I feel the need to reiterate it again today. If you are contemplating buying this system to play games on a 1080p or 1600p monitor, then you are wasting your time. CPU limiting will be such a problem that we can really only recommend buying this system if you are in the market for, or already own an Ultra HD 4K monitor.
Overclockers UK do deserve credit for the selection of components in the build, they have only used quality products from respected companies such as Asus, Silverstone, Corsair and Samsung. OCUK earn bonus points for spending time colour coordinating the components, lighting them well and using custom black and red cable braiding. The system is beautifully presented behind the windowed panel of the Corsair Obsidian 750D.
Our review last year of the Asus Z87 Maximus VI Extreme ATX motherboard highlighted that it was one of the best boards that money could buy. Using this as the foundation of the system was a great move, and you can read our indepth analysis from last year, over on this page.
While the "Infinity Vesuvius" has broken a series of performance benchmarks due to the might of combined R9 295 X2 graphics cards, it also breaks the record for the most power used when gaming. At Ultra HD 4K, when playing Tomb Raider at the 'Ultimate' graphics setting – this system demands a staggering 1,157 watts of power.
Many system builders may not have paid attention and used a quality 1,200 watt power supply and hoped for the best, but OCUK did tell us that they researched the power demand internally and opted for the very expensive Silverstone Strider 1,500 watt unit. We could make the point that using this system regularly to play games may hit your electricity bill hard, but we can't imagine many people with £4,000 spare to drop on a system will worry about a few quid extra on an electric bill.
While a 1200watt or 1,250 watt power supply may have coped for some time powering these components, it is not ideal to run so close to the redline for long periods of time. Again, we need to credit OverclockersUK for putting a little extra thought into the build process.
Noise levels are surprisingly good, due in part to the Corsair Obsidian 750D chassis. This is truly a high quality chassis design and it manages to mask a percentage of the fan noise under load. When the side panel is removed, our noise meter reading rose from 37dBa to 40dBa.
We spent many days stress testing this system and found it was immensely stable. It never crashed once, nor did we experience any hard locks, random crashes or instability. The only downside to owning this system is that it produces a lot of heat when running, and will easily warm up a room when gaming within the space of an hour. The R9 295X2's are extremely hot running cards, and a serious flow of hot air is expelled out the rear of the case when gaming.
At the end of the day, only you can decide if this is a system for you. At £4,000 it does merit serious consideration and many people like to build their own systems. If however you have the money to spare and want to own something built to exacting standards with phenomenal gaming prowess then the Infinity Vesuvius is certainly a Must have product. Our only recommendation is to ensure you partner up with an Ultra HD 4K monitor because otherwise CPU limiting will be a major problem.
You can snag one of these over at Overclockers UK, HERE.
Discuss on our Facebook page, over HERE.
Pros:
the fastest system we have tested.
fantastic build quality.
a check list of KitGuru award winning components.
colour coordinated.
BIOS is finely tuned.
power demands have been carefully considered
Cons:
Your other half may kill you for buying it.
Pumps a ton of heat into the living room.
May hit your electricity bill hard – long term. Peaks are 1,150 watts when gaming.
Kitguru Says: The OverclockersUK "Infinity Vesuvius" is the Bugatti Veyron of gaming systems.