Unigine provides an interesting way to test hardware. It can be easily adapted to various projects due to its elaborated software design and flexible toolset.
A lot of their customers claim that they have never seen such extremely-effective code, which is so easy to understand.
Heaven Benchmark is a DirectX 11 GPU benchmark based on advanced Unigine engine from Unigine Corp. It reveals the enchanting magic of floating islands with a tiny village hidden in the cloudy skies. Interactive mode provides emerging experience of exploring the intricate world of steampunk.
Efficient and well-architected framework makes Unigine highly scalable:
Multiple API (DirectX 9 / DirectX 10 / DirectX 11 / OpenGL) render
Cross-platform: MS Windows (XP, Vista, Windows 7) / Linux
Full support of 32bit and 64bit systems
Multicore CPU support
Little / big endian support (ready for game consoles)
Powerful C++ API
Comprehensive performance profiling system
Flexible XML-based data structures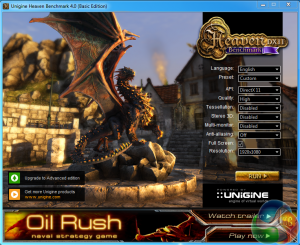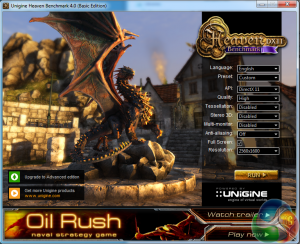 We use the settings shown above at 1920×1080 and 2560×1600.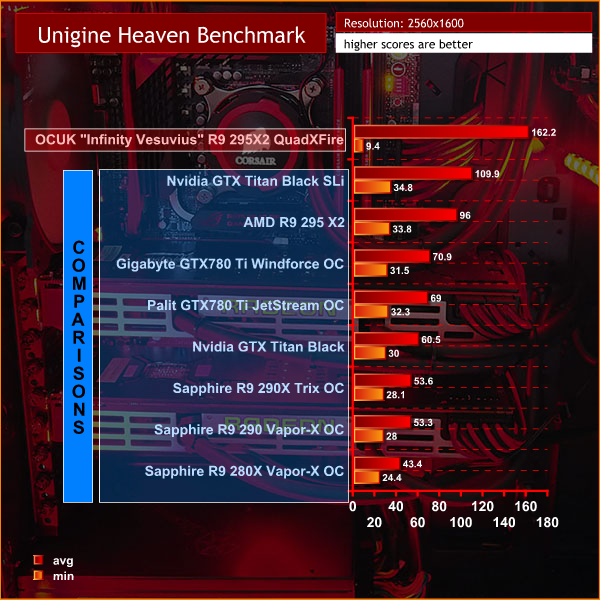 We mentioned earlier in the review that CPU limiting would be an issue, even at 1600p. This test is a good indication of this. A single R9 295X2 (on a slightly slower system) averages 110 frames per second – the dual cards on the Infinity Vesuvius average 162 frames per second.
The minimum frame rate may seem low but this was due to a little micro stutter on one part of the benchmark – barely noticeable in the real world.