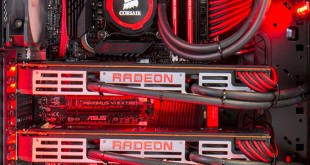 KitGuru review a range of gaming systems every month, from penny pinching £500 builds to wallet sapping £3,000 beasts. Today we take a look at one of the latest high end systems from etailer OverclockersUK. This £4,000 monster features a watercooled, overclocked Core i7 4770k, an Asus Z87 Extreme motherboard, 16GB of fast DDR3 memory and not one, but two AMD R9 295X2 graphics cards running in Quad Crossfire. If you are in the market for a new Ultra HD 4K monitor is this the gaming system you should be shortlisting?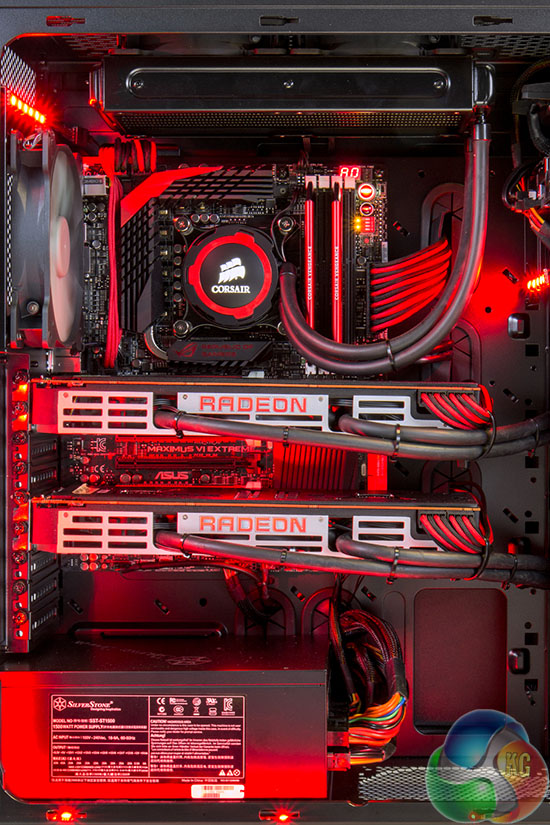 £4,000? Say what? Well much of the price of the "Infinity Vesuvius" system is related to the cost of the lightning quick R9 295X2 graphics cards. If you read our launch review of the R9 295X2 then you will already know just how powerful they are. Do you really need two of them when gaming at 4K? Today we aim to find out.
OverclockersUK "Infinity Vesuvius" Specifications.
Case: Corsair Obsidian 750D Tower Case
CPU: Intel Core i7 4770K Haswell (Socket 1150) Quad Core, Eight Thread Processor Overclocked to at least 4.6GHz
Motherboard: Asus Z87 Maximus VI Extreme (Socket 1150) ATX Motherboard
RAM: Corsair Vengeance Pro 16GB (2x8GB) at 2200MHz Dual Channel Kit
Graphics: 2 x AMD Radeon R9 295X2 8192MB Graphics Cards in Quad Crossfire
Cooling: Corsair H105 Closed Loop Water Cooler
Primary Drive: Samsung 840 Evo Series 250GB Solid State Drive (Options Available)
Secondary Drive: Seagate Barracuda 2TB SATA-III Hard Drive (Options Available)
Tertiary Hard Drive: Optional
Optical Drive: Optional
Audio: 7.1 Channel HD Audio with SPDIF I/O
Operating System: Microsoft Windows 8.1 64-Bit (Options Available)
Power Supply: Silverstone Strider "80+ Silver" 1500W Power Supply
Without question, no one in their right mind would be buying this system to play games on a 1080p monitor. As we have said many times before, a R9 280X or single R9 290 is more than enough for playing the latest Direct X 11 titles at 1920×1080.
Pondering the "Infinity Vesuvius" for 1080p gaming is akin to buying a Ferrari to get to the local supermarket for a pint of milk.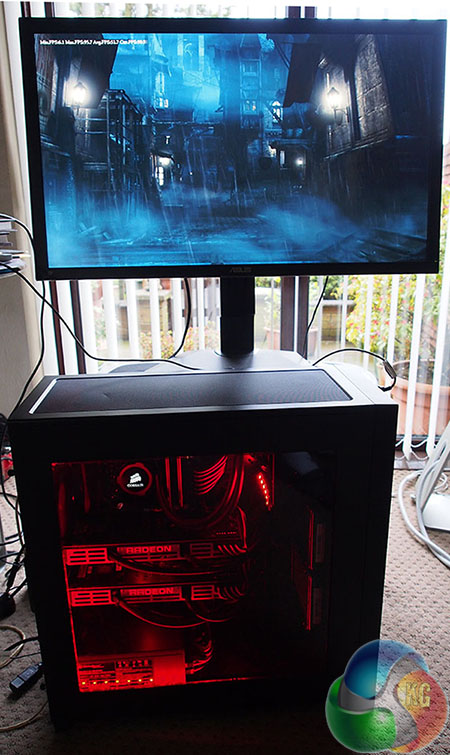 If you want to own a system with two R9 295X2's, then you need to get a new Ultra HD 4K monitor because even gaming at 2560×1600 will suffer from CPU limiting in specific titles. For our review today, we are using an Asus PQ321QE Ultra HD 4K screen running at 4K 3840 x 2160 resolution. We would like to thank ASUS for their support in getting this monitor last year – KitGuru was one of the first publications to use an Ultra HD 4K monitor in high end graphics card reviews. With 4K panel price drops already hitting hard in 2014, it was nice to be at least 6 months ahead of the curve.
Make no mistake 4K gaming is the future.