Several major gaming hardware makers are in the midst of making a big push for cloud gaming, with new services like the Nvidia GRID and PlayStation Now beginning to pop up with technological gains over tried and failed services, such as On Live. However, despite cloud technology coming as far as it has over the last couple of years, many are still skeptical and run for the hills when 'the cloud' is mentioned, which brings me to the question we are going to try and answer right now- Is cloud gaming viable today in its current form?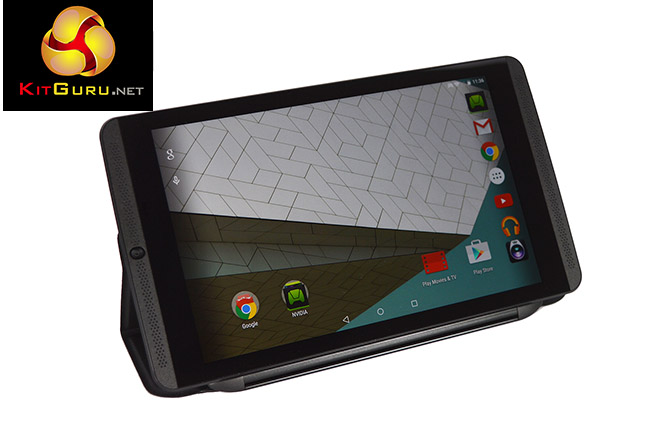 To answer this we are going to be taking a look at Nvidia's new GRID cloud gaming service, which you can access via the Nvidia Hub on Shield tablets. Nvidia was keen to supply us hardware for testing, so thanks to them for their support throughout this article.
GRID was announced as a timed freebie for Shield owners and has been in the making for ten years. According to Nvidia's own tests, the hardware found inside of its servers can perform up to 12 times faster than PlayStation Now. 
Our tests are ran on a Virgin Media 152Mb home broadband connection, paired with a Linksys WRT1900ac router, which we reviewed over HERE.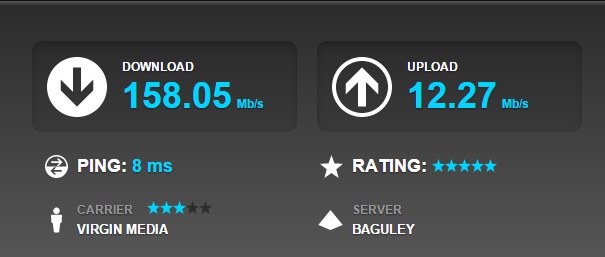 As you can see, our speeds are fairly high so the connection speed shouldn't be a bottlenecking factor in any of our tests. Nvidia currently recommends a 15Mb connection at least for cloud gaming. There are two servers available to connect to in Europe, our closest one being located in Ireland- obviously your distance from the server will factor in to performance, no matter how good your connection might be.
This particular editorial has been in the making for quite a while. We spent a long time trying to come up with the best possible way to demonstrate performance with the tools available to us on Android and trying out different methods.
In the end, we thought it would be best to test a few game genres in order to cover our bases and see how Nvidia's servers handle different work loads. We settled on Batman: Arkham City, Trine 2, Dirt 2 and Ultra Street Fighter IV.
We didn't want to simply describe the experience to you either, we wanted to legitimately show you the experience we had while gaming via 'the cloud'. Fortunately, Nvidia makes this part easy, thanks to the Shield tablet's in-built Shadow Play functionality, enabling us to record gameplay without any heavy performance impact, just as you would on a PC with a GTX series graphics card. 
All gameplay videos were recorded after ten minutes of being connected to the server and running the game. This way, we get to see how GRID handles longer sessions than you would typically see in a press demo. 
All graphical settings are controlled by the GeForce Experience software on Nvidia's servers. You can play around with settings in most titles, like with any regular PC game. However, for the purpose of these tests, we chose to stick with the defaults. 
1080p streaming can be achieved but the default appears to be 720p. 
We are kicking off our tests with Batman: Arkham City, an open-world action brawler. We can't see the exact graphical settings for this particular title but we do know that everything is preset by the GeForce Experience. We also noted that while you can switch to streaming at 1080p, almost every other title defaults to 720p so we would assume that Batman got the same treatment. 

Watch the video via our VIMEO channel below, or over on YOUTUBE.
Nvidia is using an Intel Xeon E5-2670 CPU, 16GB of RAM and an Nvidia GRID K520 graphics card to power these games. The hardware is clearly up to task as Arkham City's in-built benchmark recorded an average of around 85 frames per second.
Watch the video via our VIMEO channel below, or over on YOUTUBE.
We ran the benchmark multiple times to ensure that video recording did not have an impact on performance. Our experience remained the same with recording turned off.
While the hardware on Nvidia's end can clearly power games at smooth frame rates, the streaming performance isn't great. The video above does show some stuttering and audio breakage.
Watch the video via our VIMEO channel below, or over on YOUTUBE.
Things seem to improve a bit once we hit the actual game. During the opening fight sequence, the experience was fairly consistent, with minimal bumps in the road.
Watch the video via our VIMEO channel below, or over on YOUTUBE.
The opening fight sequence seemed promising but unfortunately, things took a turn for the worse once we hit the open world and gained access to the full Arkham City map.
As you can see in the video, lag spikes hit quite frequently once the map opens up. This can make fights rather difficult, we also experienced some slight input lag at times- it is clear that our stream quality was taking a hit.
Is cloud gaming viable for open world action brawlers with current technology? We are going to have to pass on that one. I would struggle to play through the entire game with the performance we demonstrated here.
Next on our list is Trine 2, a well known and popular indie title that doesn't necessarily have a performance bias based on graphics vendor- making it a pretty decent game for benchmarks.
Shield owners don't really have any need to play Trine 2 from the cloud as each tablet comes with a very well optimized Android port of the game preinstalled. However, we are going to take the cloud for a spin anyway.
This is another game that doesn't let us see the full graphical settings from within the menu. We would assume that this game is also running at 720p. There is no in-game benchmark this time to give us an average frame rate reading but given how powerful the server hardware is, I doubt Trine 2 should be any trouble to run.
Watch the video via our VIMEO channel below, or over on YOUTUBE.
In order to give us a simple benchmark run, we chose to start a new game and play through the short opening tutorial, which introduces us to the basic platforming and puzzle elements of this game. We also get to try out each of the three characters.
While Trine 2 does offer a smoother gameplay experience when compared to Arkham City, it still isn't perfect and doesn't hold up well compared to the Android port.
While we didn't experience any input lag during Trine 2, we did notice audio breakages and video stutter at times. Unfortunately, Trine 2 is a puzzle platformer, meaning that the timing of these stream hiccups is crucial to the gameplay- one bad lag spike could land you in some form of dangerous pit, which can be hard to recover from.
Is cloud gaming viable for puzzle platforming titles like Trine 2 with current technology? While the experience is close to being good enough, the video stutter is just a little too frequent to give this one a pass. GRID almost gets it right here, the small lag spikes weren't completely 'game breaking' but it is still a performance compromise that many gamers won't want to make.
Fighting games famously require really low input latency and fast response times in order to time the more complicated combos. So far, input lag has only been a problem in one of our tests but slow down and video stutter could also be a big problem when it comes to a competitive fighting game like Street Fighter.
Watch the video via our VIMEO channel below, or over on YOUTUBE.
Nvidia's servers have more than enough power to run this game, averaging almost 300 frames per second at high details.
Watch the video via our VIMEO channel below, or over on YOUTUBE.
You will have to excuse my poor fighting skills in this video. Believe it or not, I have never actually played a Street Fighter game before.
As you can see from my poor gameplay demonstration, Ultra Street Fighter IV actually performs very well. The GRID managed to deliver a consistent gameplay experience throughout our testing with no slowdown or gameplay stutter. It almost felt like I was running the game straight from the tablet.
It is clear to me that this is the experience Nvidia is attempting to offer across all of the titles available. If everything performed as well as Street Fighter, then we would have very little to complain about.
Is cloud gaming viable for competitive fighting titles? Surprisingly enough, in this particular instance, yes it is. We have nothing to complain about here.
The final game being brought up to the KitGuru chopping block is Dirt 2, a racing simulator. This isn't the latest title in the franchise but the graphical fidelity still holds up nicely to this day.
As you can see, Dirt 2 also defaults to 720p resolution but cranks up all of the details and effects. Dirt 2 unfortunately does not have an in-built benchmark so much like with Trine 2, we are unable to give you an average frame rate reading.
Watch the video via our VIMEO channel below, or over on YOUTUBE.
If you thought my fighting skills were bad, then you clearly haven't seen my racing yet. The last and only racing game I ever played seriously was Need for Speed: Carbon- which came out in 2006. It is pretty safe to say that I'm not a big racer.
Fortunately for me, we aren't here to see world class rally driving, we are just observing how cloud gaming performs.
While playing through Dirt 2, there was some gameplay stutter and audio breakage. Once again, it wasn't game breaking to the point where I wanted to quit, like with Arkham City- but it was distracting and thus detracted from the overall experience.
Is cloud gaming viable for racing simulators? Unfortunately, based on these tests, I can't say it is but much like with Trine 2, I can tell that Nvidia is close to perfecting the experience- it just isn't quite there yet.
Cloud gaming is an ambitious undertaking for Nvidia. The company envisions a future in which people don't necessarily have to buy a gaming PC in order to get the PC gaming experience, nor do they have to go out and buy all of their games separately.
Nvidia wants to be able to deliver a desktop class experience and high quality titles to those who don't want a desktop. Unfortunately, they aren't quite there yet but they might not be as far off as you think.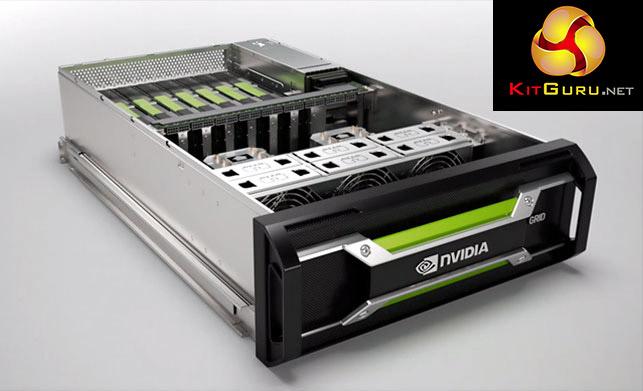 The GRID servers are clearly more powerful than what we have seen in past offerings from the likes of On-Live and PlayStation Now and I have no reservations when it comes to saying that the hardware can clearly run games at high details and frame rates- albeit, with the resolution knocked down a bit.
Unfortunately, WiFi technology is holding the service back. During my time using the GRID I have encountered numerous connection issues and more often than not, the quality of the stream begins to degrade after short amounts of play time. While visuals were always high quality, performance suffered.
As you can see in our videos, stuttering is a bit of a problem, the only title we managed to get a consistent experience with was Ultra Street Fighter IV. That said, Trine 2 and Dirt 2 were close to being good enough.
Unfortunately, large scale open-world titles seem to be out of the question for now. Batman Arkham City just wasn't playable in the state it was in.
GRID is still very much a work in progress so there is still time for Nvidia to improve the service. This is very much an open beta so I would encourage Shield owners to give the service a go and to provide feedback.
We can't test this theory for sure as the GRID service isn't available on other platforms but it is possible that the WiFi chip inside the Shield tablet just isn't strong enough to process such a massive on-going stream of data. We may have to wait for Shield 2 before we can really see the GRID stretch its legs.
Is cloud gaming viable today? No, not yet but technology is constantly evolving, in six months time we may have an entirely different answer.
Discuss on our Facebook page, over HERE.
KitGuru Says: The potential is definitely there and the future looks promising. Cloud gaming via The GRID isn't quite up to scratch yet but I do believe that Nvidia is on the cusp of something big.