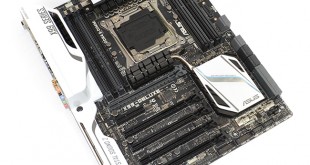 Intel's Haswell-E Core i7 5960X is an all-round powerhouse, there's no question about that. But a powerful chip is only a portion of the battle – an accompanying motherboard and high-speed RAM are essential in exploiting the processor's dizzying multi-core performance.
Enter Asus' showcase motherboard for the latest HEDT chipset – the X99 Deluxe. Packed to the brim with a variety of overclocking, general usage, and connectivity features, can the Asus X99 Deluxe show us exactly how the six- and eight-core Haswell-E chips should be partnered?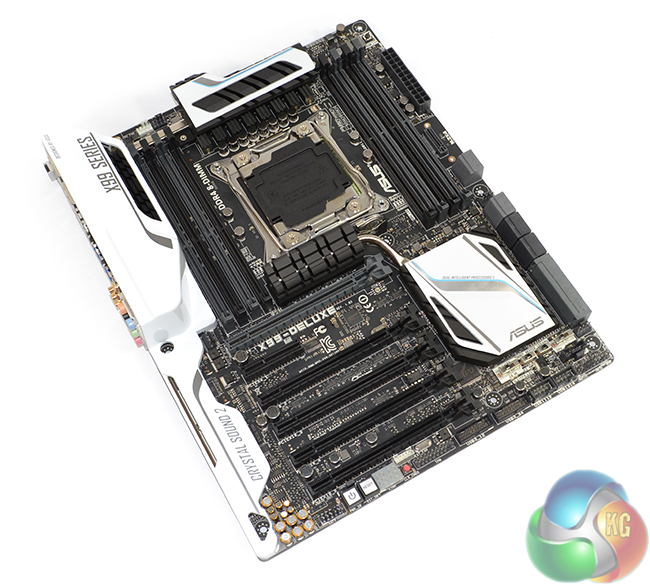 Features, features, features. Asus is aiming to win over enthusiasts in the HEDT market with the diverse set of features on its X99 Deluxe motherboard. And when I say diverse, I truly mean diverse. Audio aficionado? You're covered. Got an armada of chassis fans? Asus plans for that. Interested in the latest and greatest in high-speed storage interfaces? The X99 Deluxe is equipped with dual SATA Express connections and a 32Gbps M.2 slot, not to mention up to twelve SATA ports.
And for those old-school enthusiasts who like nothing more than higher clock speeds and benchmark numbers, the X99 Deluxe is outfitted with Asus' exclusive OC Socket which, according to the vendor, helps boost frequency potential for the CPU and DDR4 memory.
Sitting on the checkout at just under £300, how does Asus' X99 Deluxe fair in practice?
Features:
Patent Pending OC Socket – Drive CPU and DDR4 performance beyond all expectations!
5-Way Optimization by Dual Intelligent Processors 5 – One click overclock and cooling, done!
3×3(3T3R) 802.11ac Wi-Fi – Fastest onboard Wi-Fi up to 1300Mb/s
Fan Extension Card – Powerful cooling with flexible installation & detailed control
Dual 32Gb/s ultrafast M.2 x4 (onboard and PCIE add-in card)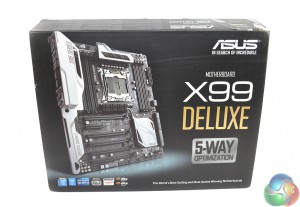 Asus ships the X99 Deluxe in the company's typical style of packaging. An image of the board, its name, and the outline of support for Asus' 5-way optimization engulf the front of the packaging.
Moving round to the backside reveals an in-depth look at many of the X99 Deluxe's key features. OC Socket steals much of the limelight, and rightly so if Asus' claims hold true.
Lifting a flap on the box's front side reveals further information about the 5-way optimization Asus uses, and it also gives potential customers a glimpse of the motherboard through a plastic window.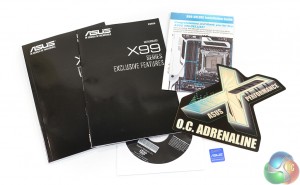 The usual set of documentation is supplied but Asus also includes a large (possibly A3-sized) fold-out installation guide and an additional case sticker.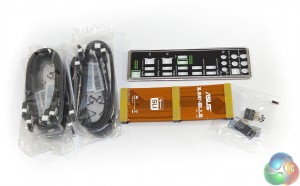 Eight SATA cables, the rear IO shield, Asus' handy Q-connectors, and a (very ugly) 2-way/3-way SLI bridge form the standard bundle. I'm a little disappointed that Asus chose to include an ugly brown SLI bridge rather than an attractive black alternative. Users who value their system's appearance will tear their hair out at the visuals of the ugly bridge.
One notable exclusion is a dedicated 2-way SLI bridge. Asus tells us it was probably left out to minimise added costs. Bypassing the bulky 3-way bridge is as easy as jumping on eBay and purchasing a dedicated 2-way ribbon, although I don't feel that should be a requirement after spending almost £300 on a motherboard.
Moving on to the specialty items, Asus includes a variety of unique accessories. On the cooling front, Asus supplies a thermistor cable and fan extension card. The thermistor cable can be deployed in an area of interest to record temperatures, while the Nuvoton NCT7802Y-controlled, powered extension card can manage up to three 4-pin fans from a single PWM input.
Linking the extension card to a motherboard-mounted fan header allows three fans to simultaneously operate from the single PWM channel. Alternatively, each of the three output fans can be controlled by linking the card to the motherboard-mounted fan control header. Power is provided by a 4-pin molex connection. Screws permit for the extension card to be mounted in a 5.25″ drive bay, although some velcro or a zip-tie should allow it to sit anywhere in a chassis.
Storage accessories come in the form of a mounting bracket to hold up to 80mm-long M.2 devices in the vertically-orientated 32Gbps M.2 x4 slot. Alternatively, Asus includes a PCIe x4 adapter card to hold M.2 devices up to 110mm-long. It doesn't matter whether you opt for the onboard M.2 connection or that provided by the adapter card because the PCIe Gen 3 lanes will always be taken from the CPU. Using the latter differs by its potential to obstruct multi-GPU configurations.
Completing the specialty accessories is a three-stream, magnetic aerial that links to the board's 802.11ac wireless adapter to provide speeds of up to 1300Mbps. The magnetic and rotatable aerial design makes it ideal for mounting on the back of a steel chassis.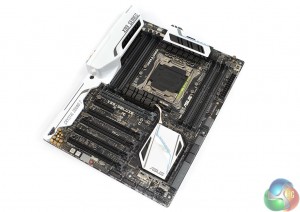 The Asus X99 Deluxe motherboard's most striking design feature is glaringly evident; Asus takes a bold risk and outfits the X99 Deluxe with a black and white colour scheme. I must admit that I am typically a fan of black and white, although I also know how easily it can be ruined.
Thankfully, Asus has used an eye-catching bright shade of white based on a large plastic covering and the pair of heatsinks to create a unique style. For as many years as I can remember, this is the first motherboard to use such a high quantity of white, and it does so to great effect.
Asus colours the rest of the PCB in a dark of black – proper black, not the ugly shade of washed out brown.
Sat between two pairs of 4-DIMM banks is the sizable LGA 2011-v3 socket. Despite the reference socket design featuring the same number of pins as previous parts, Ivy Bridge-E and Sandy Bridge-E LGA 2011 CPUs are not compatible with X99 motherboards and their new socket due to the use of DDR4 memory. Intel told us that they chose to avoid the possible confusion of a user installing DDR3 memory and a previous-gen processor in a DDR4 motherboard.
Proprietary to Asus is the company's patent-pending OC Socket. Extra pins are leveraged in the CPU socket to deliver additional voltage and aid overclocking performance. We will take a look at some of the potential benefits later in this review.
Up to 64GB of DDR4 memory can be installed in the eight DIMM slots. Asus quotes support for frequencies up to 3000MHz, although we have seen faster – up to 3333MHz – kits validated on some of the company's other boards.
Asus uses eight power phases to feed the CPU and a further four to provide for the eight DIMM slots. The CPU power system is controlled by a Digi+ 'EPU' ASP1257 digital controller, while a Digi+ ASP1250 chip manages the DRAM power. International Rectifiers PowIRstage IR3553M MOSFETs drive up to 40A of current through each DRAM power phase with a peak efficiency (quoted by International Rectifiers) of 93.2%. The CPU leverages International Rectifiers IR3550M packages which offer a higher current capacity of 60A.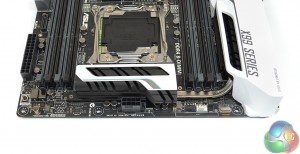 Two 4-pin fan headers, both of which are allocated to the CPU control channel, as well as the 8-pin power connector are found along the motherboard's upper edge.
Sat next to Asus' MemOK button, the 24-pin power connector is found further up the motherboard's top-right edge than usual, although this is unlikely to cause cable management issues.
The innovative, vertically-orientated M.2 connection utilises four PCIe 3.0 lanes to provide a 32Gbps connection speed. Combined with the supplied holding bracket, 42mm-, 60mm-, and 80mm-long drives can be installed. A vertical mount allows Asus to save on PCB space while still keeping the M.2 connection easily accessible.
Moving further down the motherboard we see a total of twelve SATA 6Gbps ports, four of which double up as a pair of 10Gbps SATA Express connections. The lower SATA Express connection (and its built-in SATA 6Gbps ports) operates from ASMedia's ASM106SE add-on chipset, while all of the other SATA/SATA Express connections are provided natively by X99.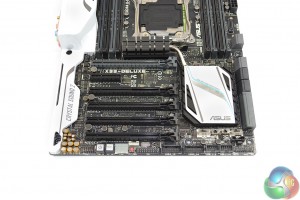 Don't be fooled by the physical provision of five full-length PCIe slots; Asus limits the simultaneous operation to three connections. With a 40-lane CPU, that's real-world capacity for three-way SLI/CrossFire using dual-slot graphics cards with a x16/x16/x8 + x0 M.2 or x16/x8/x8 + x4 M.2 configuration. The use of a 28-lane CPU would drop all PCIe links down to eight lanes and keep bandwidth for the x4 M.2 connector.
Two-way graphics configurations make use of the first and third full-length PCIe slots for a 40-lane CPU, or the first and fourth slots for a 28-lane chip. This configuration provides the setup with at least one cooling gap between partnered dual-width boards.
A PCIe 2.0 x4 slot is also present and runs from the X99 chipset's lanes. Its function is to serve as a means of connecting lower bandwidth devices that make use of the older PCIe interface. ASMedia's ASM1187e controller is used to generate seven PCIe 2.0 x1 lanes from one single-lane input. Many of these lanes are fed to add-on storage chipsets from ASMedia.
Along the board's bottom edge are the usual front panel and audio connections, as well as a pair of internal USB 3.0 headers and a TPM link. Asus equips the X99 Deluxe with onboard power, reset, and clear CMOS buttons, as well as a two-digit LED display. Switches controlling the SLI/CrossFire, XMP, and TPU modes are found above the pair of USB 2.0 headers.
We would have liked (at least) one of the USB 3.0 headers to be sat up near the 24-pin connector for the sake of convenience. And it's also clear that 3-card graphics configurations are highly likely to block the onboard power buttons, both USB 3.0 headers, and many of the toggle switches. By that logic, Asus has taken its excellent layout and pretty much thrown it out of the window at the last hurdle.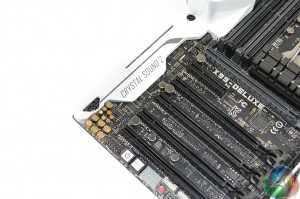 Asus uses its Crystal Sound 2 audio system on the X99 Deluxe. The solution is based around the Realtek ALC1150 codec and features Nichicon audio capacitors and EMI reduction methods.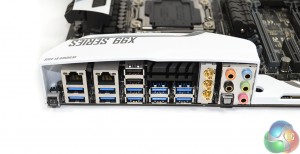 A couple of ASMedia's ASM1074 hubs and one ASM1042AE host controller allow for ten USB 3.0 ports to be placed on the rear IO panel. Two USB 2.0 ports are found, one of which is allocated BIOS Flashback duties in tandem with the specific button.
Two Gigabit Ethernet ports are provided by Intel's I218-V and I211-AT controllers. The Broadcom 802.11ac WiFi/Bluetooth 4.0 card supports wireless connectivity rates of up to 1300Mbps and the 2.4GHz and 5GHz frequency bands.
Bright white heatsinks cool the MOSFETs and X99 chipset while adding an eye-catching appearance.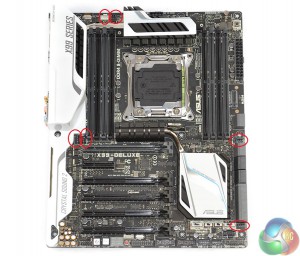 Six 4-pin fan headers are evenly distributed about the X99 Deluxe motherboard, five of which are accessible from the LGA 2011-v3 socket. We have no complaints about the headers' positioning, but if you do there's always Asus' fan extension card as a back-up.
UEFI
Firstly, we are pleased to report that our NZXT Avatar S mouse worked to its usual standard in the Asus X99 UEFI.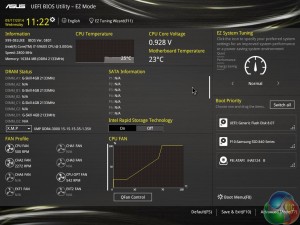 Asus opens its X99 UEFI with a summary page, of sorts, that squeezes a significant proportion of the important information onto a single 1024×768 screen. The interface is all but identical to that of the company's Z97 implementation, and that's a good thing with the excellent feedback that the mainstream boards' UEFI has received.
AI Tweaker is where all of the overclocking action takes place. From frequency adjustments, to voltage increases, to changed power parameters, it's all controlled through AI Tweaker or its numerous sub-sections.
Asus gives users a strong degree of flexibility with both frequency and voltage tuning. And if you're feeling particularly confident in your cooling configuration, there is the option for extreme voltage modes to be unlocked (with the aid of an onboard jumper for safety purposes).
The thing I like most about the AI Tweaker layout is its simplicity. Novice overclockers who are still learning the skill will be able to navigate the options with ease, but that doesn't interfere with the advanced settings that more experienced personnel require.
And on the topic of simple overclocking, Asus is particularly keen to shout about its EZ Tuning Wizard. EZ Tuning automatically detects the installed components before allowing a user to select their system usage scenarios and cooling hardware. Once this has been processed, the wizard outputs a suggested DRAM and CPU frequency boost that can be achieved.
Selecting the Gaming/Media Editing mode increases the DRAM and CPU frequency, while the Daily Computing option boosts the processor's speed only. Be aware though, the speed boosts aren't guaranteed to work; our RAM gave us some issues when trying to boot at the 3000MHz speed EZ Tuning set without XMP enabled.
Temperatures and fan speeds are displayed on the Monitor page. Readings from the individually-deployed thermistor can also be displayed on the page.
Asus' Q-Fan Control is a method of adjusting and setting fan speed profiles in a graphical manner. The visual approach is also backed up by numerical and selectable choices on a specific section of the Monitor page.
One of the key tools for Asus' X99 UEFI is GPU Post. The tool delivers information regarding the (potentially) complex graphics configuration bonded to the X99 motherboard. Functionality-wise, GPU Post ensures that graphics cards are receiving the correct PCIe bandwidth so that their performance is not needlessly hampered.
Up to eight user-customised settings profiles can be saved to the X99 UEFI. It's worth noting that saved profiles are typically wiped on updating to the latest BIOS version, so making note of the settings is still recommended as a precautionary measure.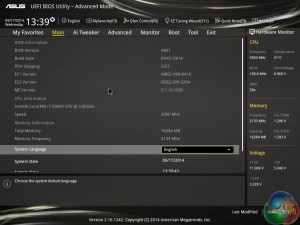 There's very little to dislike about Asus' X99 UEFI implementation. The interface is clean, clutter-free, and easy to navigate. And of course, there's in-depth functionality to back up all of that layout tidiness. While many competing vendors have switched to higher resolution – 1920×1080 – interfaces, we still don't see the need for Asus to make the move because the UEFI designers manage to fit relevant levels of information on each 1024×768 frame.
If there's one thing we dislike about the interface, that's its somewhat ugly (in my opinion) colour scheme. But, in all honesty, that's just looking for negatives and the interface certainly isn't ugly enough to impact on the general usage experience. We can't find any points where we recommend Asus focus its improvement efforts – the interface is, quite simply, excellent.
Software
As is the case with the UEFI, Asus' software supplied with the X99 series motherboards is largely identical to that provided with Z97 parts. All of the tools revolve around Asus' AI Suite 3 software.
AI Suite 3 includes a mix of system-control and productivity applications. Tools such as Ai Charger+ and USB Charger+ are convenient to users who need to rapidly refill their smart phone or tablet's battery. Two particularly useful tools that I would like to highlight are Wi-Fi Engine and USB 3.0 Boost.
Wi-Fi Engine can be used to fetch internet access to the Asus X99-based system over its 1300Mbps 802.11ac wireless adapter. Alternatively, it can be used to set up an access point to provide a network connection to a different wireless-enabled system. Trust me – in a university dorm environment where the only internet connection is through a single Ethernet port, a PC-based wireless access point feeding Wi-Fi to smartphones and laptops is worth its weight in gold.
Focusing on USB 3.0 Boost, the tool is Asus' way of enabling the speed-increasing UASP mode for USB 3.0 devices connected to a Windows 7 system. Since ASRock dropped its UASP-activating software (XFast USB) with Z97's introduction, Asus' USB 3.0 Boost tool is the only way of pushing past 400MBps with a USB 3.0 device connected to a Windows 7 system.
Central to AI Suite 3's set of programs is the Dual Intelligent Processors 5 section. From this point many of the system's operating parameters can be controlled. Digi+ Power and TPU control many of the board's operating voltages and power settings, while Fan Xpert 3 allows users to make on-the-fly adjustments to fan speeds and profiles.
One of the more unique tools is Turbo App. Asus uses the tool to control user-defined speed boosts when a certain application is launched. For example, one could increase the CPU ratio by a few notches every time Adobe Photoshop is launched, or the opposite could be done for MS Paint.
Asus' Media Streamer software can, as suggested by the name, stream media between systems connected to one's network. One of the key features for Wi-Fi Go! is its ability to enable remote control of an Asus X99-based system via a tablet or smartphone.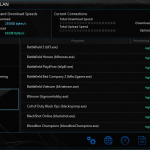 Turbo LAN is similar to Killer's Network Manager software in the way that it can control network bandwidth priorities. The software tool is one of the primary reasons that Asus continually relies upon Intel NICs rather than the Killer E2200 series alternative, even for its gaming motherboards.
We will be outlining the Asus X99 Deluxe motherboard's performance with the Core i7 5960X CPU at its stock frequency (3.5GHz due to forced turbo). Overclocked performance will be outlined later in the review. As this is the first motherboard that we have gathered test results for, we unfortunately do not have any comparison data. As we test more boards, our comparison results will build up.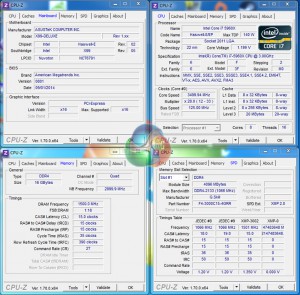 By default, the Asus X99 Deluxe motherboard applies multi-core turbo (MCT) and forces the 5960X to a constant 3.5GHz when XMP is enabled. This will be displayed as the 'stock' setting (and outlined in the charts' brackets after the non-turbo stock speed is displayed).
Asus applies a sensible (and commonly-used) CPU VCore of 1.20V for its MCT profile. The level results in perfect stability at the CPU's increased frequency and it is low enough to make cooling the chip a simple task for most decent heatsinks.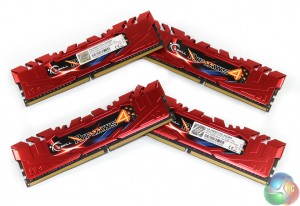 As we will point out later in the review, Asus' X99 Deluxe is the only board that we have tested behind the scenes that functions with G.Skill's 3GHz memory without hassle. Our contacts tell us that G.Skill and Asus partnered to tweak the 3000MHz operating frequency of the Ripjaws4 memory kit, leaving competing motherboard vendors playing catch-up after the X99 launch date.
X99 Motherboard Test System:
Software:
Asus X99 Deluxe BIOS v0801 (latest).
Catalyst 14.4 VGA drivers.
Tests:

3DMark 1.3.708 – Fire Strike (System)
SiSoft Sandra 2014 SP2 – Processor arithmetic, memory bandwidth (System)
Cinebench R15 – All-core CPU benchmark (CPU)
WinRAR 5.10 – Built-in benchmark (CPU)
HandBrake 0.9.9 – Convert 4.36GB 720P MKV to MP4 (CPU)
ATTO – SATA 6Gbps, USB 3.0, M.2, and SATA Express transfer rates (Motherboard)
RightMark Audio Analyzer – General audio performance test (Motherboard)
Bioshock Infinite – 1920 x 1080, ultra quality (Gaming)
Metro: Last Light – 1920 x 1080, high quality (Gaming)
Tomb Raider – 1920 x 1080, ultimate quality (Gaming)
3DMark
We used 3DMark's 'Fire Strike' benchmark which is designed to be used on gaming PCs. We opted for the Normal setting, NOT the Extreme mode.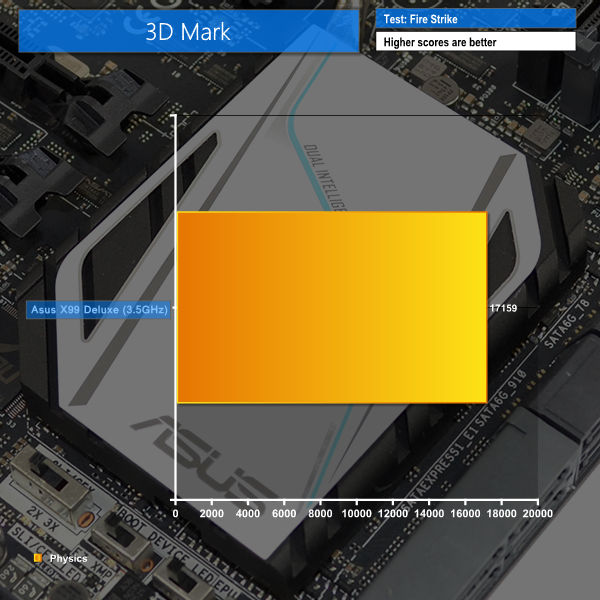 Sandra Processor Arithmetic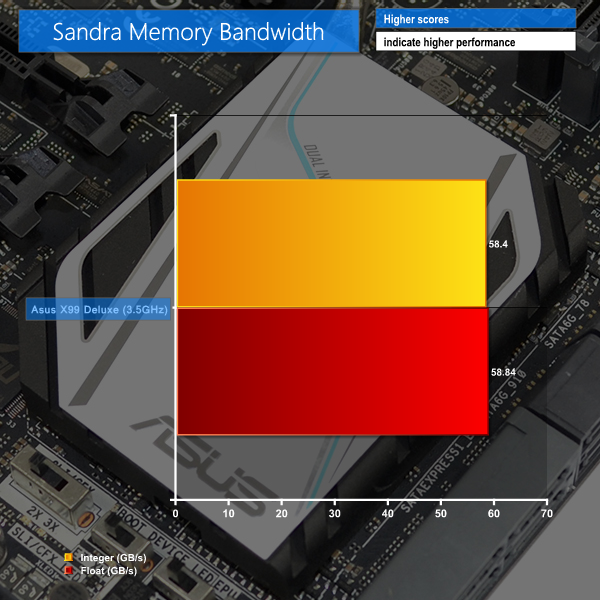 Although it is admittedly difficult to gain an impression of relative performance without comparison data, Asus' X99 Deluxe does not seem to be giving any anomalous results with the 5960X processor.
The eagle-eyed amongst you will notice that our test data for Asus' board is identical to that gathered for our 5960X review. We re-ran all of the benchmarks with Asus' latest BIOS and the only result to change was Sandra's Memory Bandwidth test. The increased score is in line with Asus' suggested memory performance improvements.
Cinebench
We used the 'CPU' test built into Cinebench R15 .
WinRAR's built in benchmark and hardware test can help us outline the performance differentials between each motherboard. We record the amount of data processed after a 30-second run.
We measured the average frame rate achieved for a task of converting a 4.36GB 720P MKV movie to 720P MP4 format.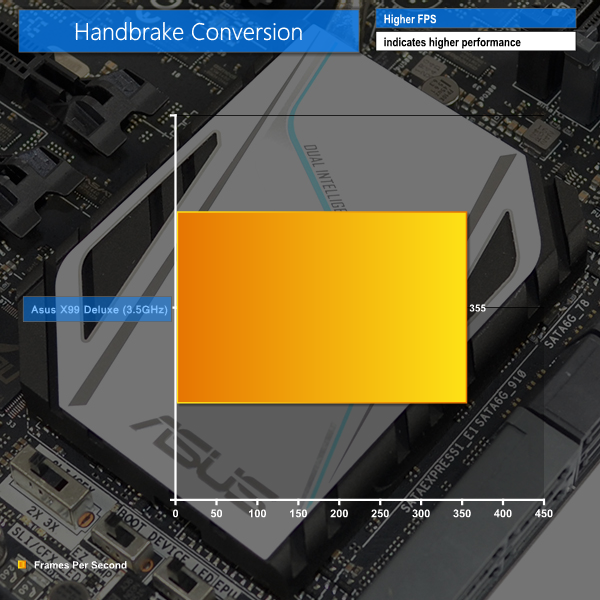 Again, it is difficult to gauge relative performance until we test further X99 motherboards. The X99 Deluxe does however appear to be an unrestricted platform for the high-speed Haswell-E 5960x.
Bioshock Infinite
We used the Bioshock Infinite demanding 'Ultra' setting and a 1920 x 1080 resolution to push today's gaming hardware. Our data was recorded using a section of the game, not the built-in benchmark.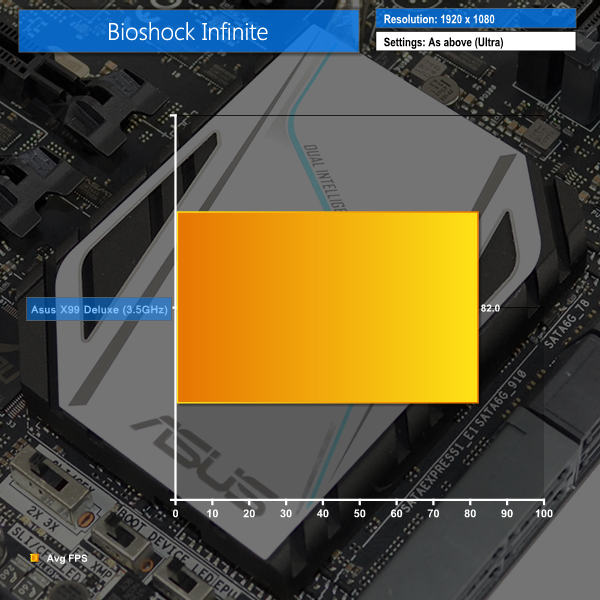 Metro: Last Light
We used a 1920 x 1080 resolution and the Metro: Last Light built-in benchmark set to 'High' quality to offer an intense challenge for the gaming hardware while also making playable frame rates a possibility.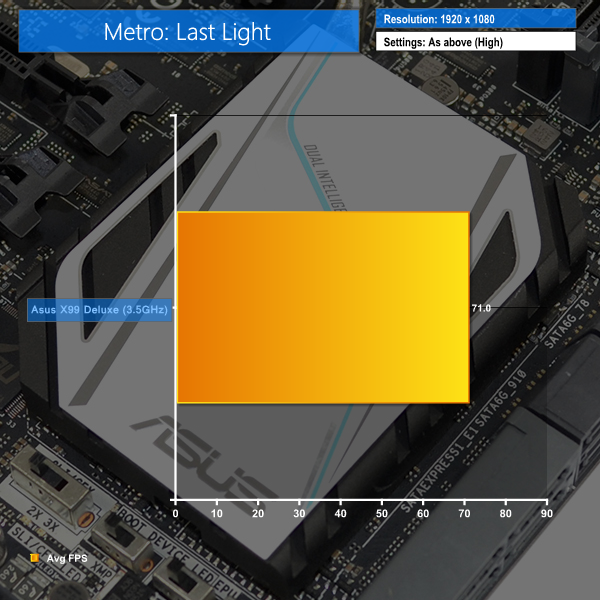 Tomb Raider
We used a 1920 x 1080 resolution and the Tomb Raider built-in benchmark set to 'Ultimate' quality.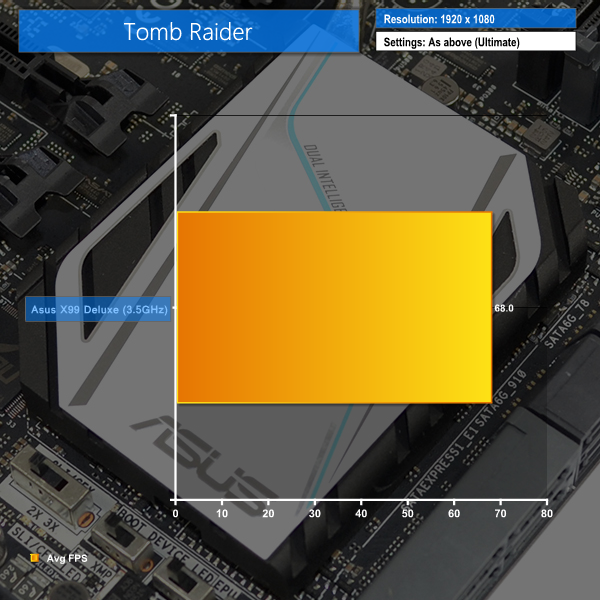 Gaming performance for the X99 Deluxe is where we would expect it to be based on our small quantity of in-house data gathered from other X99 boards.
M.2 connector
We use Plextor's fast M6e 256GB M.2 SSD to test the speed of a motherboard's M.2 connector. We reviewed the 512GB Plextor M6e (and its PCIe x2 adapter card) HERE.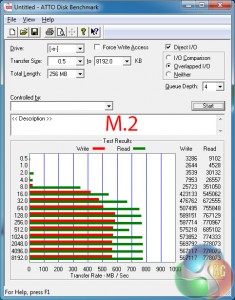 Four PCIe 3.0 lanes forming a 32Gbps-capable M.2 socket have no problem pushing the Plextor M6e SSD to its speed limit. With so much speed left to give, it is clear that Asus implemented the high-speed connection of its M.2 socket with future SSDs in mind.
It's worth pointing out that, unlike many Z97 motherboards, the X99 Deluxe does not support M.2 SATA SSDs through its connection. This is due to the connection being fed by PCIe 3.0 lanes directly from the CPU, not PCIe 2.0 lanes from the chipset which can be switched to SATA connections thanks to the flexible IO arrangement. Also worth noting is that M.2 SATA SSDs are pretty much pointless in a desktop environment where an ATX motherboard is used.
SATA
For SATA 6Gb/s testing we use a Kingston HyperX 3K (SandForce SF-2281) SSD.
SATA 6Gbps ports based off the X99 chipset are as fast as their counterparts on Z97. Users of the latest-and-greatest in SATA SSDs should have no worry about getting full speed from their device.
The ASMedia ASM106SE controller is fed by PCIe 2.0 bandwidth, hence the speed of its two SATA 6Gbps ports are confined to less than 400MBps.
USB 3.0
We tested USB 3.0 performance using the Kingston HyperX 3K SSD connected to a SATA 6Gb/s to USB 3.0 adapter powered by an ASMedia ASM1053 controller.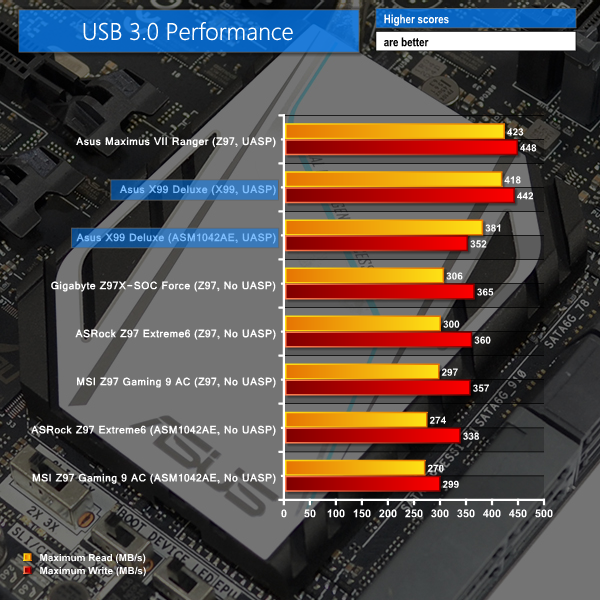 Asus' continued use of its UASP-activating USB 3.0 Boost tool helps deliver strong transfer rates of the SuperSpeed connection. ASMedia ASM1042AE-fed ports also benefit from the tool's ability to call on the advanced protocol.
To users such as myself who regularly transfer large files between systems, that USB 3.0 speed boost of up to 40% over a non-UASP solution is a big deciding factor when purchasing a motherboard.
Audio

We use RightMark Audio Analyzer (RMAA) to analyse the performance of the motherboard's onboard audio solution. A sampling mode of 24-bit, 192 kHz was tested.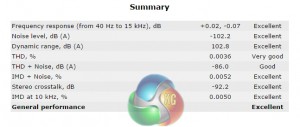 Asus uses its Crystal Sound 2 audio system on the X99 Deluxe. The solution is based around the Realtek ALC1150 codec and features Nichicon audio capacitors and EMI reduction methods.
According to RMAA, the Crystal Sound 2 solution operated by Asus' x99 Deluxe motherboard delivers Excellent general performance. Particularly impressive is the audio system's dynamic range result.
Automatic CPU Overclocking:
Asus' Ratio First automated overclock resulted in a 3.9GHz CPU frequency, with memory set at 2133MHz. CPU VCore peaked at 1.168V, which is a level that can easily be tamed by even a modest CPU cooler.
With adjustments to the BCLK and ratio, Asus' X99 Deluxe delivered a processor frequency of 3.875GHz (31x125MHz) when all cores were loaded. Memory was clocked at 2666MHz.
Manual CPU Overclocking:
To test the Asus X99 Deluxe motherboard's CPU overclocking potential, we first increased the CPU VCore to 1.30V, Cache voltage to 1.25V, CPU Input Voltage to 2.00V, and System Agent voltage to 1.20V. We also enabled PLL overvoltage, disabled SVID support, and applied level 1 LLC. We decreased the DRAM frequency to 2666MHz to take its stability out of the equation. Cache frequency was maintained at 3.0GHz.
Despite Asus' bold claims surrounding overclocking performance with its OC Socket, we didn't have much luck in pushing our processor's frequency. Prime95 stability topped out at 4.4GHz – anything higher and we would be met by a rapid BSOD. In our review of the 5960X CPU, we outlined how 4.4GHz would register a BSOD under Prime95 load, but further tweaking (disabling the SVID support which stops the processor interacting with the external voltage regulator)  allowed us to overcome the stability barrier.
We tried increasing CPU VCore to 1.325V, adjusting numerous power settings, pushing other voltages such as the PCH Core and System Agent, but we could not garner stability past 4.4GHz. Using a 125MHz base clock (which tied up with 3000MHz memory speed) gave us 4.375GHz, but one multiplier boost to 4.5GHz garnered instability.
Final attempts to break past 4.4GHz were taken by incrementing the base clock up 1MHz at a time, but even a 101MHz setting stopped the system from booting by delivering a CPU error.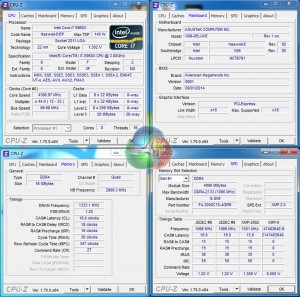 Seeing as 4.4GHz is not particularly high for a 5960X at 1.30V, we must emphasise that our stability measure is to pass at least 30 minutes of Prime95's large FFTs mode. Once the configuration passes the initial 30 minutes, we run Prime95 for a more extended period to prove stability.
Other stability justifiers, such as running a benchmark or game, do not place as much stress on the CPU as Prime95 does, and will in turn result in higher clock speeds being registered as stable.
Memory Performance
We must outline our positive experience with the Asus X99 Deluxe and our 3GHz G.Skill Ripjaws4 memory. Asus' board is the only one that we have tested behind the scenes that was able to run G.Skill's fast memory at its 3000MHz XMP profile without hassle. And that was done on the board's pre-release BIOS.
That's not to say that other vendors' parts will not function with the G.Skill memory; their new BIOS profiles are likely to have been updated to accommodate 3GHz+ kits. But it does speak highly about the quality and engineering in Asus' X99 Deluxe when it takes a task that other boards are finding difficult and completes it without issue.
It's worth pointing out that Asus has spoken out about how OC Socket improves DRAM frequency performance. While we usually take performance claims originating from the company selling the parts with a pinch of salt, it's hard to argue against Asus' suggestions that OC Socket does aid memory frequency results.
We will outline the performance increases that can be obtained from using the Asus X99 Deluxe motherboard to overclock our system. Our overclocked processor frequency was 4.4GHz and memory speed was 2666MHz.
We will include results from competing motherboards as we test them and build up our results database.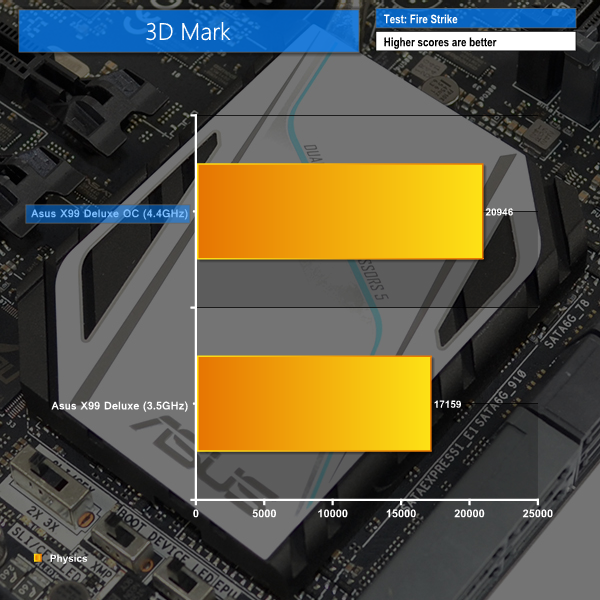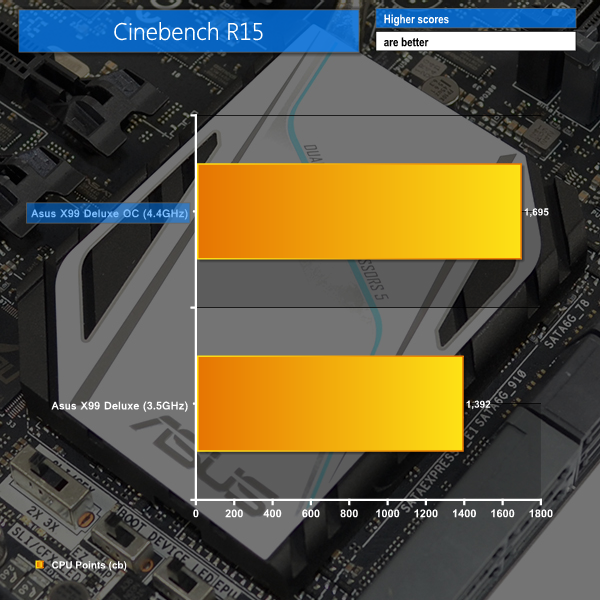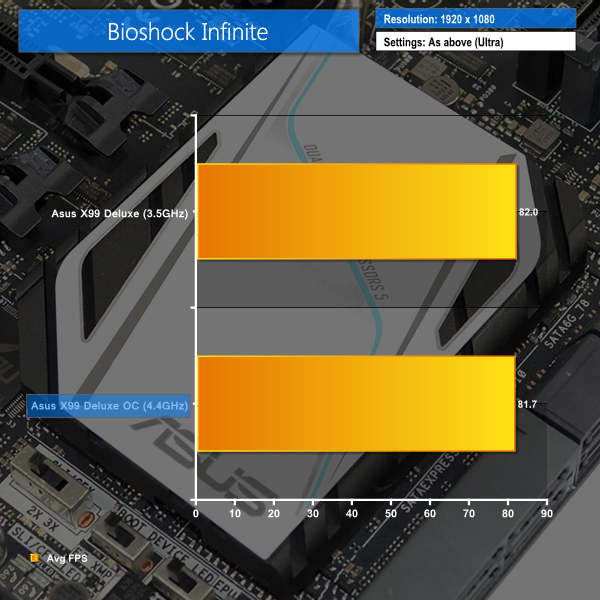 Overclocking the processor delivers promising performance boosts, despite the 333.3MHz decrease in memory frequency. With a multiplier unlocked processor, it makes sense to overclock the chip and garner performance boosts if your cooling solution can handle the increased heat.
We measured the power consumption with the system resting at the Windows 7 desktop, representing idle values.
The power consumption of our entire test system (at the wall) is measured while loading only the CPU using Prime95′s in-place large FFTs setting. The rest of the system's components were operating in their idle states, hence the increased power consumption values (in comparison to the idle figures) are largely related to the load on the CPU and motherboard power delivery components.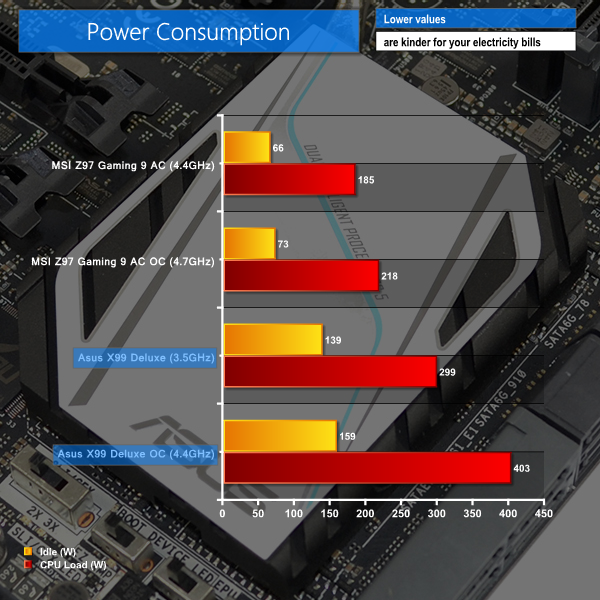 Irrelevant of the inherent efficiency of Intel's Haswell micro-architecture, a chip with eight physical cores and 20 Megabytes of level 3 cache demands a considerable amount of power.
The increased CPU Vcore applied when overclocking results in a system-wide power draw of more than 400W when heavily loaded using Prime95.
The Asus X99 Deluxe motherboard is an excellent combination of worthwhile features, strong overclocking capacity, and attractive looks. Partnered with the powerhouse that is Intel's eight-core Haswell-E 5960X, the X99 Deluxe's performance and feature set come into their own.
Focusing on overclocking performance, Asus has been very loud in pointing out the X99 Deluxe motherboard's use of its OC Socket implementation. Additional pins feed extra voltage to the CPU and, according to Asus, assist in reaching high memory speeds.
While it is very difficult for us to accurately assess the merits of OC Socket, it is clear that Asus' X99 Deluxe isn't afraid of overclocking a hot-and-heavy octa-core chip. We managed to take our engineering sample 5960X up to 4.4GHz with extended Prime95 stability. But the biggest point of reference for OC Socket's potential performance benefits was the X99 Deluxe's ability to handle G.Skill's Ripjaws4 memory sticks at their 3GHz XMP profile without any quibbles.
Layout of the motherboard and its key visiting points is almost excellent, but the downright silly positioning of both USB 3.0 headers is a cause for concern. Other than the aforementioned issue, we don't have any other layout concerns. Slot spacing is smart, as is positioning and orientation of the 32Gbps M.2 connector. Fan header distribution is efficient and there's just about enough room between the well-cooled MOSFETs to fit large CPU coolers.
Turning the emphasis onto appearance, Asus has created one of the most strikingly attractive and highly unique motherboards that I have seen for a long time. In regards to computer components, black and white is a colour system that is so easy to ruin, but Asus' designers have done an admirable job in making the style easy on the eye. The big rear IO covering helps from an appearance perspective.
In typical Asus fashion, the X99 UEFI is faultless. Settings and parameters are easy to access and are provided in abundance. Even the lowly 1024×768 resolution doesn't impact on Asus' ability to fit a relevant amount of information on each frame.
Priced at £299.99 from OverclockersUK, there is no denying that the Asus X99 Deluxe is a sizeable investment. But that's the overwhelming trend for Intel's HEDT platform, and it's still less than half the price of the flagship processor. Users spending the best part of £800 on a CPU and then another £200+ on DDR4 memory are likely to be able to absorb the £300 fee for a high-quality, feature-heavy motherboard that overclocks well.
Whether your needs are gaming, power computing, or general hobbyist system building (where appearance is critical), Asus' X99 Deluxe offers a fine balance of features and performance that will allow it to suit your needs.
Discuss on our Facebook page, over HERE.
Pros:
Packed with a variety of features.
Strong overclocking performance (perhaps thanks to OC Socket).
Highly attractive colour scheme.
Excellent UEFI implementation and solid OS software.
High-quality audio solution.
Impressive accessory bundle.
Cons:
Layout causes interference with three graphics cards and USB 3.0 headers.
Black SLI bridge would have been preferable.
KitGuru says: £300 is a steep asking price for any motherboard, even one based on the X99 chipset, but Asus' feature-heavy, high-performance X99 Deluxe is well worth the investment.