We take our noise measurements with the sound meter positioned 1 foot from the graphics card. I measured the noise floor to be 32 dBA, thus anything above this level can be attributed to the graphics cards. The power supply is passive for the entire power output range we tested all graphics cards in, while all CPU and system fans were disabled.
A reading under load comes from running the 3DMark Fire Strike Ultra stress test for 30 minutes. An idle reading comes after leaving the system on the Windows desktop for 30 minutes.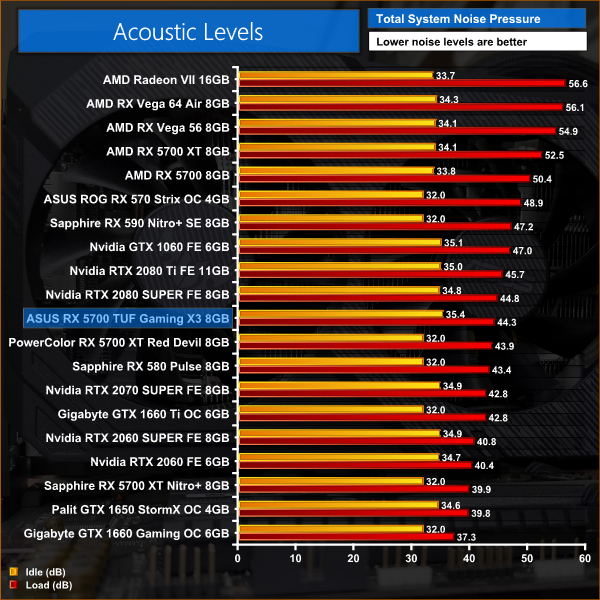 As for noise levels, I wouldn't describe the TUF Gaming X3 as a loud card, but it's certainly audible. Across our testing, the fans span up to 40%, or 1850rpm, producing a consistent 44db of noise which is comparable to a 2080 SUPER Founders Edition. So it's clearly audible without being annoyingly loud.
Given the low (61C) peak GPU temperature, if memory cooling was sufficient ASUS could easily afford to slow the fans down and have a quieter card that just runs a little hotter. Based on my testing, running the fans at 28%, or 1580rpm, reduced noise levels to 40dB while temperatures only increased to 66C edge and 86C junction – still excellent results.
That said, the GDDR6 memory is entirely reliant on airflow for cooling, so dropping the fans to 28% also saw memory temperature increase from 84C to 88C, and bear in mind these chips are rated up to 95C by Micron. Clearly, ASUS has cut corners with the memory cooling and paid the price with noise levels, as while this isn't a loud card, it is a lot more audible than it should be.
Be sure to check out our sponsors store EKWB here